The reason why iMac looks clean to use is because of the wireless keyboard and mouse. Most of us will agree that the accessories that comes with a PC/laptop should be wireless as it is convenient to use and looks neat. Rapoo K2600 is a wireless touch keyboard which solves our purpose for a Windows PC. Though I personally like a mouse for high precision use, K2600 is something I needed to get my hands on. So let us check out Rapoo K2600 Wireless Touch Keyboard review. This opinion is being published after using the K2600 Wireless touch keyboard for 1 month.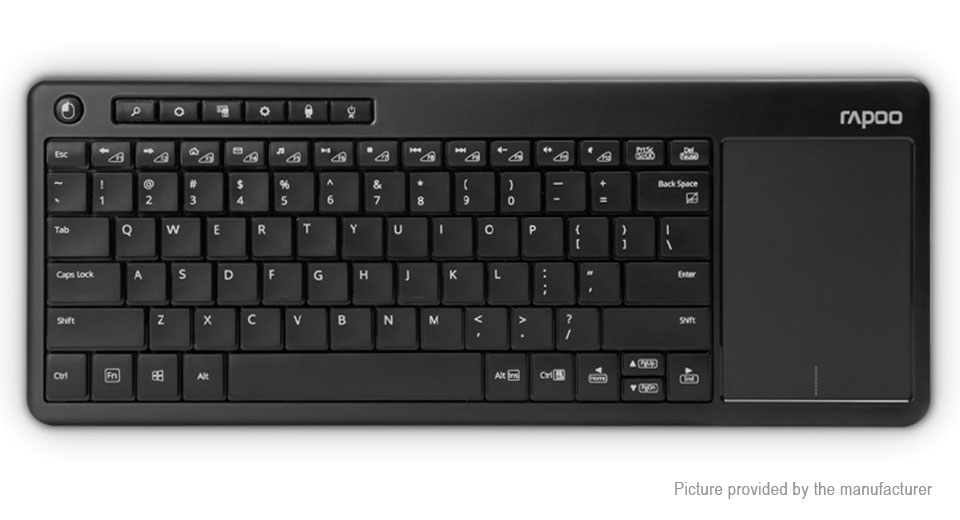 Rapoo K2600 Wireless Touch Keyboard review:
Design:
The Rapoo K2600 has a good design with proper spacing between the keys. There is a dedicated key for left click present on the top left corner of the keyboard. There is no separate numpad on the Rapoo K2600. Instead you get a touchpad in place of the numpad on the extreme right. The size of the touchpad is decent to operate any laptop with ease. There are no physical left, right click button present on the touchpad. They are just touch based and you don't need to press the touchpad like a physical butoon like in normal laptops. This again may take a while to adjust with. On the top-left corner one also has some quick-access shortcut keys like search, reload/refresh, settings, lock and power off. Below that is the usual set of keys with numbers, alphabets, and special keys. There is a dedicated Windows key too. This just shows that the keyboard was made to use with mostly Windows operating system. The top part is a bit thick to maintain better position while typing and has the space for batteries and USB receiver(from the back). The receiver is quite small in size and the keyboard is light-weight in case you decide to use it over your lap. Overall the design of keyboard is all matte and looks quite decent to operate with.
Usage:
Using Rapoo K2600 was a bit different experience for me as I shifted from the latest Macbook Pro with butterfly keyboard which has very less key travel. In Rapoo K2600 the key travel was nice and therefore I was kind of enjoying typing on the keyboard just like the good old days. The voice of keys pressing was kind of flat and not too loud. Ofcouse it depends on the force that you apply while typing. Due to the matte finish, there were no sign of smudges while typing with a bit of sticky or dirty hands. The feel of the keys pressed was nice with the key texture. The keys are spaced properly, but they wobble a bit because of which you might press the neighboring key by mistake. It might take time to get used to this keyboard, if you want to retain your writing speed if compared to your regular keyboard. But after a while the typing experience was good. Speaking about the touchpad, I would rate it around 7.7 out of 10. It would have been 8 or 8.2, but as I come from using a Mac keyboard the expectations might be a little higher on my end. What I liked was the proper use of gestures in Windows 10 while using Rapoo K2600 which makes Windows a great OS for multi-tasking. The absence of physical button for left and right click does take a while to adjust with. As I told earlier, if you can manage using the right hand for touchpad and simultaneously the left one to control special left click button on top left, the usage might speed up. The touch was nice, but I managed to accidentally single tap the touchpad many times while moving the cursor which should not have been the case. They might need to give an update to sort this issue out. This was the only problem which bugged me till the end, rest all I got accustomed with during regular usage.
You are reading: Rapoo K2600 Wireless Touch Keyboard review
One of the shocking thing was that this keyboard didn't work properly with Mac. I really would have hoped that they launched some kind of driver for Mac too making it universal for all the operating systems. Though on Windows it did work properly without any issue. The link to driver is broken, but seems like I didn't require any. It would have helped if they had put a tutorial for Windows touchpad gestures. The price of
Rapoo K2600 is around 2200-2400 INR
on
Amazon.
Verdict:
For people who want Rapoo K2600 to be used on a Windows machine, it can be a good choice. Though it might take sometime for you to get the usual typing speed without errors. The only thing that bugged me was the accidental left click with touchpad while moving cursor around. It didn't happen too often, but not to less to just ignore it without mentioning. Apart from that the design and typing experience was great with Rapoo K2600. Hoped you liked Rapoo K2600 Wireless Touch Keyboard review. If you have any questions please mention them in the comment section below. I would be happy to help with any queries.