Whatsapp is one of the leading messaging apps which is used worldwide by people of various countries. One of the best methods to send a message to somebody is by adding their contact numbers in the phonebook. Whatsapp has introduced a new payment method called UPI(Unified Payment Interface) which is being used by many different apps like Google Pay(previously known as TEZ), PhonePe, BHIM etc. But this feature is invite-only and not available to all the Whatsapp users. So today I will tell how to get Whatsapp UPI payment feature.
What is UPI?
UPI stands for Unified Payment Interface. It is a method to transfer money instantly from one bank account to another using UPI ID. You don't need the account number, IFSC or any other details of the recipient. The UPI transfer happens instantly without any working day restriction. Also, it is totally free and there is no fee to make transfers using UPI. One just needs to choose the bank and enter the mobile number to add bank account to the UPI account of any app like Whatsapp, BHIM, Google Pay, PhonePe or PayTM.
How to get Whatsapp UPI Payment feature?
Update Whatsapp to the latest version.
Drop me a Whatsapp message here and I will activate the feature for you. People who already have the payment feature can activate this feature for others.
One needs to open chat with the person who wants Whatsapp UPI payment feature. Then he/she needs to press the attach button and tap on "Payment" option. You will get a popup saying that the other person has not setup payment, you can 'Notify them'.
Once you press Notify, the other person will also start seeing the Payment feature inside the attach option.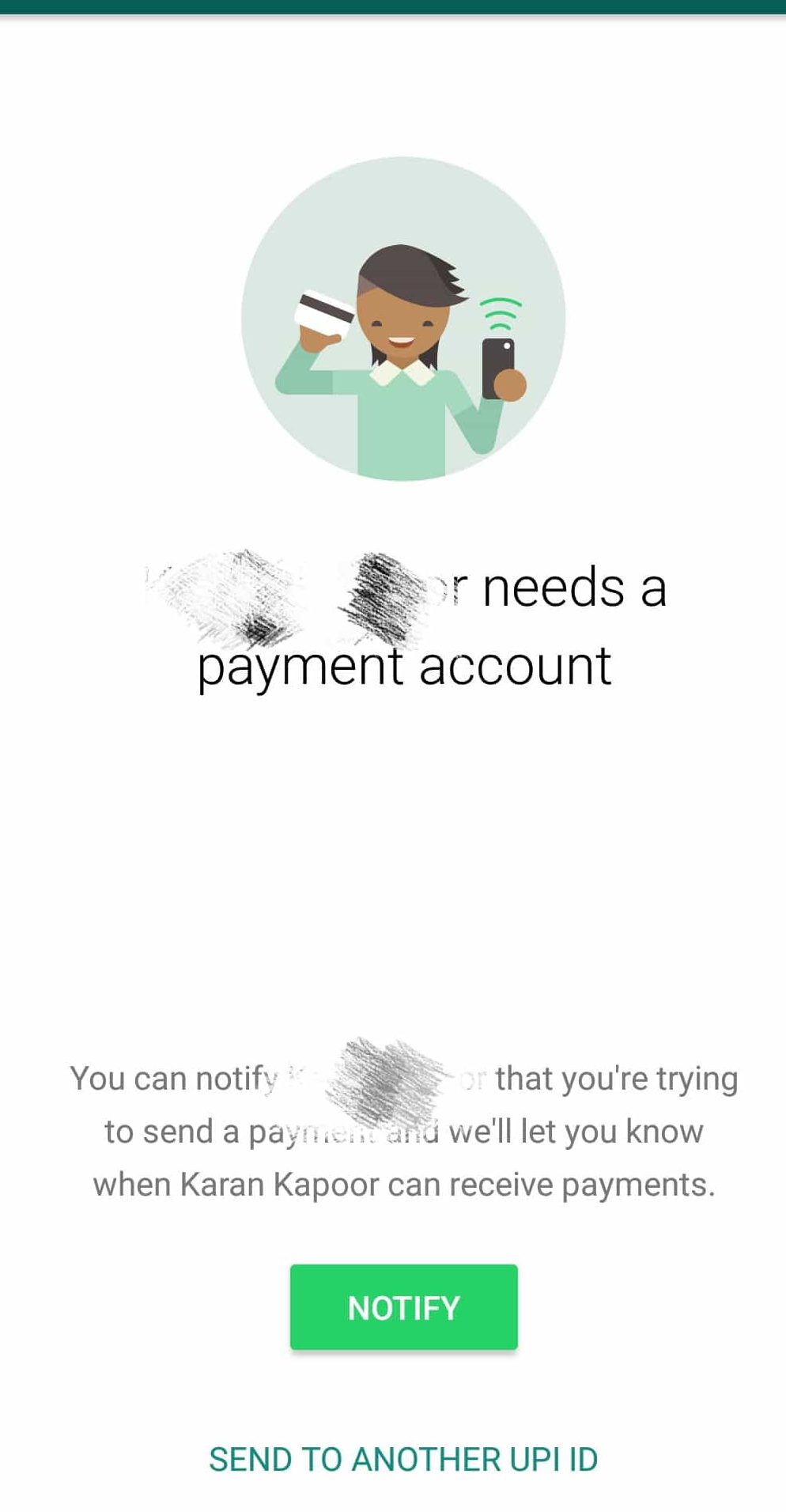 How to setup Whatsapp UPI Payment?
To setup go to 'Settings' in Whatsapp->Payment'.

Press 'Add new account' option.

Choose your Bank from the list.
Then choose the SIM card(phone number) which is linked to your bank account.
If the SIM card(phone number) was linked, it will send SMS and show you the bank details.
Once done, the bank account will be added to the list.
How to send money with Whatsapp UPI payment feature?
Just go to the person chat whom you want to send money through Whatsapp UPI payment feature.

Tap the attach button, and choose the payment option.

Enter the amount and a note in the field options. Make sure the bank account mentioned on the top is correct.
Next enter the UPI pin on the next screen.

Once you do that, the other person will receive the amount instantly.
This is how you get Whatsapp UPI Payment feature. You can set it up to send payments to friends/family members instantly. It involves no charge and works even on holidays. I would say that this is one of the best features introduced by India to transfer money instantly. Plus you don't need to remember the account details or register people as a beneficiary to send payments across. Plus it is bank to bank and there are no wallets involved in between. I hope you understood how to get Whatsapp UPI payment feature. If you still have any doubts, then please mention them in the comment section below.