Epson has been in the market of manufacturing some really good quality products. You must have seen a lot of printers out there from Epson – but did you know that Epson manufactures great projectors as well? They have a different range of projects as per the use case and the place it is used. Today we are reviewing Epson EH-LS12000B – which is a home cinema 4k laser projector. This has a lot of tech inside to make the viewing experience real and true just like you watch it on a modern television nowadays. So let's do Epson EH-LS12000B home cinema 4K laser projector review and check out its features.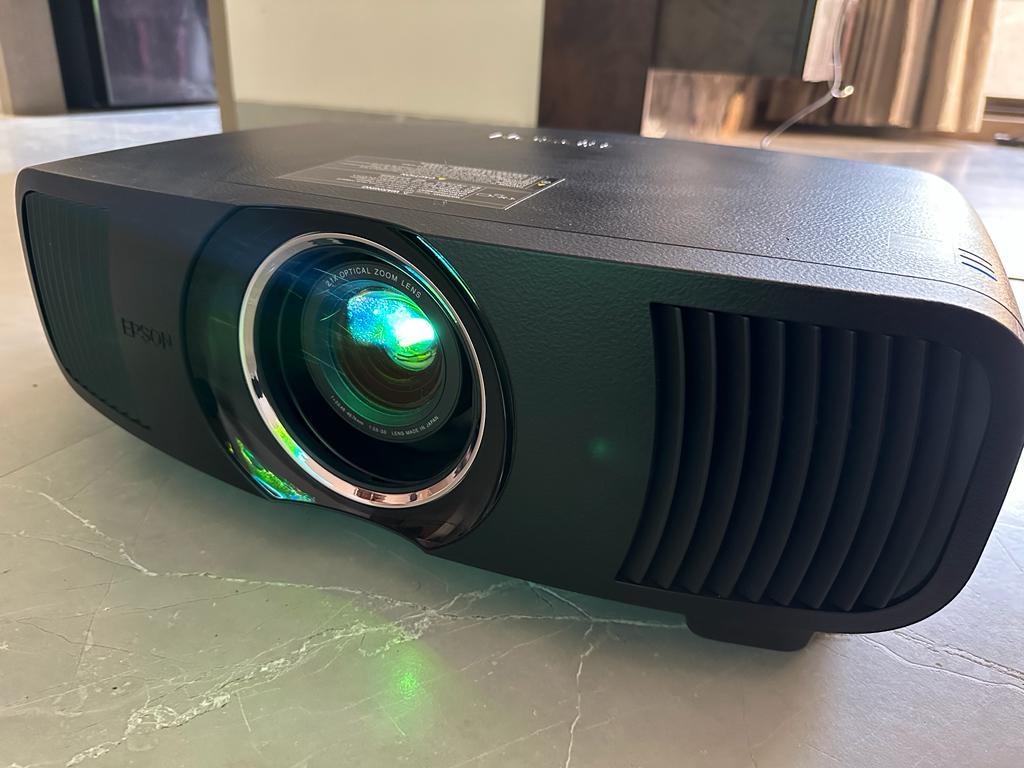 Epson EH-LS12000B Home Cinema 4K Laser Projector Review:
Design and Build:
This slideshow requires JavaScript.
The design of Epson EH-LS12000B is like a sturdy black-box – meaning it has a classy mat finish to its casing. The projectors has clean cut grooves for proper air ventillations for the lamp. The lens unveils through a motor on powerup – and autocloses on power off. This looks good and is also great to protect the projector lens when not in use. Power and source switch buttons are on the left – if you keep the projector facing opposite to you on the wall. On the top left you would see status, laser and temperature LED indicators. Rest every port will be found on the backside of the projector. Back panel starts with menu navigation buttons on the left with the ports on the right. The power socket is on the back at the bottom – took me a while to find it when it was lying down – but once you mount it – you can see it easily. It has got quite a few connectivity options which we will discuss later. Overall the build quality of projector is really good – and they have tried to keep the weight as low as possible without compromising the features.
Connectivity options:
This slideshow requires JavaScript.
Epson EH-LS12000B has got USB 2.0, Service, Trigger Out, LAN, Opt.HDMI, HDM1, HDM2(eARC/ARC), RS-232C ports for connectivity. Trigger out can be used to trigger the motorized screen whenever your turn your projector on – the small automation would help a lot here. It has eARC/ARC support which will stream some good sound directly to the supported speakers or soundbars. The connectivity options provided will suffice all the universal input/output requirements at your home. The projector doesn't have any inbuilt audio support – anyways you would want to plug it to your home theatre or soundbar system.
Performance:
This slideshow requires JavaScript.
Giving a 4K picture quality with support up to 120Ghz – Epson EH-LS12000B doesn't make any sound. It's so silent as compared to those loud projectors. If you are about having great picture quality – then Epson EH-LS12000B would definitely satisfy you with those dark and detailed blacks, and bright screen even during daytime(viewing recommended in a dark place). The 3 LCD system will do justice to a color or black-and-white movie as well. It gives a 2700 Lumens output on the screen which is bright enough to thoroughly enjoy the viewing experience. Projector comes with HDR10+ support as well – which is seen nowadays in a lot of smart television. The color range is pretty dynamic with a high contrast of 2,500,000:1. Best part about the projector is you put it in any place and it will adjust to it. You have a motorized lens shift feature which is amazing to position the display anywhere. Along with zoom control, focus adjust, and keystone controls – it becomes easy to handle the projector and position it in any place without hassle. We tested it with different videos like playing a dynamic range movie, a series, some youtube videos right from full HD to 4K and it played it well in all the conditions. Performance wise the projector is actually a power-packed machine with some great display quality which you won't find in the regular projectors out there. There is a clear indication that Epson EH-LS12000B has outperformed to what a projector can do.
Price:
As seen online the price range of Epson EH-LS12000B is around Rs. 6,00,000. Rest I would suggest to get in touch with Epson stores for buying details.
Verdict:
This projector definitely isn't for any regular user who wishes to watch movie on projector. For people who would love to create a home-cinema and have a projector which doesn't compromises on the display picture quality – you can go for it.