We are part of that era where everything is getting smarter day by day. We are surrounded by all the smart tech may it be smartphones, smart TV, smart classrooms and even we have got smart e-toilets. In this chaos of smart gadgets, one of the products that we got our hands on was GOQii RUN GPS. Once you buy this product all you need to do is configure it with your smartphone and track your daily activities with the help of there GOQii App. We always try to track our workout or our morning walks stats, but we can't do it verbally or manually. Now we have a solution to that problem. GOQii RUN GPS helps you to monitor your heart rate, your calories burned throughout the day, it also monitors your different activities such as Walking, Running, Workout, Cycling. The best part about buying this fitness band is that you get free 3 months subscription of the premium feature of the GOQii app in which you get a Coach who trains you according to your health need, You get access to health expert and doctor which helps you with your diet and supplements. Despite all these features let us see is GOQii RUN GPS worth buying?
Is GOQii RUN GPS worth buying?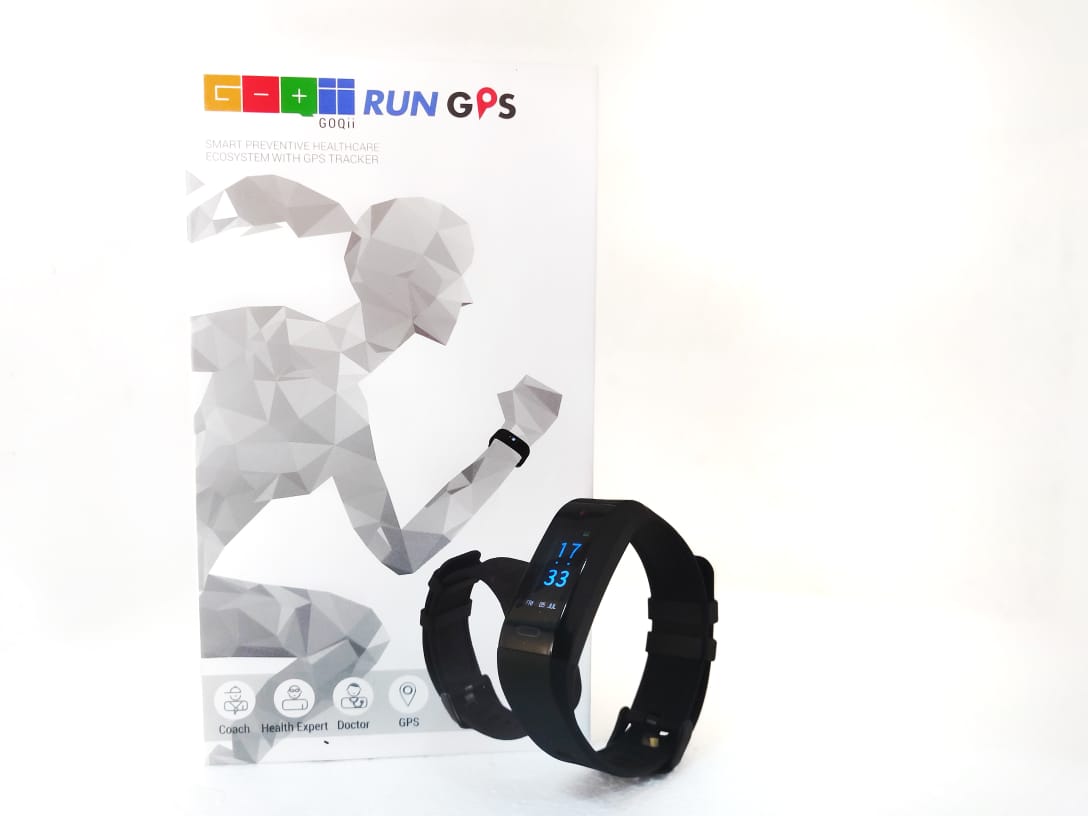 GOQii RUN GPS full review
I've been using this band from the last couple of week and this is my opinion about the GOQii RUN GPS, so lets us talk about the design aspect first.
Design
GOQii RUN GPS is not as slim as the other band available in the market. It is because of the inbuilt GPS tracker installed in the band which makes the band slightly thicker by 0.5 mm – 0.6 mm compared to other brands in that segment. Despite all the extra width added to the band, it still weighs less compared to others. You get regular silicon rubber strap which gives you a comfortable wearing experience. You get an O-LED multi-color display which makes the readings visible even in the direct sunlight.
You are reading: Is GOQii RUN GPS worth buying
Performance
Here's the list of features provided by GOQii RUN GPS:
GPS Tracking: This is the most unique feature of the band as it comes with inbuilt GPS. Now to activate it make sure the GPS file is updated using the app. Next go to track mode and select the activity you are doing, it will ask you to toggle gps on/off. Once you activate it, it will take time to acquire your position. After it has acquired the position, you can start the activity of running/jogging. After you are all done, just sync the band again with the smartphone to know the route you travelled. This way your smartphone GPS is not used, thus it saves the battery.
Time:- The GOQii band provides time, date, day & battery level on the first screen. But you cannot customize the Home screen/Front screen of the band.
Step Counts:- The band provides pretty accurate steps counts, but the only drawback is that when you shake your hands or do off-roading where your hand tends to shake a bit, it will also be counted as steps. So the total step count might not be the most accurate. This is a problem with other bands too. So make sure that whenever you want it to matter, just check the current steps count before starting your walking activity.
Online Coach & Health Expert:- In your 3 months free subscription to the app you get online coach which helps you to prepare your diet plan according to your body/target, regular followup calls arranged every week to check the progress, and some online training/guidance live stream interactive videos! This is one of the most important features of this specific band which makes it the USP. You can always renew your membership to continue availing the benefits.
Online Doctor:- In that 3-month subscription, you also get an online doctor facility in which you can discuss your health problems and cure them with their help.
Run Tracking:- In track mode, we get different options, one of them is Run Tracking mode. With the help of GPS, the band tracks our progress i.e. distance traveled, calories burned, heart rate monitoring and few other things.
Heart Rate:- Heart rate feature helps us to monitor our heart rate and it gives the runtime heartbeats value, whereas in other bands we get the average value of 1 minute.
Exercise:- In Exercise tracking mode we can track the time of workout, Calories burnt, average heart rate during a workout, maximum and minimum heartbeats during the workout.
Notification:- When you connect your band with Bluetooth you can also get notification of calls, Whatsapp, FaceBook, messages, and other notification services on your band which makes it easy to see a notification.
USB Charger:- There is no special charger for this Band. To charge your band all you need is to remove the strap, plug the device in any USB adapter and the band will start charging.
Sleep Monitor:- Sleep monitor feature on this band helps you to monitor your sleep, and give you the accurate sleeping pattern.
Alarm – One can set an alarm in the band with the help of the app. The band vibrates at the time set by the user.
Battery life – 7 days depending on your usage. It takes about 45 Min – 1 hr for a full charge. But if we use it daily for tracking or exercise or running especially the GPS feature, then the battery won't last that long.
The best feature which I liked about this band is the online coach and doctor support which I personally feel is very useful. Bands light is always dim but wakes up when you lift the band which according to me is a good feature. Another feature which the band provides is that you can search your phone through your band and vice versa only if the band is connected to the phone via Bluetooth. The band is priced at Rs.4999 INR which according to me is slightly costly. But as the band provides the Online coach and doctor subscription for three months it justifies the price. There are other bands with the same/similar features below this price range, but the online coaching/training stands out and takes a step ahead in this fitness world! This keeps you motivated towards your health.