ASUS has been launching various types of laptops in the market, and recently we got our hands on the new ASUS ROG G751 gaming laptop. We took it for a review and tested various high-end games on it. If I were to describe it in one sentence then, this is a compressed version of a Desktop gaming PC. Let's take a closer look and find out if it's worth buying.
ASUS ROG G751 Gaming Laptop review
Design
The ASUS ROG G751 looks like a gaming monster as its heavy(around 4 Kg) and large in size(17.3 inch screen). It is not that portable as you may imagine while buying a normal laptop. If you plan to keep it on your desk most of the time while playing, then the weight may not be an issue. Keeping in mind that it is a high-performance gaming laptop I can compromise with the portability factor. The dual air vents are on the rear which looks like the exhaust vents of a jet engine. The top of the lid has a fine matte finish which provides a good grip while holding this beast in your hand. The hinge of the laptop is 1.5 inches away from the edge. On the back of the lid, there is a red lighted ROG(Republic Of Gamers) logo which gives it a cool look. The keyboard and trackpad are also well designed with W, A, S, D keys highlighted with red color. It has a red backlight keyboard which again maintains the color theme of the laptop. There are some custom keys to toggle ShadowPlay, Steam and three programmable buttons (M1,M2,M3). The Trackpad is also large enough and responsive to easily handle the navigation and the gestures. In a nutshell, the build is strong but we cannot term it as highly portable.
Display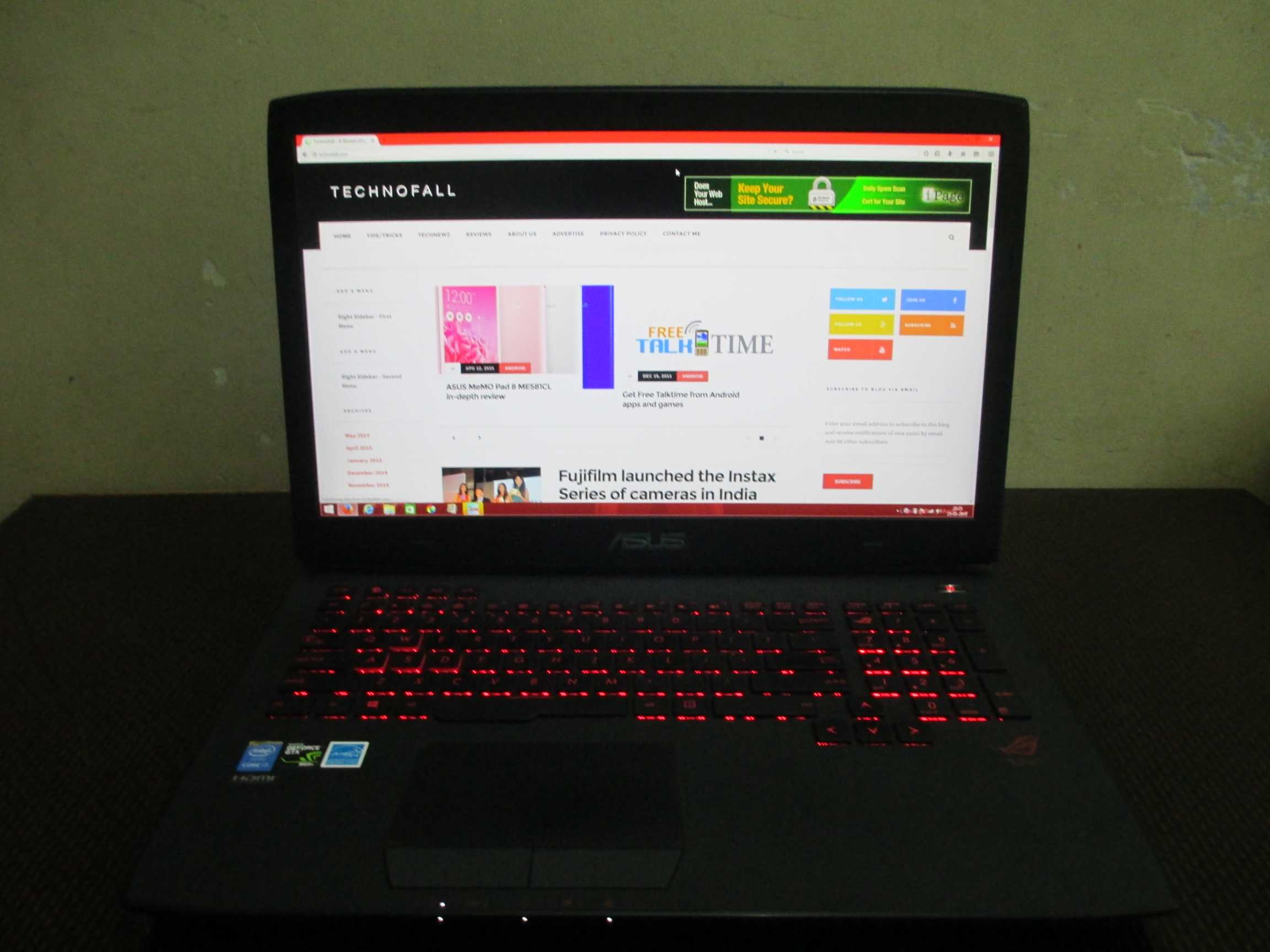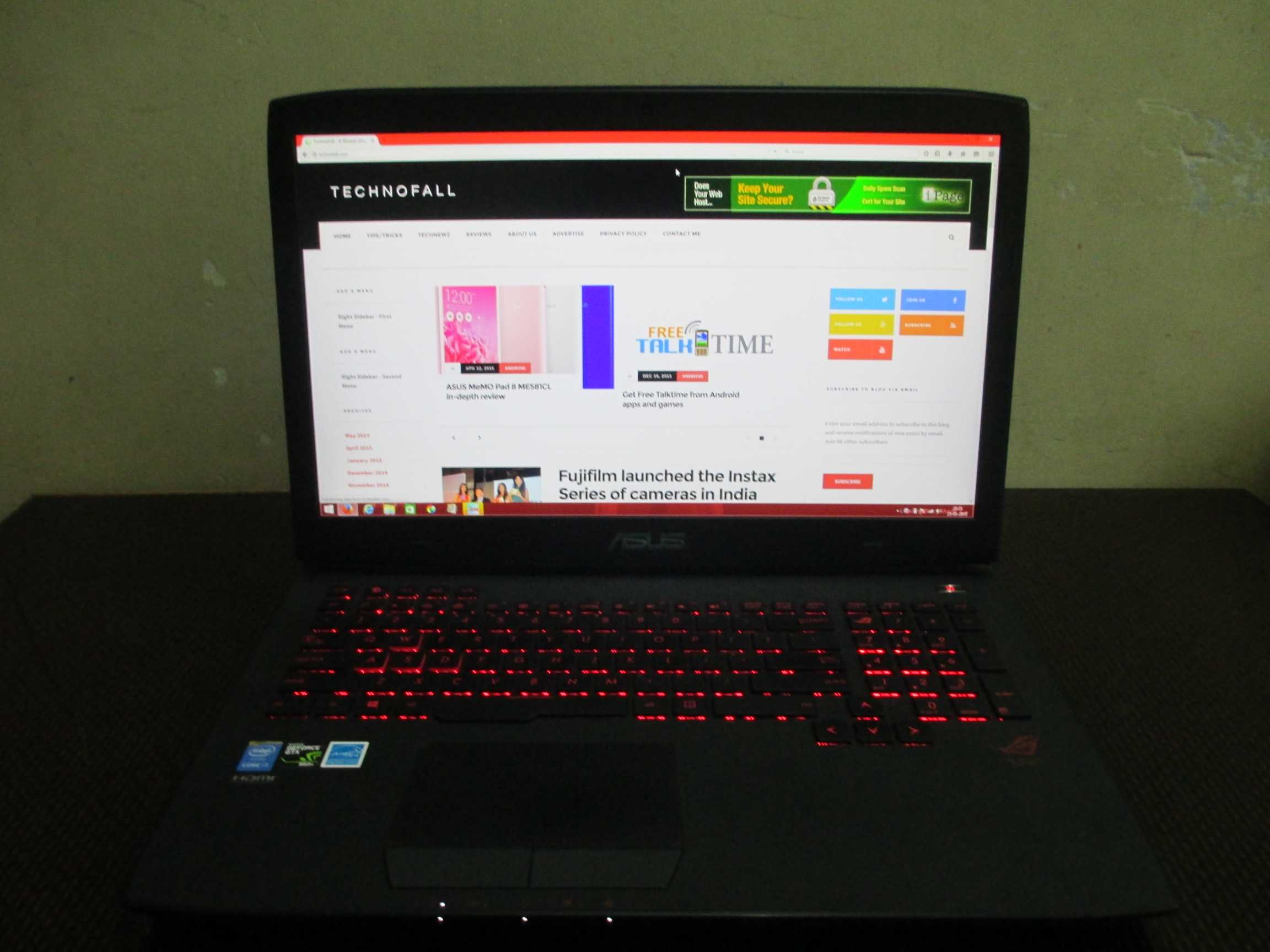 ASUS ROG G751 has a 17.3-inch display, which is quite good enough for gaming experience keeping in mind that its a laptop(Though in gaming the screen size is like – the more the merrier). It has 178 deg of viewing angle as promised by ASUS, and we can assure you that the viewing angles are great. The display is an IPS FHD with a resolution of 1920×1080 covered by a anti-glare coating.
Connectivity



4 USB 3.0 ports (2 on left and 2 on the right)
1 VGA port
1 HDMI port
1 Thunderbolt port
3 Audio Jacks (Headphone, microphone and podcast)
1 Lan Port
SD/MMC reader
Blu-ray reader and writer
Bluetooth 4.0 and Wifi
Performance
ASUS ROG G751 runs an intel i7-4710HQ processor clocked at 2.5Ghz with 24GB of RAM(23.9 User available). It comes with the new Nvidia GeForce GTX 980M graphic card(2GB- NVIDIA, 2GB- Intel HD 4600) which is the soul of this beast. Because of the graphic card, we are able to output video to 4K displays and enhance the overall gaming performance. Talking about the memory we have 1 TB hard disk(HDD) out of which 256 GB SSD storage is available for the operating system. You can press the ShadowPlay button to record the gameplay which is supported by the new GeForce graphics cards. We tried various high graphics games like Shadow of Mordor, Watch Dogs, GTA V, Assassin's creed unity, Call of Duty Advanced Warfare etc which ran very well without any lag. Performance wise the ROG G751 has no issues as such, and delivers the max performance. The dual fans with three copper pipes does a good job of cooling the laptop even when its overclocked. It comes with ASUS TurboMaster GPU overclocking which boosts the performance by 5%.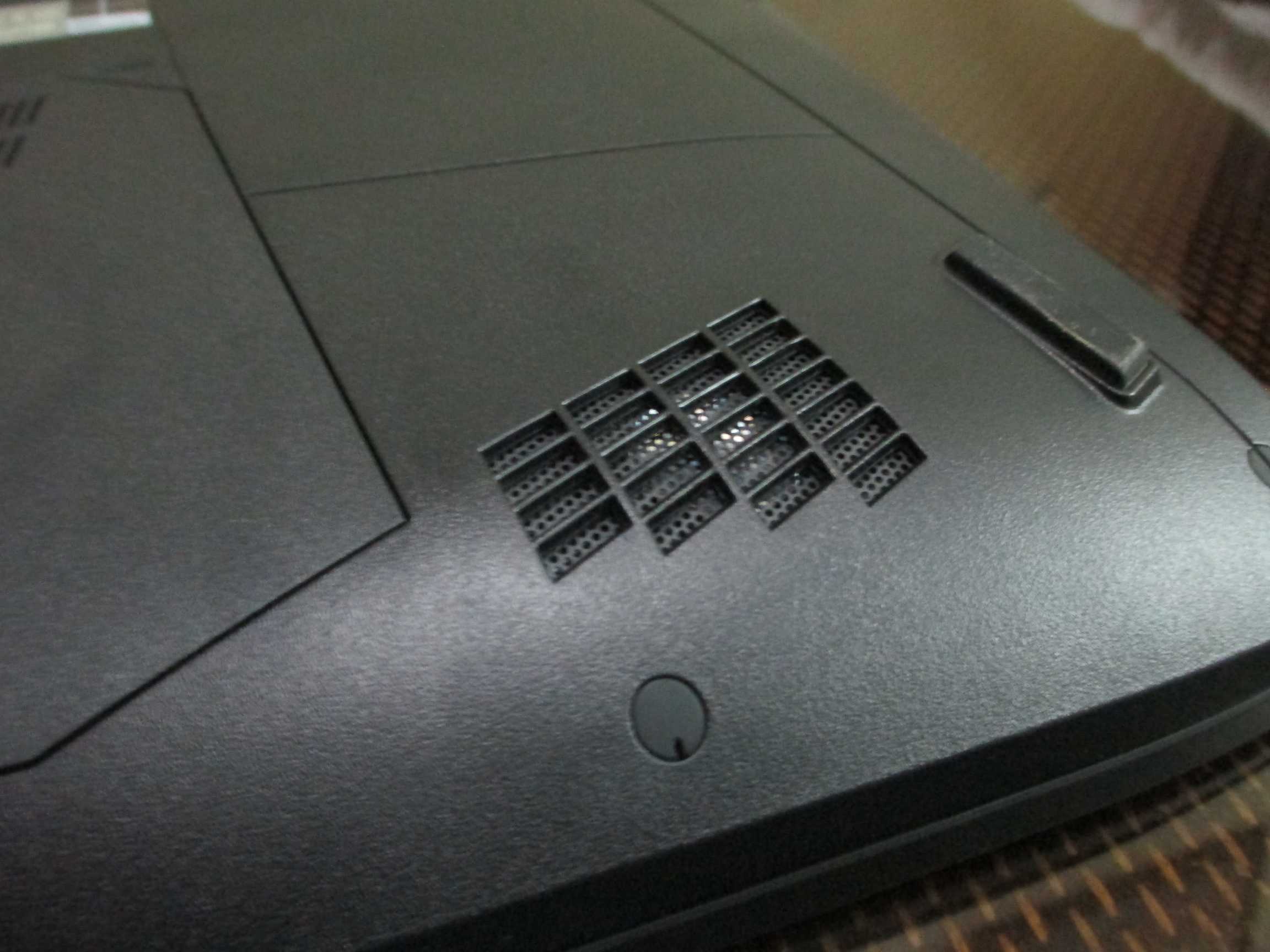 The speakers are placed near the hinge which face directly towards the user for enhanced sound output. The sound quality is good and the speakers are sufficiently loud. At the botton there is a low frequency subwoofer to enhance the overall gaming performance.
It comes with Windows 8 Pro preinstalled and some default software from ASUS and NVIDIA like ASUS smart gesture, gaming center, macro key, GPU tweak, web storage, GeForce Experience etc. You should definitely try these software to tweak the features of the laptop.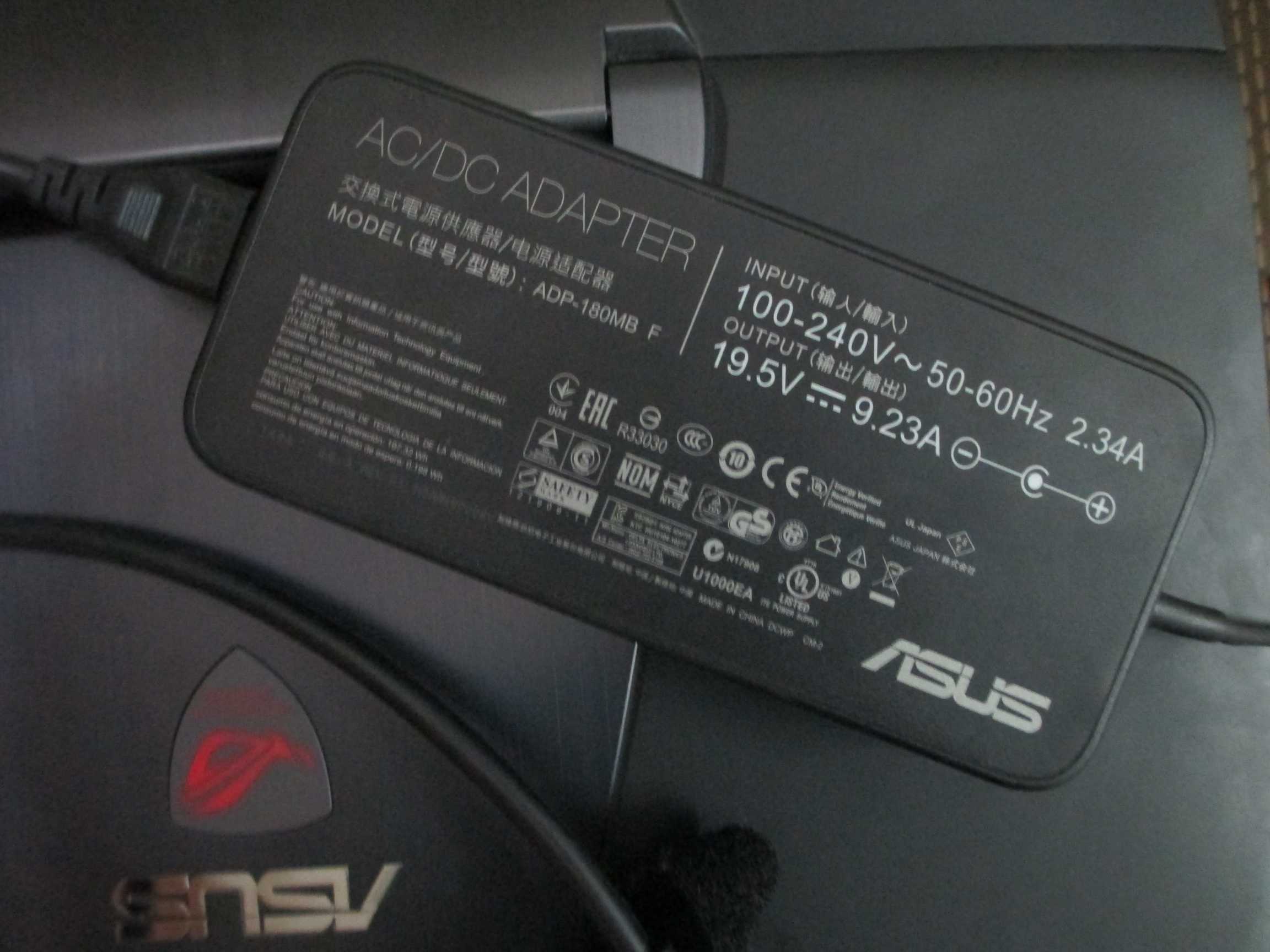 Battery and pricing
This is the point where the G751 doesn't performs much well. You can hardly get 1 hour of battery backup while gaming and 3-4 hrs with normal usage. One more issues that I noticed was whenever the battery level goes below 50% while playing game, it will start to lag and you will have to connect it to a power source to solve the problem. May be the graphic card doesn't get the required power to run efficiently. So you can't expect much from the battery backup of G751 while playing games.
The laptop is available on Amazon for 2244$(including shipping), and for Indian Users its available on Ebay for Rs.206,175. There is a 1 year Internation warranty on the laptop with 1 year accidental damage cover.