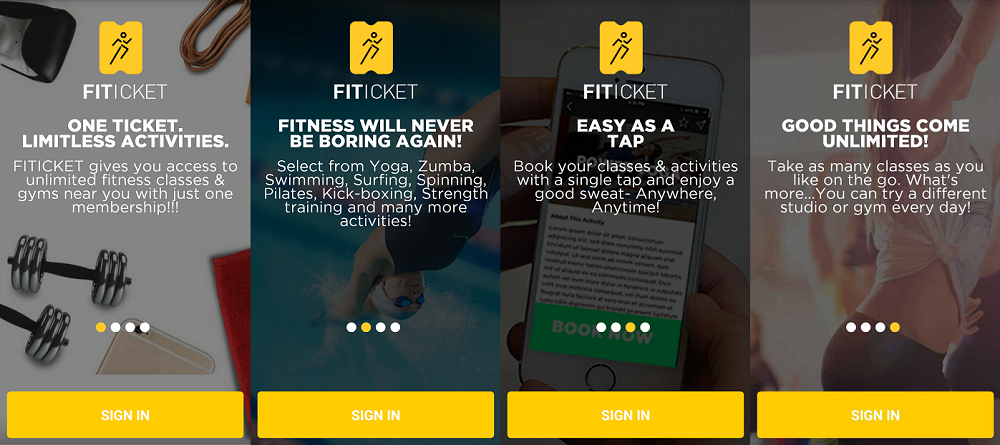 The main rising issue of this digital age is the lack of physical exercise. We are all busy doing our work on computers/Laptops sitting at one place for hours without any workout. Some people do visit the gym, but they are not able to maintain the consistency due to time management issues or may be location constraint. To solve this problem, Fiticket app allows you to workout anywhere anytime. You can choose any place which is nearest to your current location and perform any activity you like. There are various activities you can choose from to break your regular monotonous schedule.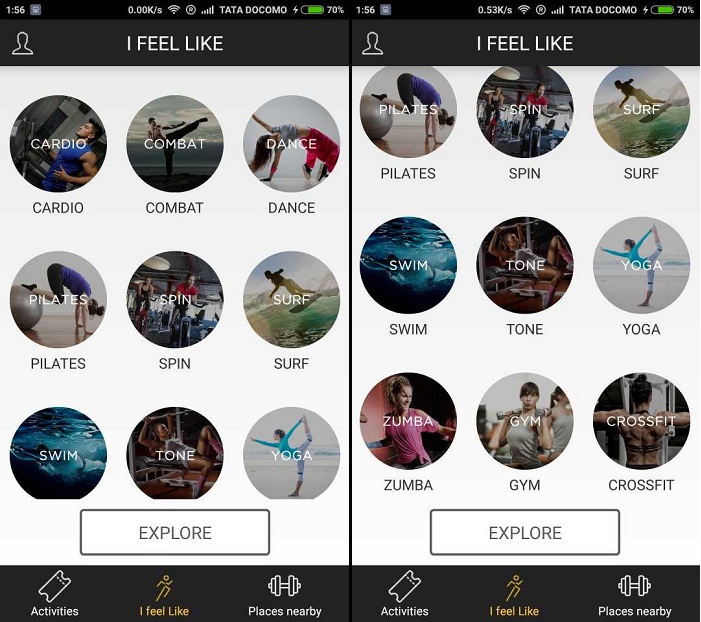 One can pick any activity from the 2000 activities offered. From basic activities like using the gym and swimming pools, there are a lot of group classes like yoga, zumba, pilates, crossfit, spinning etc. A variety of dance classes are available such as salsa, jazz, contemporary, tango, and kathak. MMA(Mixed Martial Arts) activities include kickboxing, taekwondo, kravmaga, kalaripattayu, judo and tai chi. Exciting new premium activities can also be found on Fiticket app such as Aerial yoga, surfboard workouts, capoeira, bokwa, trx as well many cardio based group workouts such as cross and functional training, body pump, body combat etc. The availability of these activities will totally depend on your location. Currently, the app is available for users living in Mumbai, Delhi, Bangalore, and Pune.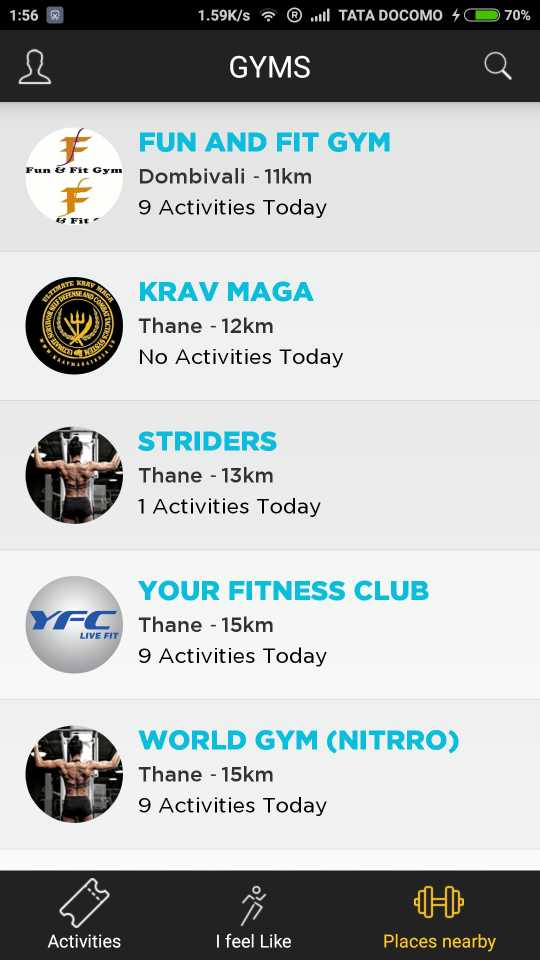 This app is available for both major platforms Android and IOS. When you first sign in, you get a 1-week free trial pass to experience various services offered by this new app. With Fiticket, there is something for everyone. The busy working professional, the new mom, the college student, fitness buff, frequent traveler, the first timer and anyone who's looking to break the monotony – will all find something that appeals to them. There are all kinds of activities for all levels, and to fit everyone's schedule.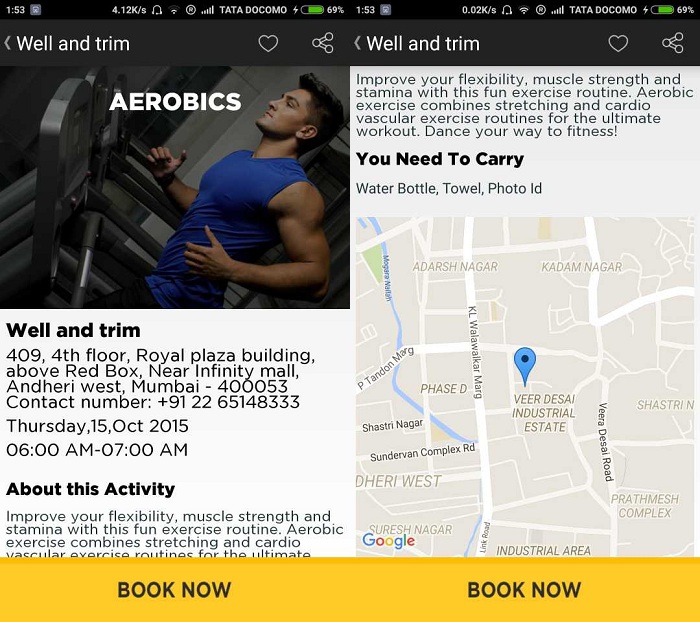 SahilKukreja, Founder and CEO at Fiticket says, "We have covered more than 600 locations in Mumbai alone and have more than 100 tie ups in Delhi, Bangalore, and Pune which makes it more than 900 tie ups across these cities. Fiticket has grown four fold with 5000 registered users over a period of 45 days. The App offers about 2000 activities in a day and is available on Android and iOS."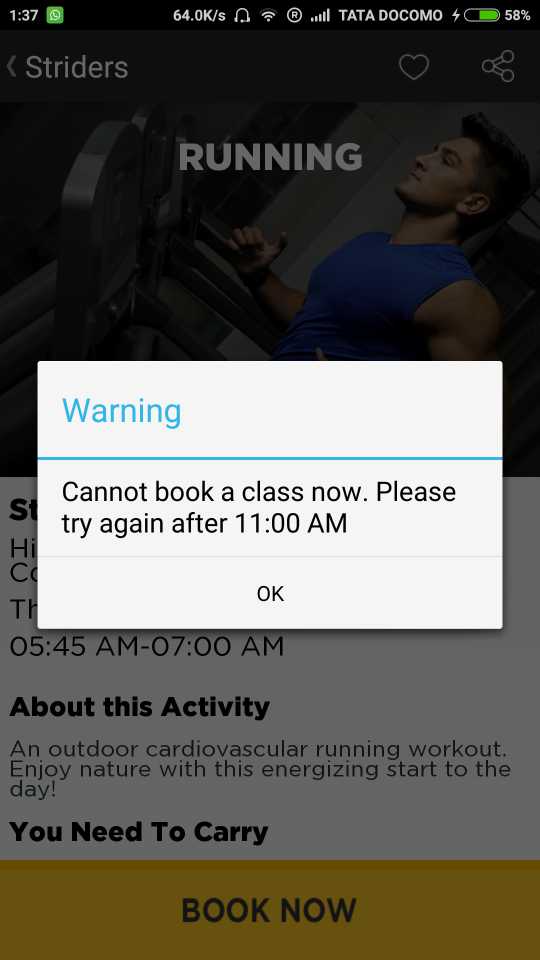 I reviewed the app and found that it still needs some updates and bug fixes. I tried booking a session at 10:30 PM for the next day, but I kept getting a warning "Cannot book a class now. Please try again after 11:00 AM". So I don't know how am I supposed to book an early morning session. Also, I need to attend these sessions to see the quality of service they offer. When you choose an activity and click explore, a list of all the nearest workout centres is displayed. Each and every centre has details about the address with a map and the contact info. You can choose the time slot and also see the list of things you need to carry(if applicable). After expiry of the trial period, you need to purchase a membership of Fiticket app. Various packages offered are as follows. All the payment options are available including cash on delivery (C.O.D.).
Personally I haven't tried Fiticket app yet, as I am also the lazy type of guy. Though I do appreciate the idea behind this new app to encourage workouts via various activities by removing the location and time barriers. If you are someone who exercises on a daily basis, or someone who wants to try this new service, do share your experience with us through the comments section below.