ASUS, the Taiwanese leader in smartphones and IT technology announced global debut of ZenFone Max Pro (M1) in presence of ASUS CEO Jerry Shen and COO Jerry Tsao at a grand press event in Delhi, India.
The ZenFone Max Pro packs a massive 5000mAh battery, a 15.2 cms (5.99) FHD+ Full View display and a dual-camera system into an amazingly compact metal body. It is powered by the fast and energy-efficient Qualcomm®Snapdragon™ 636 Mobile Platform, with Adreno™ 509 graphics for enhanced responsiveness and outstanding gaming performance. The smartphone is also ASUS' first smartphone to offer a pure, stock version of Android – and the latest version Android 8.1. The smartphone packs in high-end audio components comprising an NXP Smart Amp, a 5 Magnet Speaker and a passive amplifier accessory 'The Max Box', for unmatched audio experience in its segment.
ZenFone Max Pro (M1) smartphone is also the first smartphone to be co-marketed and distributed online under the recently announced partnership between ASUS and Flipkart, India's largest e-commerce marketplace.
"India remains a key market for our smartphone business and we wanted India to be one of the first countries to receive our brand new ZenFone Max Pro (M1)," said Mr. Shen. "We are proud to be working with Qualcomm Technologies to make ZenFone Max Pro (M1) one of the most powerful yet battery-efficient smartphones for all Indian consumers to enjoy." 
 Commenting on the launch, Ajay Yadav, VP, Flipkart said, "Flipkart has been at the forefront of driving innovation and growing the adoption of smartphones in India.  With the strategic partnership with ASUS, we are now expanding our efforts in redefining the market by launching smartphones that are 'made for India'. Backed by our deep understanding of what customers are looking for, the ZenFone Max Pro (M1) is a complete package of cutting edge technology and great specs at a compelling price."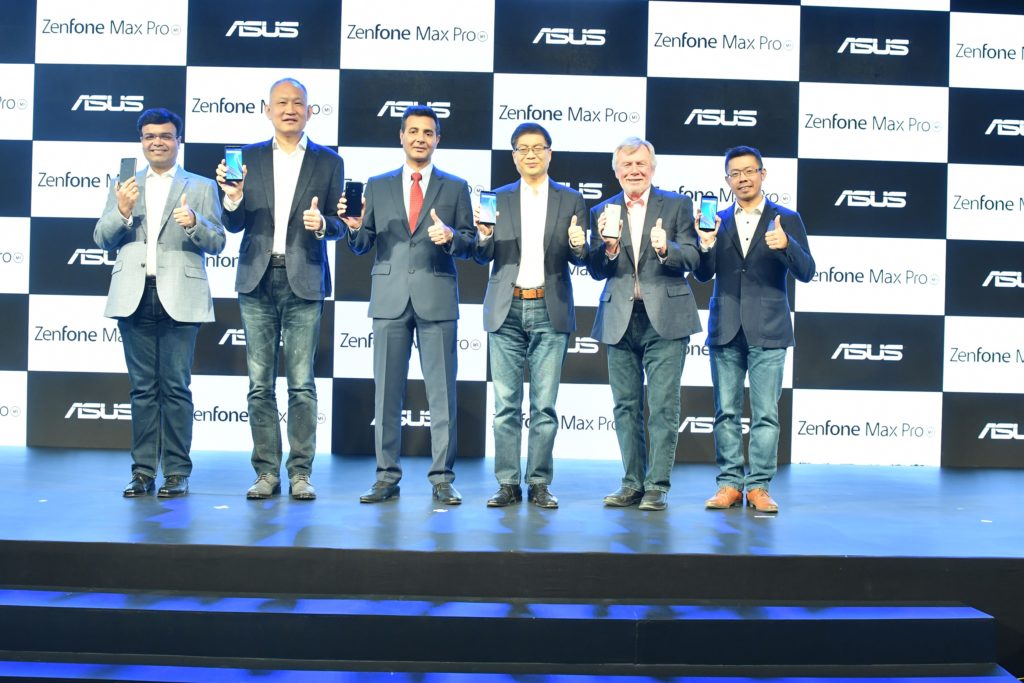 Larry Paulson, President & Vice President, Qualcomm India joined Mr. Shen on stage to add, "Qualcomm Technologies shares the ASUS commitment to exceptional design and quality, With the launch of ZenFone Max Pro, powered by the Snapdragon 636 Mobile Platform, ASUS has brought together an ideal balance of exceptional battery life, outstanding performance and consumer value."
The smartphone's exquisite design features a stylish aluminum-alloy body and 2.5D-curved display glass, and is available in two stunning finishes: Deepsea Black, and Gray.
Advanced mobile performance
At the heart of the ZenFone Max Pro (M1) is an advanced Qualcomm Snapdragon 636 Mobile Platform, which combines smooth, responsive performance with superb battery life, and a powerful Adreno 509 GPU that delivers enhanced mobile gaming and browsing performance. The ZenFone Max Pro (M1) handles any task easily, with performance to spare.
The Qualcomm Snapdragon 636 Mobile Platform is an advanced 14nm 64-bit octa-core system-on-chip (SoC) with up to 4GB RAM, and which delivers over (up to) 40%-higher CPU performance and 10%-higher graphics performance than the Snapdragon 630 Mobile Platform, while maintaining excellent battery life. With its improved performance, the Adreno 509 GPU supports lifelike visuals and more efficient rendering of advanced 3D graphics.
Stock Android 8.1
The ZenFone Max Pro (M1) is the first ASUS smartphone to ship with pure Android™ Oreo™, the latest version of the beautiful Android user interface that delivers an intuitive experience and helps the user do stuff faster, improve their productivity, and simply lets them have more fun with their phone.
Massive stamina
The hallmark of the ZenFone Max Series is the huge battery capacity, designed for serious travelers and those who need maximum battery endurance. The ZenFone Max Pro (M1) has a high-capacity, high-density 5000mAh battery — the most powerful in the ZenFone Max Series — that's custom-crafted to pack maximum performance into minimum space.
With so much power on tap, users can browse more, game more, stream more — and talk as much as they want without worrying about finding a power outlet. The ZenFone Max Pro (M1) offers users up to 20 hours of YouTube video playback, up to 42 hours of 3G talk time and up to 28 hours of Wi-Fi web browsing. On a single charge, users can enjoy playing more: for example, up to 45 rounds of Mobile Legends, or up to 2 seasons of Games of Thrones.
All this power is backed up with lightning-fast charge times: ZenFone Max Pro can charge its 5000mAh battery from 0% to 100% in just 2 hours and 42 minutes, compared to some rival products with a 4000mAh battery that need well over 3 hours.
 Immersive Display and Audio for Magnificent Entertainment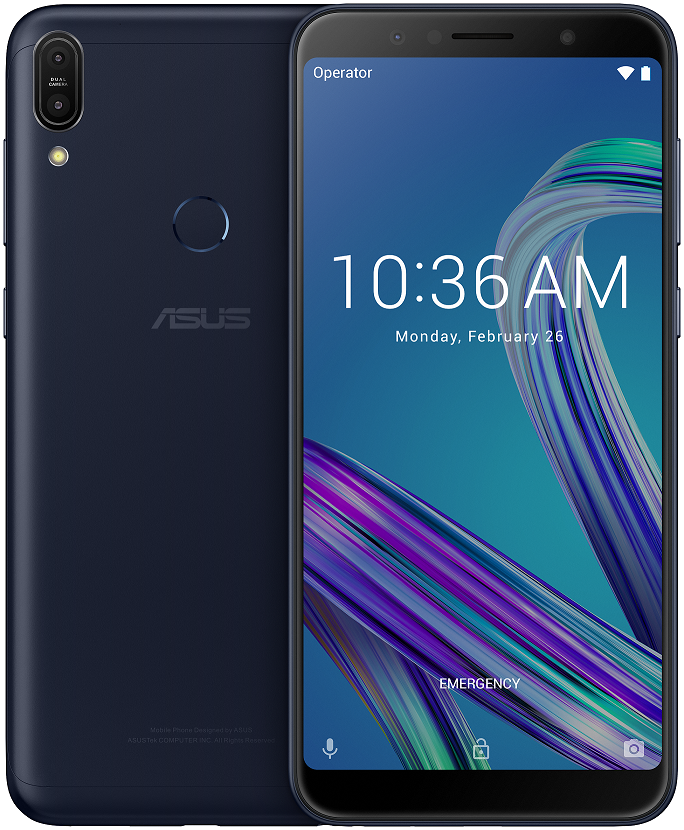 The 15.2 cms (5.99) Full View FHD+ (1080 x 2160) display in the ZenFone Max Pro features stunning 450cd/m2 brightness, class-leading 1500:1 contrast ratio and an 85% NTSC color gamut to provide users an magnificent visual experience. The ultrawide 18:9 aspect ratio and slim bezels provide a greatly expanded viewing area that makes viewing photos and watching widescreen videos incredibly immersive, and when browsing the web there's less need for scrolling. Multitasking is also easier, as two apps fit comfortably side-by-side on the screen.
For powerful, immersive high-quality sound, the ZenFone Max Pro (M1) features a five-magnet speaker driven by an NXP smart amplifier that delivers higher volume with lower distortion. Compared to single-magnet speaker performance, the ZenFone Max Pro (M1) delivers 41% louder sound, 14% better low-frequency response and 12% less distortion. When coupled with Max Box, the volume can increase up to 2X louder.
Dual rear cameras
The ZenFone Max Pro (M1) has an advanced dual-camera system that takes mobile photography to new heights. The rear camera focuses on the subject in less than the blink of an eye, and has a high-resolution 13MP sensor with a high-quality, f/2.2 wide-aperture lens that captures clearer photos, every time.
The secondary 5MP rear camera is a dedicated depth-sensing camera for more accurate bokeh effect in portraits and close-ups, putting the subject in sharp focus while progressively blurring the background for a gentle yet powerful effect that really makes the subject stand out.
ZenFone Max Pro (M1) shoots video at up to 4K UHD resolution, allowing users to just point, shoot and share their memories, all captured with incredible levels of detail.
The 8MP front camera enables the most indulgent selfies, with soft-light LED flash and a beautification feature that enables shots with the removal of blemishes, balance facial features, enhance skin tone and more.
Premium all-metal design with three slots (two SIM slots and an expandable storage slot)
The ZenFone Max Pro (M1) is built to last using solid metal, with a slim and light 180g body that's precision-crafted to give it a luxurious feel without being bulky. The slim and elegant size and 2.5D-curved front edges make the ZenFone Max Pro (M1) exceptionally comfortable to hold, with significantly less bulk than a standard 6-inch phone. The ZenFone Max Pro (M1) is available in two stunning finishes to match the user's style: Deepsea Black and Meteor Silver.
The ZenFone Max Pro (M1) comes with two SIM slots supporting 4G LTE, and an additional microSD slot to expand storage by up to 2TB. Its convenient triple-slot tray lets users install two SIMs and a microSD card in one easy step.
The ZenFone Max Pro (M1) is easier to use and more convenient than ever, with a new face unlock feature that lets users unlock the phone simply by looking at it — the perfect solution for messy or gloved fingers. In addition, ZenFone Max Pro (M1) sports a rear fingerprint sensor that unlocks the phone in an instant.
Special Launch Day Offers
The new Asus Zenfone Max Pro (M1) launches in India with several unique offers to sweeten the deal. Flipkart launches 'Complete Mobile Protection', India's end to end post sale assurance at a special introductory price of Rs. 49 in partnership with Asus. It offers comprehensive coverage and ultimate convenience to the customer with doorstep pick up and drop service.
In addition, there is an extra Rs. 1000 off over regular exchange of models and to spread buying cost a special no cost EMI, upto 12 months on all credit cards and Bajaj Finserv Limited.
 Vodafone Offer
The Vodafone offer on ZenFone Max Pro M1 is unique and offers benefits up to Rs.3200. Offers include, Free additional data, Free Red Sheild Device security plan for 2 years and weekly telecom and non-telecom offers for youth customers.
Vodafone Offer Details are as follows.
Prepaid:

•     10GB additional Data Free per month for 12 months (Rs.199 Plan and above)

•     Weekly telco and non telco discount offers for Youth Consumers

Postpaid:

•     10GB additional Data Free per month for 12 months (Red 399 Plan and above)

•     Red Shield – Device Security Insurance Plan Free for 2 Years (Red 499 Plan and above)
AVAILABILITY & PRICING:
ASUS ZenFone Max Pro (M1) will be available in two variants namely 3GB / 32GB for Rs.10,999 and the 4GB / 64GB for Rs. 12,999 from May 3, 2018 exclusively on Flipkart.
The third variant 6GB / 64 GB will sport 16MP + 5MP dual rear cameras, a 16MP front camera and will be available for INR 14,999.