In today's digital age the smartphone usage is not just limited to calling but includes various usage in the multimedia and gaming sector. Aircel one of the emerging Indian Network operator is more focused on the services that users wish to use on their mobile phones. They performed an enhanced statistical analysis to check what are the needs of the customer relating to the various different fields. The graph below shows, what does the customer consumes from the vast range of value added services made available to them.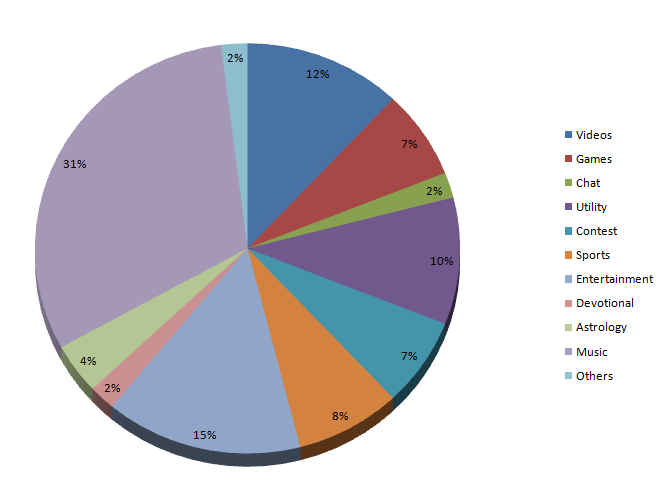 Surprisingly 46% of the urban users stream music online and the number is growing. Also mobile gaming is the most downloaded genre of paid apps. With this analysis Aircel has introduced some amazing VAS plans focusing on fields like music, entertainment, Caller Tunes, Voice Chat, USSDs, Contests, Gaming, Utility, Sports or Videos. These new plans starts from Rs.2/day offering services like music, video streaming and much more.
Now users will have more freedom on selecting their caller tunes. They can now edit the song, or record the tune in their own voice and set it as their caller tune. This service is called "cut your Dialer tune" and is priced at Rs.15. Aircel has some plans for security too that includes tracking location of your child's phone. Similarly it can be used for women safety to inform relatives and friends about their location. Another trending service is the Quiz Factory where users can use all three forms of communication such as Voice, SMS and data to solve quizzes and win prizes.
Reena Rathi, Head-VAS at Aircel, said, "VAS is a very interesting space for us at Aircel. While it gives us the opportunity to grow as a company in ways more than one, it also helps us improve many lives. For instance, an Aircel customer knows best and in the simplest of ways what the day ahead for him looks like, because he gets an 'Astro Buddy' alert each morning that fills his day with positivity. He isn't disturbed with phone calls while driving, because he has set his signature caller back ring tone giving that message to the caller. There are so many customers whose lives have transformed after winning bumper prizes such as cars and SUVs in our VAS contests."

She added, "Studies prove that about 46% of what people do on their smartphones and tablets today is the "ME TIME" that's used for activities such as exchange of e-mails, calling, entertainment, online, etc. Most of Aircel's VAS taps this space and as the Indian MVAS market is estimated to grow at a whopping 18.5% CAGR during 2015 and 2020, we're committed to strengthening this portfolio for an inclusive growth of the company and for the industry." 
With these new MVAS plans, Aircel is trying to satisfy the needs of customers at their fingertips. Let us know how frequently do you use VAS on your mobile phones, and which are the different services that you enjoy. Would you like to use the 'cut your dialer tune' service and select the favourite part of song if given a chance. Do comment your answers below.