So let us talk about the top 5 innovative and creative alarm clocks. Most of us love to sleep, sleep is a luxury, to others, it may even be a hobby or a favorite pastime. A common problem for almost everyone in this generation would probably be to wake up in time! Be it for work, class, meetings, or the day's activities, the alarm clock is a must-have item in the bedroom. But if you're bored with the mundane ringing, hand-sized clocks that you can easily throw out the window to shut up because of its irritating sounds, then you are going to love the list of top 5 innovative and creative alarms.
Heavy sleepers and late-night gamer's, pick your challenge from the alarm clocks below. No matter what has been keeping you up late at night, we have for you the top 5 innovative and creative alarm clocks that will help you out of dreamland in a very unorthodox way. Some of these clocks can be found online while others are merely concepts at this point. You will find out loads of evilness after the jump! So lets go through the top 5 innovative and creative alarm clocks
Top 5 innovative and creative alarm clocks:
1. Clock on wheels:-
Features:-
Runs away beeping an R2D2-like robotic sound.
 Jumps from 3 feet high.
Option to snooze once or disable snooze and to turn off wheels and use like a conventional alarm clock.
Flashing backlight indicator as it runs.
Demonstrable with 'demo' mode.s
Uses 4 AAA Lithium Batteries.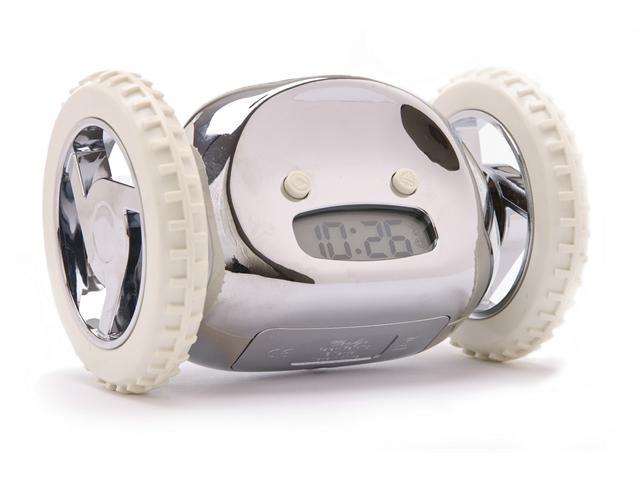 Description:-
Don't you think the objects we use daily should be different? The proud parent of Nanda Home and the company's main snooze offender. They made it for Gauri, an over sleeper who was routinely late for classes as a graduate student at the MIT Media Lab, waking up would take some ingenuity. Fusing her love for aesthetic with her passion for fixing things.
WHAT IS IT? The alarm clocky that runs away beeping, to get you out of bed. Can't wake up? You are not the only one, so don't worry. According to stats, 40% of people are regretting the snooze. Typical alarm clocks just don't work very well. The clocky on wheels never lets you sleep again and if you snooze, Clocky will jump off your nightstand, and run around beeping, absolutely determined to get you out of bed on time. Clocky is really innovative, creative and charming.
2. Sonic bomb with super shaker:-
Features:-
Great for heavy sleepers and individuals with hearing challenges.
Wireless connection to your smartphone.
Set multiple alarms.
Wakes up without disturbing others.
Alert during calls and messages.
Adjustable vibration strength.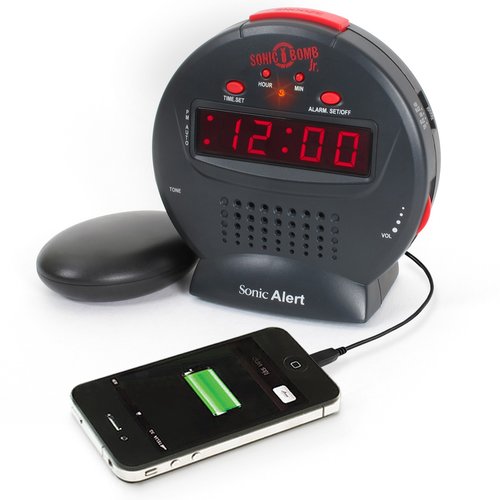 Description:-
Sonic Bomb is an alarm clock designed for deaf people. With the aid of a bed shaker it gives you a jolt in the morning to get you out and on your feet. Coupled with an adjustable pitch alarm sound and flashing lights it is all the entertainment you require as per your waking uptime. It is a powerful vibrating alarm controlled by your smartphone. Its vibrations are guaranteed to wake up even in the heaviest of sleepers!
BUY Sonic Bomb Alarm Clock here on AMAZON
Features:-
On and off alarm switch
One-click edits alarm time
Two click edits clock time
Left and right change time backward and forward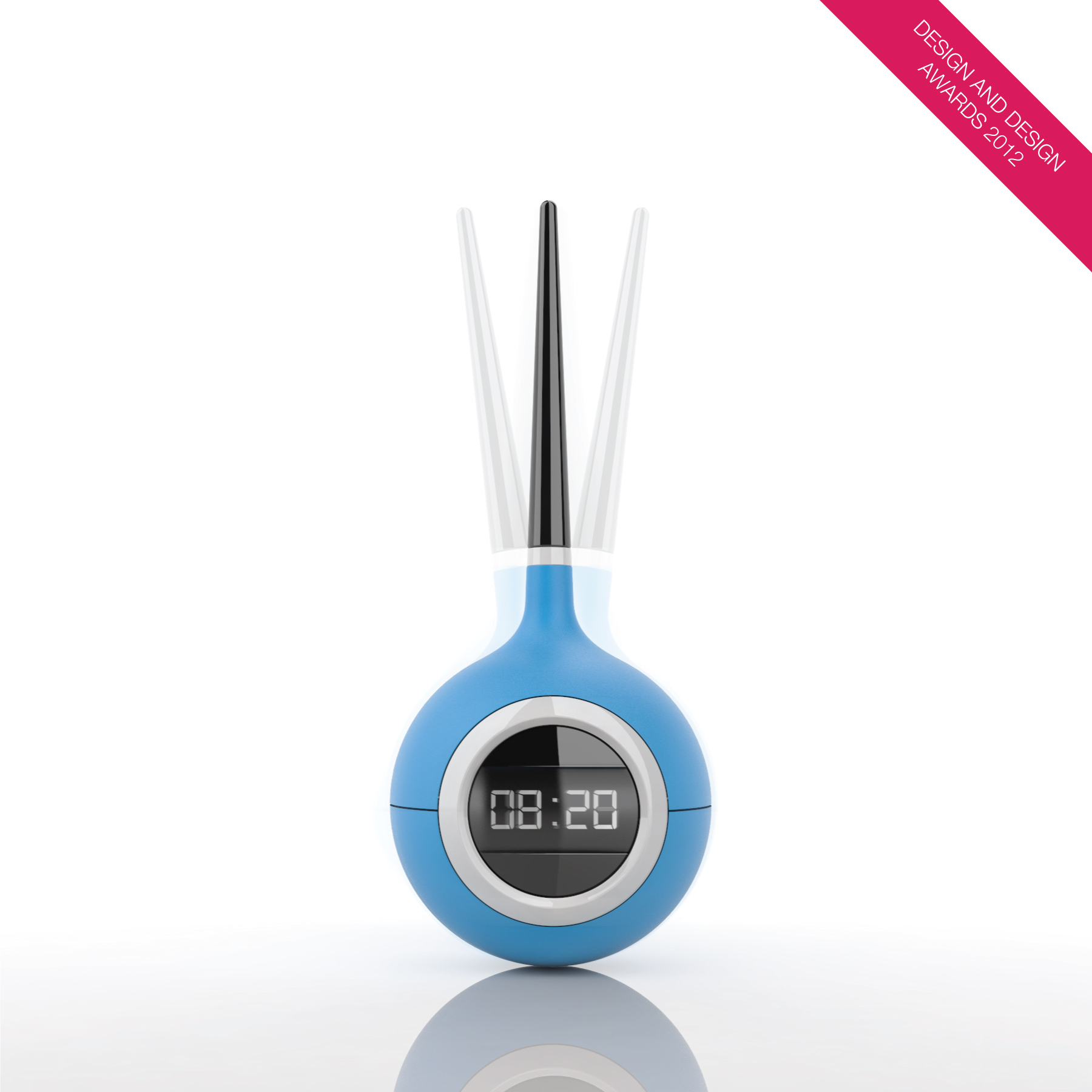 Description:–
Portugal – based designer pedro gomes is an interactive alarm clock that functions on kinetic triggers such as twirling and rocking. Some designers want you to stand up to wake up, others want you to stretch but Pedro gomes wants you to play with the toy-like Sleepy Alarm Clock! Spin the spoodle and it allows you to sleep for a wee bit longer. Overall a cute design that will fit perfectly in the children's room. What I dig the most is the fun, interactive way we can change the time by simply moving the ball back and forth. The time can be set by leaning the device from one side to the other while snoozing is activated by spinning the clock on the nightstand, until it inevitably comes to a rest when the buzzer will go off again. A playful experience with a strong interactive bond.
4. Rocket launcher alarm clock:
Features:-
Wake up to NASA style countdown and rocket launch!
You MUST find the rocket and put it back on the stand to make the alarm clock stop ringing
Easy to use clock and alarm functions, countdown and flashing light effects, rocket launch, snooze function, and back-light.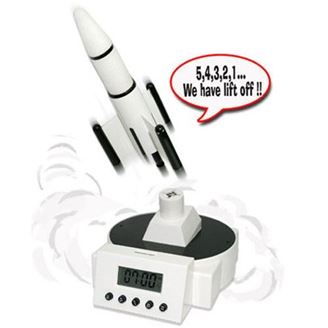 Description:-
3 – 2 – 1 – Get set and GO!
The cool new rocket launcher alarm clock is the latest in seriously irritating and frustrating alarm clocks. This one wakes you up with a NASA style countdown before launching a rocket somewhere across your bedroom. Rocket launcher alarm clock is basically for the heavy sleepers who literally need a rocket to wake up, this digital alarm clock is the perfect combination of alarm clock and rocket. It may get annoying in the morning, but the Alarm Clock is sure to get its job done. From my perception, it's an excellent alarm clock for kids and adults. Also, an innovative and creative alarm to look forward to.
Features:-
Modern Look – Suits any room despite the function
Touch Sensor – Effectively getting you out of bed (must stand for at least 3 seconds to stop alarm)
High-Density Memory Foam – Incredible comfort
Customized alarm & Post Alarm Sounds – Daily Motivation to start the day
Minimalistic Design – Efficient and clears room space
Battery Life – well over 1 year – running on 3 AAA Batteries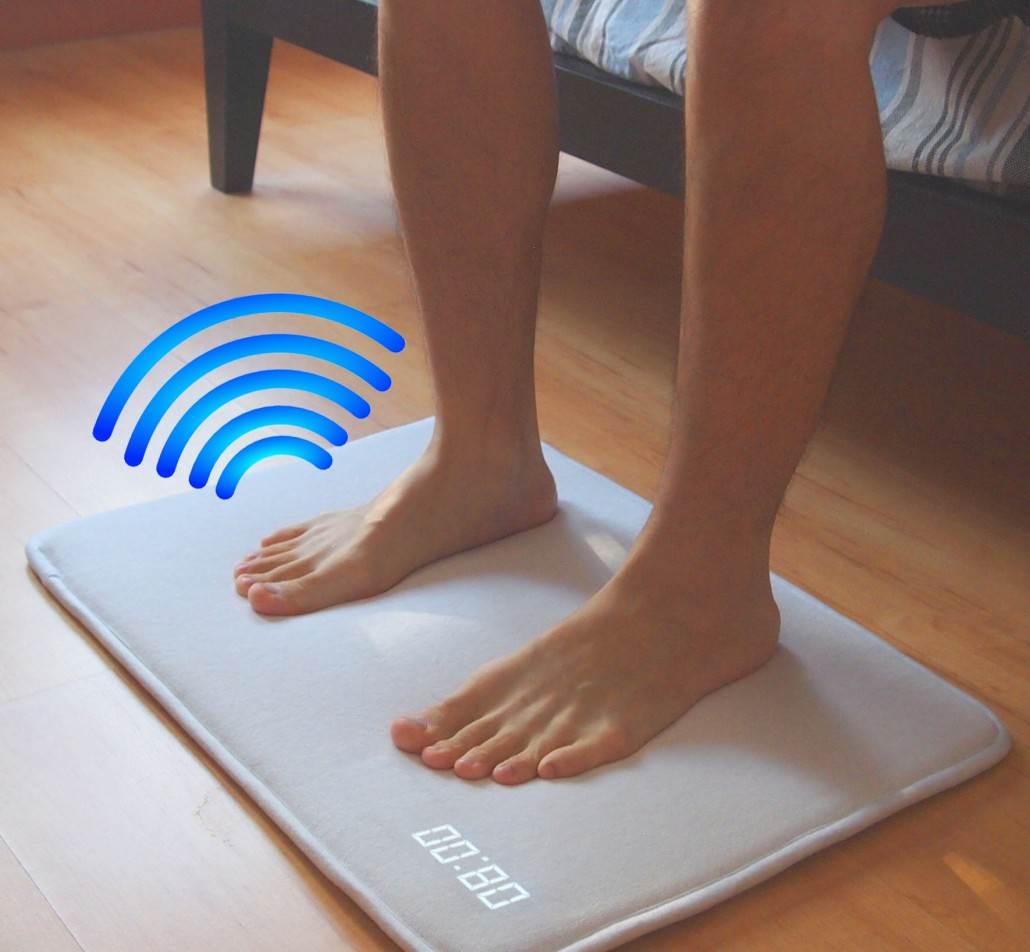 Description:-
Tired of sleeping through your alarms? Do you hit the snooze button over and over? Modern clocks just make it way too easy for us to snooze! Here is something for you so meet Ruggie, this revolutionary clock will not only get you out of bed on time. It will also reward you with daily motivation to keep you out of bed, and start your days off right! This is great to start the day with someone reminding you why you're awesome. It makes you happier, increases your outlook on life, and gives you that boost and confidence in achieving your goal. This is what Ruggie does. It's like your personal cheerleader! keeps you out of your negative funk.
You can upload affirmations, empowering quotes, or your own personal life goals for Ruggie to greet you with every morning. The bright LED Display doubles up as a nightlight and you can even kick start your day with your favorite motivational quote.
BUY CALDIPREE CARPET ALARM CLOCK ON AMAZON
So this was all about the top 5 innovative and creative alarm clocks. Let us know if you have any doubts in the comment section below.