PTron is a company that makes various mobile accessories at an affordable price range. They try to introduce some great features in products that don't cost too much on customer's pocket. One such latest product is the InTunes bluetooth earphones which are sweatproof. So today we are doing PTron InTunes bluetooth earphone review. I have used this earphone for 2 weeks and here is my opinion if you should buy it or not.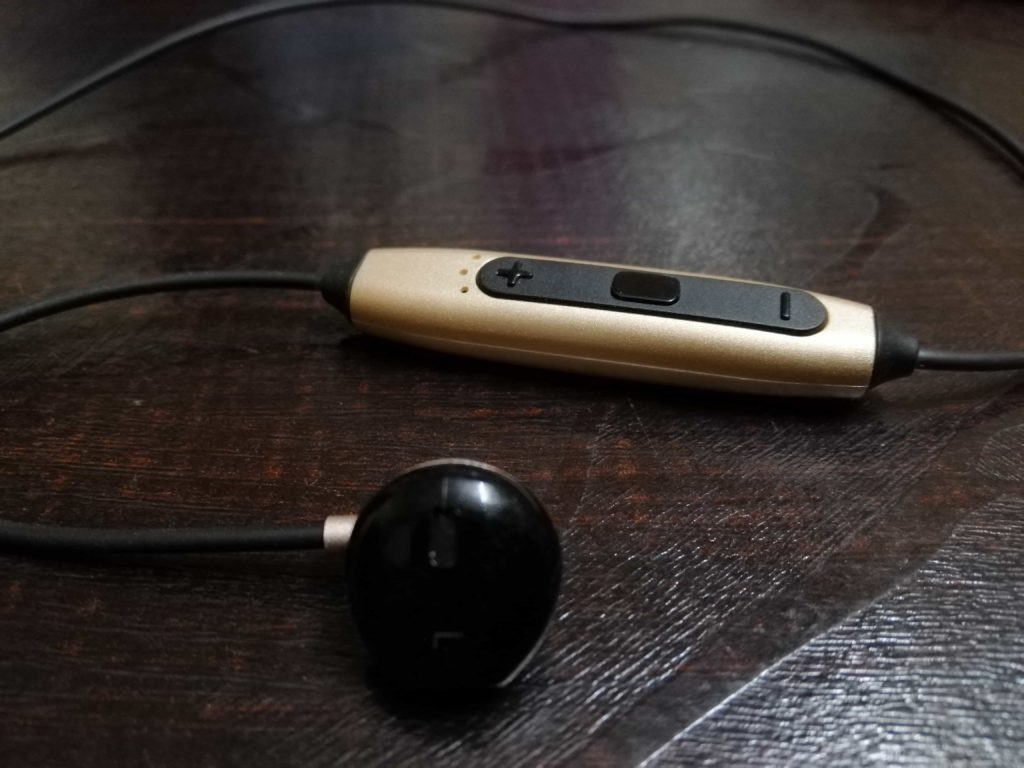 PTron InTunes bluetooth earphone review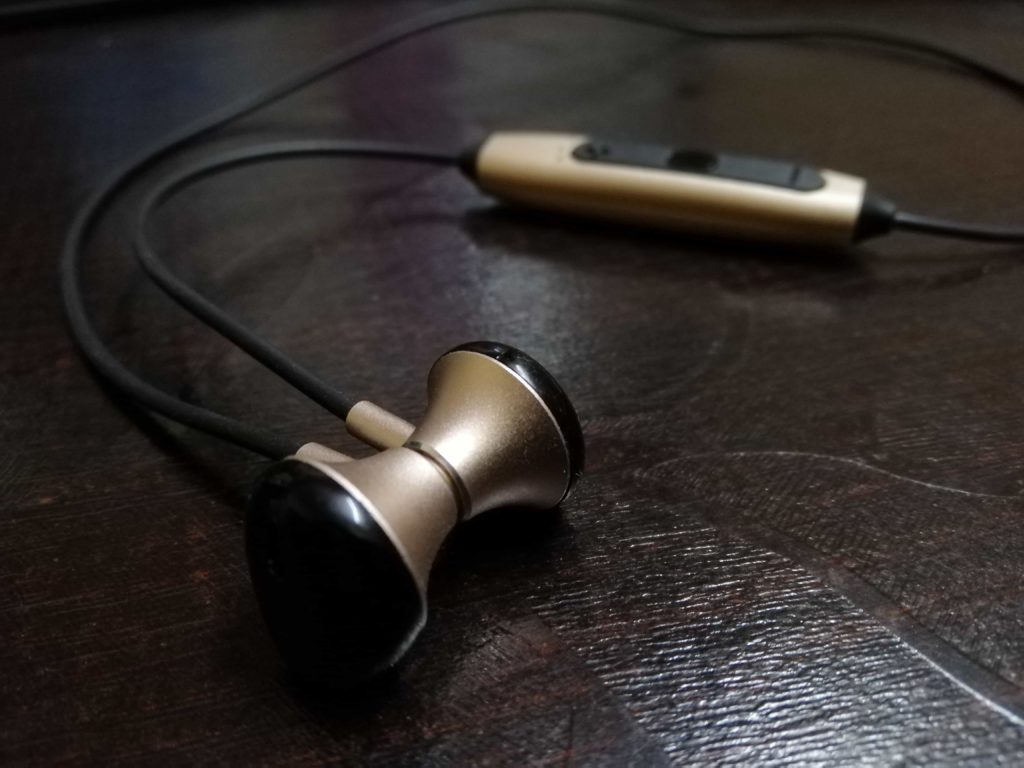 Design
PTron Intunes have a shiny metallic finish on the earphone. The plastic feels good with that metallic paint as the color I got was the golden-black one. They also have grey-black and red-black as other color options. The two earphones are connected with a short wire and a controller in between. The controller has the battery inside it with some volume control and main function key to receive/reject/play/pause music. It is also used to turn on the earphones. This whole wire can go around your neck so that if earphones accidentally fall, then they rest on your shoulder itself. To make things more secure there is magnet too on each earbud. But the magnet is one of the weakest and smallest I have seen on any bluetooth earphone. It can barely hold the two earbuds together. The major issue I faced was with the earphone fitting. The earbud has a shape like Airpods that means no rubber adjustments, its all plastic. Now this problem will vary depending on your ear specifically. As for me the earphones didn't fit properly. But when I checked with one of my friend, they fit just perfectly. But the issue with no rubber adjustments is that it starts to pain a bit after prolonged usage. So I guess PTron should keep the rubber adjustment designs for better fitting ratio and prolonged usage. Apart from that, the earphones are quite light in weight which is a good sign. Also they are sweatproof which is something that you don't normally see in budget earphones. Though that doesn't imply that you can just dip the earphones in water and expect it to survive.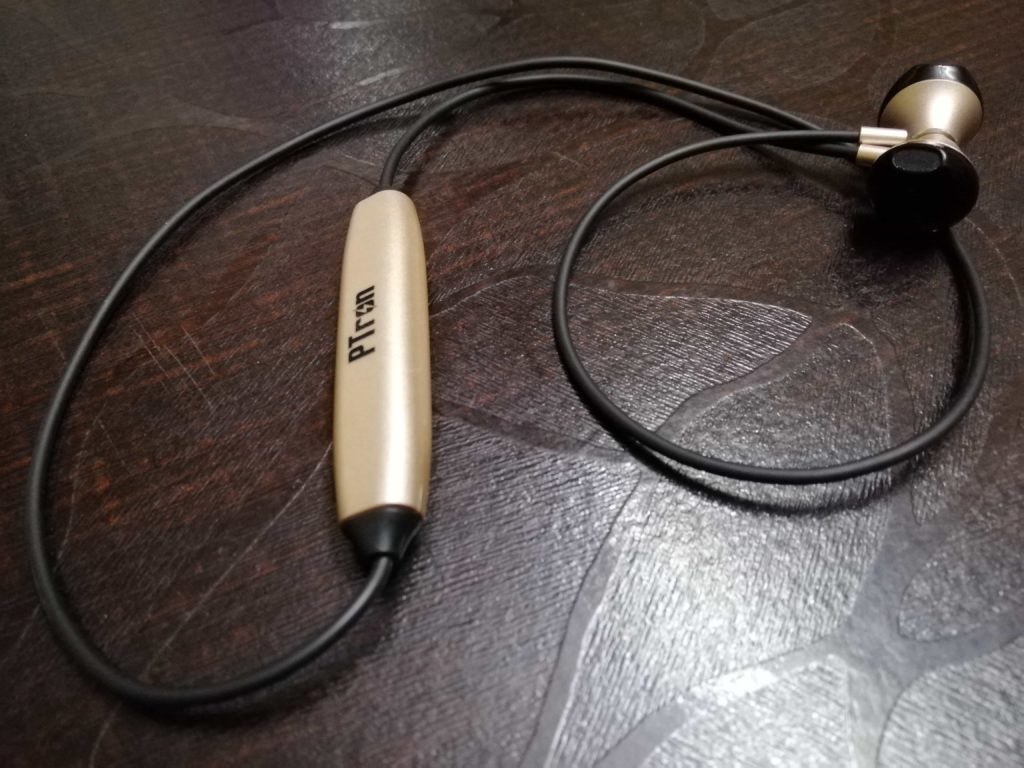 Performance
The audio quality for PTron InTunes was decent according to the price. Do not expect much of a bass if you are a fan of that. The earphones have volume up/down buttons along with 1 main function key. This is also the power key to turn on/off the earphone as well as put it in bluetooth pairing mode. PTron InTunes comes with bluetooth v4.2 that means it can connect to two devices simultaneously. Multiple connectivity is one thing that many people are still unaware of. The audio driver unit is very small just 14.2mm. It has in-built mic too to handle audio calls. The transmission range is said to be 10 meters which is when there are no obstacles. The battery capacity for music playback is around 2-2.5 hrs. Now this is something which is considered to be less on bluetooth earphone. But again as per the price point this is what you will get since these are budget bluetooth earphones. The battery capacity in figures is 70 mAh. I guess the weight factor can be compromised a bit to increase the battery level next time. It takes about 1 hr to charge the earphone to full battery. You can charge it with normal micro-USB charger. You do get a small cable with the earphones for charging it with laptop or an existing smartphone charger. The one thing I felt weak was the magnet as it was not at all powerful may be due to the small size. So just take care and do not rely on the magnet.
The PTron InTunes bluetooth earphones will cost you around Rs. 749 on their official LatestOne website and Flipkart too. Though I think they are giving extra 10% off on their official website if you pay online. Overall the earphones are good at this price considering the features. If you want to try out the latest wireless earphones and don't have too much money to spend then definitely go for these. Do let me know if you liked the PTron InTunes bluetooth earphone review or not.