Are you looking for an effective Partition Manager that can create, delete, re-size or split partitions? If yes then EaseUS Partition Master might be of your use. It is one of the best free partition manager that we have right now in market. It lets you manage your partition with better and easy controls. With EaseUS Partition Master, you can anytime create, delete, re-size/move, merge, split partitions which in a nutshell will increase the overall performance of your hard disk.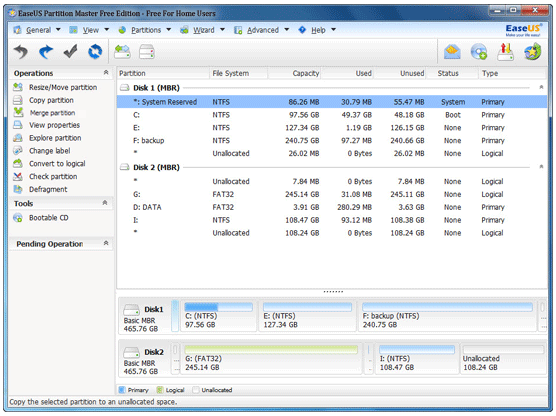 With EaseUS Partitoin manager, you can perform lot of quality tasks (related to partition) like:
Re-sizing partitions with no data loss
You can even extend he NTFS system partition that too without rebooting it
Easy switching between primary and logical partitions
FAT to NTFS file system conversion
Supports 2 TB and 4 TB partition on MBR and GPT disks respectively
Merging of two or more partitions to make a bigger cabinet
Can copy entire hard disk to another location without need of Windows re-installation
Partitions can be copied
Partition Recovery Wizard that lets you recover deleted partitions due to various attacks (be it hardware of software)
Automatic and manual recovery options to customize the recovery process to utmost
Extended support for FAT, NFTS, EXT2 and EXT3 partition recovery
Lots more
So you might have noticed that it can perform almost all the tasks related to system partitioning.
EaseUS partition master Compatibility
EaseUS partition master is compatible with Windows 8.1/8/7/Vista/XP/2000 systems. It comes in both free as well as paid versions. Obviously there are some additional features embedded inside the paid version (which makes it very reliable and efficient).
How to use EaseUS Partition Master
Follow these steps:
First of all download the EaseUS partition master.
Install it like any normal app/software.
Now select the desired drive and right click on it.
Now you will find various options like, re-sizing, shrinking, copy, merge etc Choose the required option.
Suppose you have selected Resize/Move partition option. So after selecting it you will get a popup where you can drag the space according to your needs.
Once you choose the appropriate space, select OK.
You can find more details on official portal (about how to use EaseUS partition master for various operations). This is how you can use one of the best data partition tool to manage and customize your system partition according to your needs.
Join US on