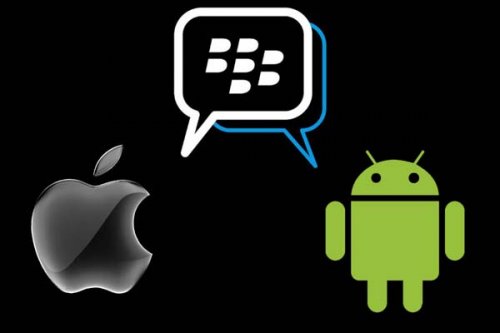 BBM(Blackberry messenger) was the only unique feature left in Blackberry mobile phones. It was one of the main reason Blackberry was still having its users. We had never expected that BBM would be available to other mobile platforms too. But now the time has came that BBM gets introduced in some bigger and better platforms, like Android and iOS. We will come to our main topic, how to get BBM for Android and iOS in few moments. Till then let us see some news update about it.
Initially we heard from Blackberry that, BBM will come to Android Play Store and Apple App store on June 27. This news was updated by T-Mobile in a tweet, but recently they have deleted the tweet.
According to sources, Blackberry had conformed that the news of launching BBM on Android and iOS on 27 is inaccurate. The official statement from Blackberry is
On May 14th, BlackBerry announced plans to make its ground-breaking mobile social network, BlackBerry Messenger (BBM), available to iOS and Android users this summer, subject to approval by the Apple App Store and Google Play. While there have been reports that BBM will be available to iOS and Android on June 27th, this is not accurate. We will communicate an update as soon as we have an availability date to share.
Now we don't have any perfect launch dates. But nothing to worry about. You can be the first to know and download BBM as soon as it is available for Android and iOS. Lets see how.
How to get BBM for Android and iOS before anyone does??

Blackberry has started a invitation process in which they will notify you, when BBM is available for Android and iOS.
Head over to this LINK and signup using your email address. So as soon as it is available for Android and iOS, an email will be sent to you. You can be the first one to try it out, so Hurry.
Requirements
For Android users, its 4.0(ICS) or higher

For iOS users, they must have iOS 6
Some New Features in BBM
With the existing text and voice features, BBM also announced a new social networking feature called Channels. Using channels you can follow various brands, people etc and get notification when they update something new. You can also start your own channel and publish things you like. Feature is still in Beta mode. Blackberry will be launching this new feature in summer for Z10, Q10 and Q5, and android, ios users will still have to wait for the update.
With Whatsapp and other famous messengers already rocking Android and iOS platforms, will BBM survive??? Would you prefer BBM over whatsapp or other messaging apps?? Do let us know in the comments section below.
Source:TechRadar