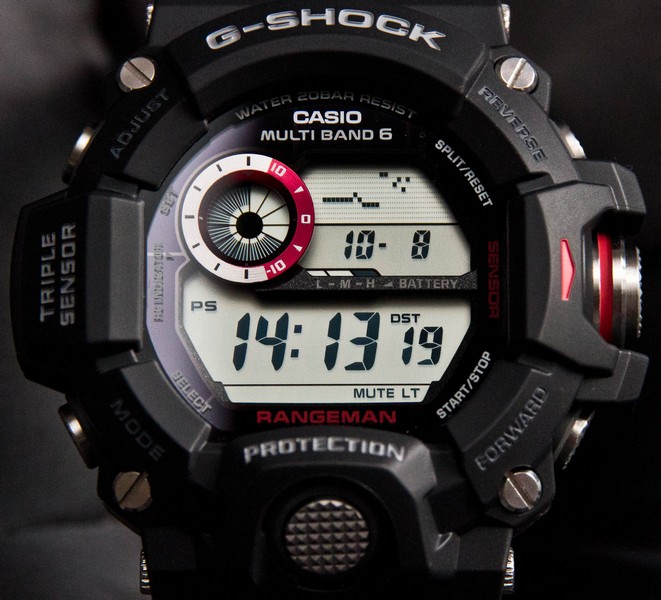 Casio is Famous for the vast variety of electronic products and specially watches. Casio's G-Shock series watches are famous for its rough and tough design. G-shock are the shock resistant watches which can withstand the forces of nature. They also have various types of sensor, that makes it more than a watch. Now Casio launches G-shock Rangeman watches which has even more features. They are famous for the ultimate tough design and the triple sensor feature.
Rangeman series has two variants :
GW 9400-1  (Black)
GW 9400-3 (Army Green)
This slideshow requires JavaScript.
Design
Rangeman watches are designed to be unbreakable. They have a tough body to withstand the outer forces and hits. G-Shock as the name suggest are shock resistant watches. The back of body is engraved with a logo of wild cat, the creature which roams freely in the jungle. The strap of the watch is made up of Carbon-Fibre which gives it a rough look.
Sensors
The new Rangeman watch have Triple Sensor inbuilt. Three sensors include altitude/atmospheric pressure sensor, compass bearing, and temperature. These sensors can help a person in survival situation like rescue operations where each second matters the most. Rangeman watches can be handy in such cases as there is no room for error. All the sensors can be activated using one button. Each sensor has a different notification sound so that the user can distinctly identify without even looking at the watch.
Other Features
The watch is designed to survive in harsh environments, so its made water-resistant, dust resistant and mud resistant. It also has features like radio wave reception which can be used upto six times a day. Thermometer can be used to record temperature ranging from -10 to 60 deg Celsius. It also has world clock which shows time of 48 cities. Manual memory measurements (memory capacity: up to 40 records of altitude, atmospheric pressure and temperature, compass bearing and/or time can be saved), full auto-calendar, 12/24-hour format, sunrise/sunset time display, daylight graph, battery level indicator, full auto LED backlight (Super Illuminator) with afterglow selectable illumination duration: 1.5 or 3.0 seconds. You can set 5 individual alarms in the watch.
Battery Life
The watch once full charged can work continuously for 23 months with power saving mode on. The watch with so many features and functions has great battery life.
Price and Availabilty
The Rangeman GW-9400 is priced at ₹ 15, 995 and is available at major multi -brand stores as well as Casio's exclusive stores.
WATCH THE VIDEO
Catch a glimpse of the watch and all its feature in a nutshell
JOIN US on
PRESS RELEASE: