Declares War on Ads: First Ever Built-In Ad Blocker Gets Rid of Ads When Browsing on Your Phone
New Delhi, 13th August – UC Browser today officially released the latest version for Android which offers an enhanced user interface along with a host of new features to provide an improved user experience. The version 9.9.2 comes equipped with a powerful built-in Ad Blocker that allows you to securely surf the Internet without fearing unsolicited, and sometimes malicious, advertisements that slow down your browsing experience. The feature makes UC Browser the first ever mobile browser with a default ad blocking functionality.
No one enjoys looking at websites cramped with banner advertising. In fact, studies show that about 86% of consumers experience banner blindness. People simply don't look at online ads, and yet ads are still there cluttering and slowing down web pages. It's even worse when you view websites from a mobile device where every inch of screen space is precious. This is the reason UC Browser for Android now comes with a powerful built-in Ad Blocker to bring you a cleaner and faster browsing experience.
Not only that, you will be delighted to see a new navigation page with this update and also get the option to change the background color of any web page to suit your personal preference.
Here's why you'll love this update:
1. Clutter-free and more secure browsing
Because ads are all about getting you to click on them, advertisers use all sorts of tactics (such as rich media banners) to draw your attention. How many times have you had to wait for an ad to load before you can get to the content you want to see? Ads not only interfere with your online surfing experience, they also slow down web page loading and use up your data, thus wasting your time and money.
UC Browser can detect ads and prevent them from loading. It also automatically rearranges the elements on a web page to give you the best viewing experience. As a result, web pages load much faster and less data is consumed. UC Browser saves you time and money while providing you a better browsing experience!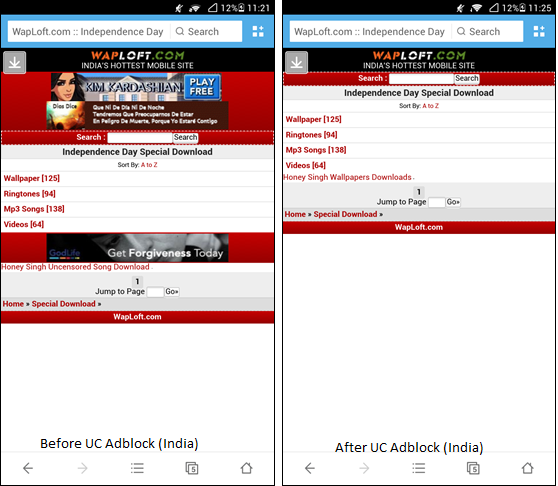 Some ads can lead to malicious content. Especially on your phone, there's a greater risk of accidentally clicking on these ads and downloading malware to your device. With UC Browser's ad block feature, you are more protected from virus, malware, and other potential threats. UC Browser made use of the AdBlock open source platform, a world famous ad filtering tool, to design an ad blocking mechanism that's customized for the mobile experience. Because UC Browser's built-in ad blocker was programmed to work best on mobile phones, you get the best experience possible.
2. Freedom to customize web pages
This fun addition lets you change any web page's background color according to a selection of your favorite colors. Feel free to experiment! Try it out by going to Menu – Themes – Background Color.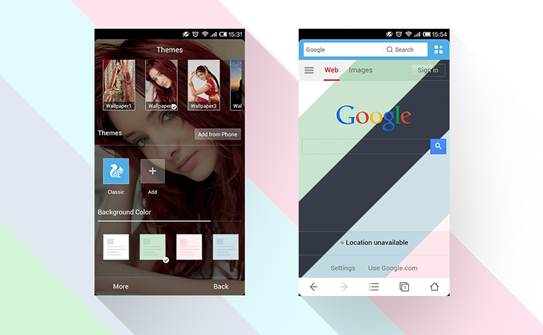 3. A New Navigation Page with Better Icons
A redesigned Navigation Page with cool new icons keeps things looking fresh, while also letting you easily spot the websites you want.