At Infocomm 2013 where casio launched it's amazing range of projectors, they also unveiled some innovative classroom products that may change the future of teaching and presentation. The products includes a interactive white board, electronic dictionary, and graphics scientific calculator. The amazing thing about the products is that, they can be connected to the projectors and the outputs can be directly shown on the screen.
Interactive White Board (IWB)
Initially interactive white boards used to be a flat screen mounted on wall, but now Casio has launched a new model which overcomes these problems. Casio's Interactive white board (YA-W72M) is a magnetic board with 72 inch screen. The IWB can be attached to any existing white board(magnetic surface) as it is magnetic. It is highly portable and comes with a cylindrical container. Using a Digital pen we can write on the dot screen. Bluetooth is used to connect digital pen to Laptop, which is connected to a Projector.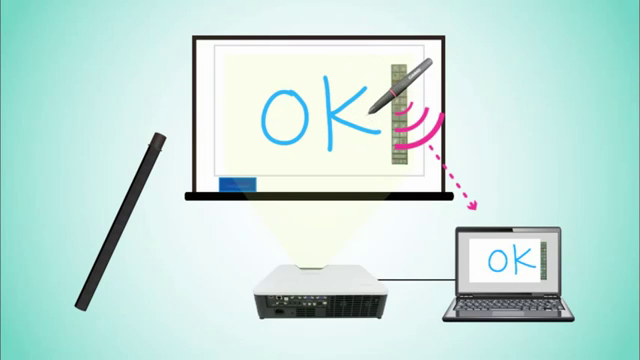 The digital pen has a small camera below the tip, which uses dot pattern recognition technique to write on the board. It is designed for writing with high precision and minimizing the error. It has two types of tips, a stylus refill and ball point pen refill. Pen uses AAA batteries as a power source.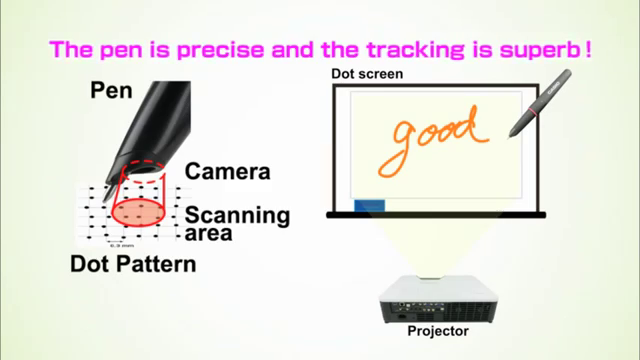 We also have a option to write on a printed paper with digital pen, and the outputs will be shown by the projector. The printed papers must be printed out using anoto patterns which can be done using the software provided by Casio. With this feature, one can easily write on the paper and give presentation while roaming too. At a time 4 digital pens can be used simultaneously to write on the screen.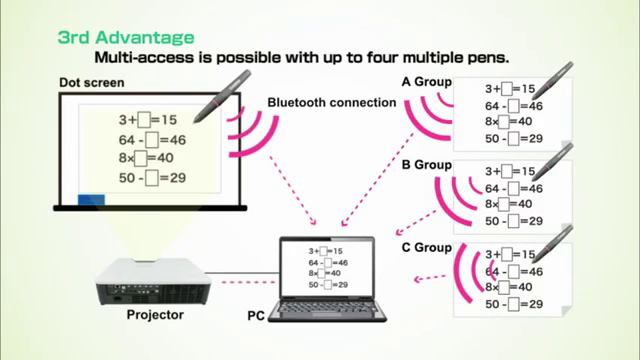 Special Features of Software
Casio's software shows a toolbar on the right side of the Interactive White Board which contains various tools for drawing and erasing. Some special features are
Mouse Mode- In this mode, one can use digital pen to open folders in Windows operating system directly from the board.
Presentation Mode- It allows you to annotate presentation using dedicated format, can use multiple pens for multiple operation.
Capture & Draw- You can first write on some given slide or image and then save your image files into your laptop.
One can also change the position of toolbar.
Casio offers an amazing 3 years warranty on both Interactive White Board and Digital pen.
Electronic Dictionary
Casio launched small, light weight e-dictionary which is a collection of 11 published dictionary and 1 encyclopedia. There are two models of e-dictionary EW-B100C and EW-B2000C, out of which the later one is more advanced.
The electronic dictionary is a combination of 11 dictionaries + 1 Encyclopedia which means we can more information about the word along with some images. You can search the meaning of the word by typing whole word or a part of the word. There is a pronunciation button which will spell the word for you. We can get synonym, verb, past tense, grammatical information,  etc by searching the word. You can also search a word by specific fields already present in the e-dictionary.
Dictionary runs on 2 alkaline batteries which can be recharged and it gives a battery backup of upto 130 hours. It switches off automatically after a certain time period and resumes from the page where we left off, which is very useful feature.
Some more features are:
It contains 100 works of world literature
Multilingual Word and Phasebank
Create your own Vocabulary list
Mark the text or meaning of a word with 3 different colors
English translation of a word from french language
The electronic dictionary also has a micro sd slot to insert a memory card. We can view images and text files loaded in the memory card in the e-dictionary. Also one can directly search meaning of a word present in the text file. For copying the images and text file, we can connect the e-dictionary to laptop/pc via a USB cable. This e-dictionary can also be connected to the projector to show the meanings on the screen.
Graphic Scientific calculator
Casio launched two models of Graphic Scientific calculator out of which fx-CG20 is more advanced. It has a colored display with more than 65000 colors (384 x 216 pixels). It can perform all scientific as well as financial operations. We can solve equations and show them in the graphical form using Waves, graphs, statistical format.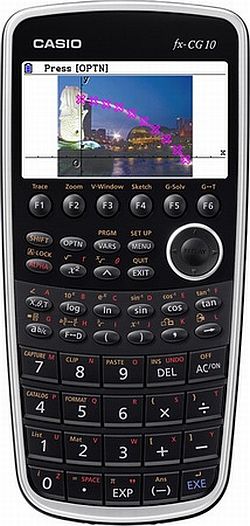 Using picture plot feature, one can easily plot graphs on natural images. After plotting graph we can analyze the equations accordingly. We can also make our own equations and store them in the memory available inside the calculator.
Special Features:
Graphical color display
Picture plot
Color Link used to automatically link colors on spreadsheets and graphs
Advanced statistics
Equations can be transferred to laptop using USB cable
The calculator can also be connected to projector and output can be seen on the screen.