This is a sponsored post written by me on behalf of 3M for IZEA. All opinions are 100% mine.
Privacy means secluding information that is private and not meant to share with others. In this digital age, we all try to protect our privacy and stop others from looking into our personal information. But at certain times this is not possible and some how people see sensitive data, which results in a problem. Today we will talk about visual privacy protection in particular, as this is one of the most common methods of data leakage. Preventing people who try to eavesdrop on your computer screen can normally be a difficult job. Using the 3M visual privacy protection methods, the job is much simpler and much more efficiently done. Let's check out how to protect your visual privacy using two different methods.
Method 1 : 3M Privacy Filter
3M has introduced a privacy filter which is like a screen guard but it decreases the viewing angles of the screen. So you just attach that on your device screen and others will not be able to peak from the sides. It also has a anti-glare effect which reduces the reflection and gives better viewing to the user. You can attach the Privacy filter to the screen using the adhesive, and remove it easily without leaving any marks behind. Privacy filter is available for laptop, desktop screens and mobile screens. Using this filter you can protect your self from people peeking at an acute angle from the screen, but those standing near you or behind you would be able to see the screen. To protect you from this issue, we have next method which will solve the previous problem.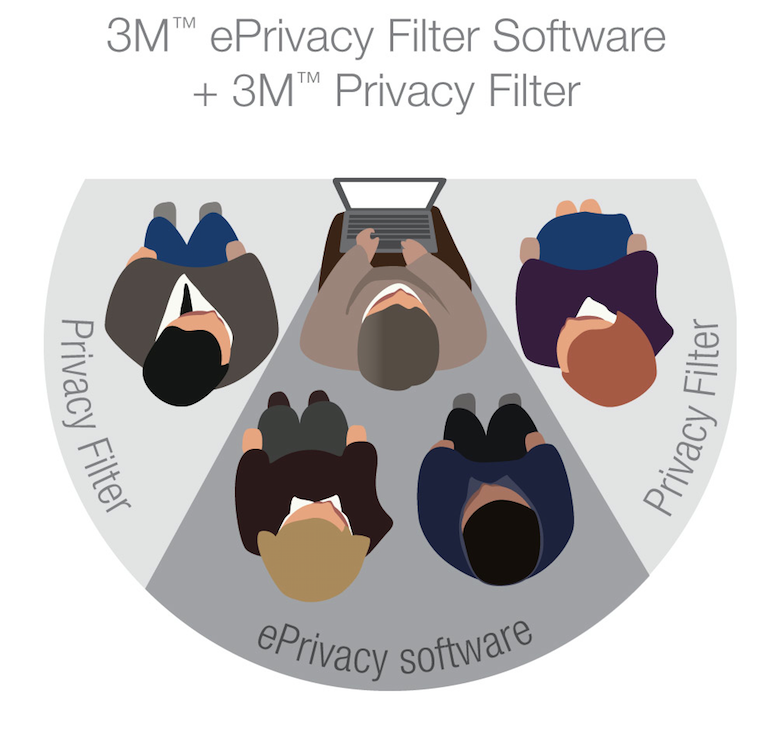 Method 2: 3M ePrivacy Filter
As the name suggests its an ePrivacy filter, so its a software that helps you to protect your visual privacy. The working is quite simple, if an intruder tries to sneak upon your screen from behind, the software will blur the screen and show the face of intruder. This way you can always know if some one is trying to eavesdrop and prevent the person from seeing any sensitive data.
The software first registers authorized users face into the system using the webcam. It records the face in different light conditions to ensure proper verification. For comparison it uses facial recognition feature which compares the users picture with pre-recorded images. The screen gets blurred if the authorized user is not looking at the screen, or if someone tries to sneak up from behind. One more exciting feature of this software is the intruder face notification. Let's check how to install this software on your system and run to protect your visual privacy.
Requirements:
Desktop/Laptop running Windows Xp or Higher Windows version
Webcam
How to protect your visual privacy using 3M ePrivacy Filter?
Enter the code to activate 1 month trial.Code- VX7J-3CVJ-AyW2-X4PQ
Register your face with the software so that you are the authorised user.
Next after installing, the software will be running in notification area. You can tweak the settings from there.
I recommend to increase the webcam resolution and setting the security to high. This settings will make the system more secure.
If you are in a low light condition, you can also type the windows password to unlock. Adjust the settings as per your requirements and make the most out of this software. I am definitely sure you are going to purchase this amazing software after using the trial. The software is currently available on Windows OS and we soon expect it to be available on other platforms too. You can also visit this page to learn more about 3M™ ePrivacy Filter Software.
You can use the combination of both 3M privacy filter and 3M ePrivacy filter to get a full 180 deg visual privacy protection. By using the above stated methods, you can stop worrying about someone sneaking and protect your privacy. If you have any doubts or suggestion do let us know in the comment section below.