The Internet has become a popular resource for people to find great deals on today's popular products available from the leading manufacturers. So finding the best website that has what you're looking for can be a bit tricky. We came across Everbuying.net when looking for low price tablet.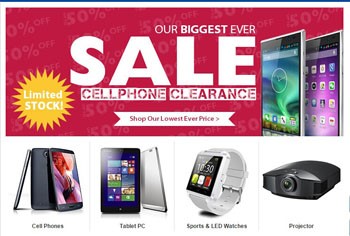 Everbuying.net
Everbuying.net is described as a china wholesale shopping website that offers factory direct pricing to a global marketplace. They specialize in offering today's most popular electronics including the most popular Android smartphones from the leading handset makers on the market. They also have Android tablets, Apple and smartphone accessories, computers and so much more.
For those people looking for great deals on today's popular fashion apparel that have many items to choose from on the site. They also have product listings for toys and hobbies, home and beauty as well as outdoor and sports equipment.
The website looks like it was professionally designed and it is very easy to navigate using the category links on the sidebar of page and it takes you to the separate category pages that contains all of the products that are being under each category. There is also a search bar where you type in what you are looking for and chances are you will find what you are looking for.
Most all credit cards are accepted and you can also use Paypal during checkout if you have an account established.
http://www.everbuying.net
My Final Thoughts
The Internet is one of the fastest growing mediums being used by today's entrepreneurs looking to start their own business. Everbuying.net is a fine example of one of those businesses that was started online in order to provide a source of income. Since 2006 they have provided a single location on the Internet where people can find all of most popular, top selling electronics from all of the major brands available on the market. You can also find most of top lines of contemporary fashions.
Through their unique inventory sourcing they offer all of their merchandize at factory direct wholesale pricing. Along with great pricing, they offer to each and every customer that purchases from their website free drop ship service on their order.
With more than 500,000 products ranging from personal electronics like Android smartphones, tablets, car audio equipment and many more popular electronic gadgets that are on the market. They offer a wide range of payment options for purchases including Mastercard, Visa, Discover, American Express and even PayPal.
I am glad I found Everbuying.net, it is great looking website and the people that run it are customer oriented and stands behind their products with 30 day warranty got damaged or faulty products, if you are looking to return it because you just don't want it and it still works you will charged a standard 15% restocking fee.
So, if you are looking for a website that has all of the top electronics and other stuff, for a really good price, checkout everbuying for yourself.