Free calling – the first thing that comes to our mind is Skype, Whatsapp or other apps and software. But all these services require both parties to install their apps to make free calls. It is not necessary that the other person (callee) would be interested in installing new apps. In that case, I will show you how to make free calls anywhere in the world without imposing any restriction on the callee.
How to make free calls anywhere in the world?
Let's start with some websites and then move on to apps that provide free calling. Note that all the services offered will have a time restriction for each day. But this can be very useful in the state of emergency, or when you need to make a quick call or you can tell the person to call you back.
Websites that offer Free Calls
Android Apps with Free Calling (Recipient dont require internet)
Websites to make free calls anywhere in the world:
This is one of the best services that you can get online to make free calls. You get one Free call per day with some time limit that will totally depend on your country and service provider. So suppose I am an Indian User trying to call another Indian user then I get 90 seconds time limit. The callee will receive a call from a random number and not your mobile number. Now they have made signing up process mandatory for all users. So you need to create an account before you start making free calls.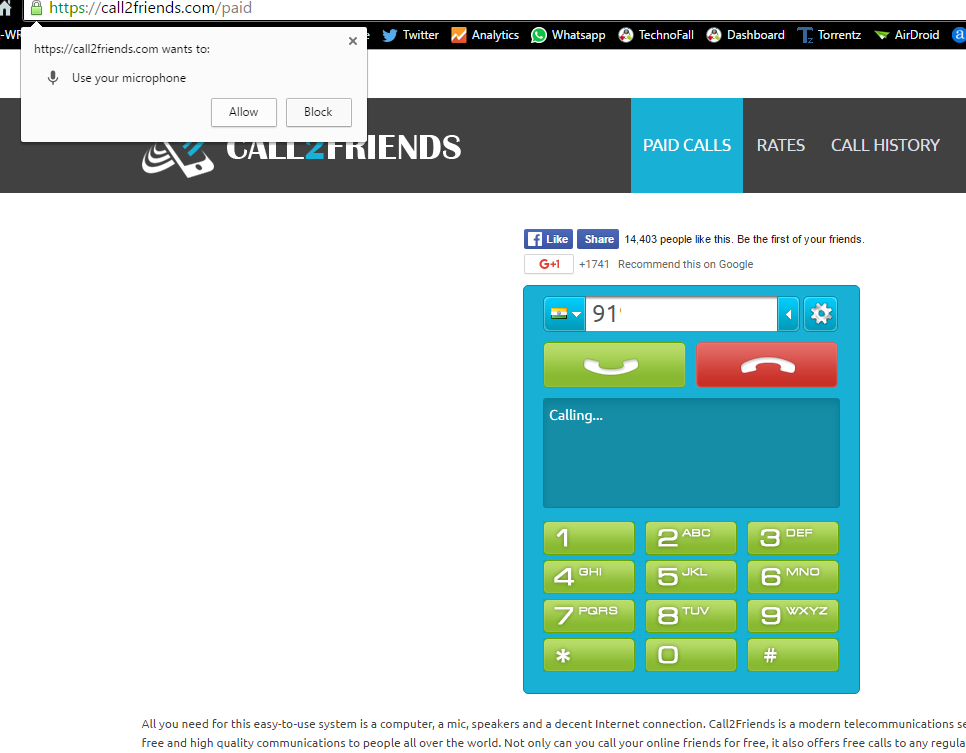 Type in the mobile number in International format or choose a country first and then enter the mobile number. Next, you need to press the call button to connect the call. Your browser may ask permission to use the microphone and you need to select Allow. In this way, you can make one free call per day unless you know some technique to change your IP. Remember if you called on some number using your home PC, and on the same day if you try to call the same number from office PC, then it won't work. Any number in the world can be called only once per day using this service which is quite annoying.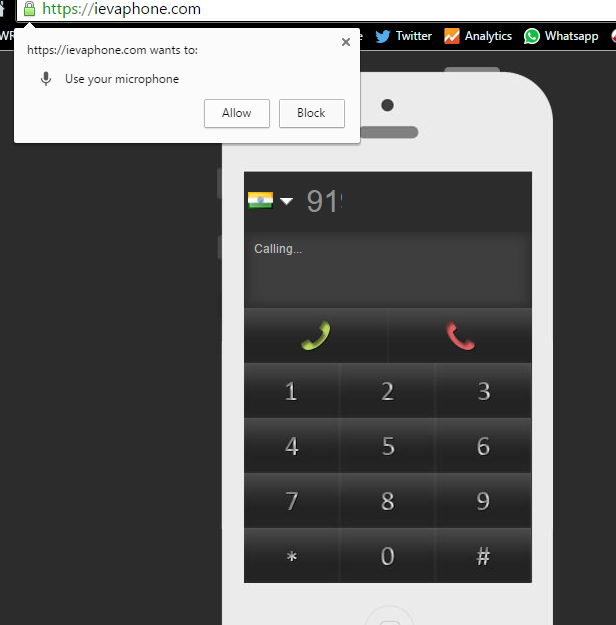 This service is exactly similar to call2friends. One difference is that here you don't need to Sign Up. Just follow the above same steps and enjoy your 1 free call per day. I know it's not much but it can be used in an emergency or for small talks when you don't have balance.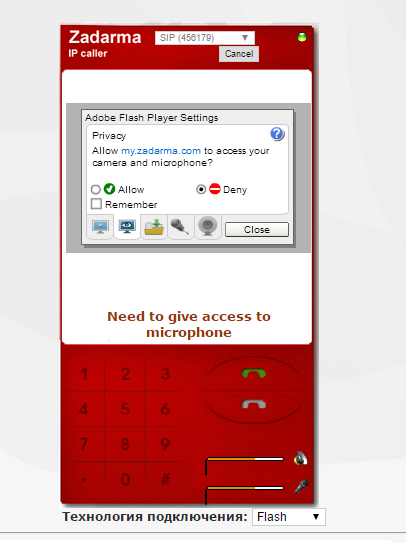 When you sign up and create a new account you get 0.5$ Free bonus. You can use this bonus to make calls to different countries. Along with that, the free plan has 100 free minutes to offer for the first two months. Sometimes these free credits are not visible and don't work so try some other time. In the homepage, there is an information section where you will find 'call from website' option. After that, you can choose Flash or WebRTC(Show WebPhone) to display the dialer. Next, dial the number with country code and enjoy your free minutes. The call is placed from some random number from UK.
LocalPhone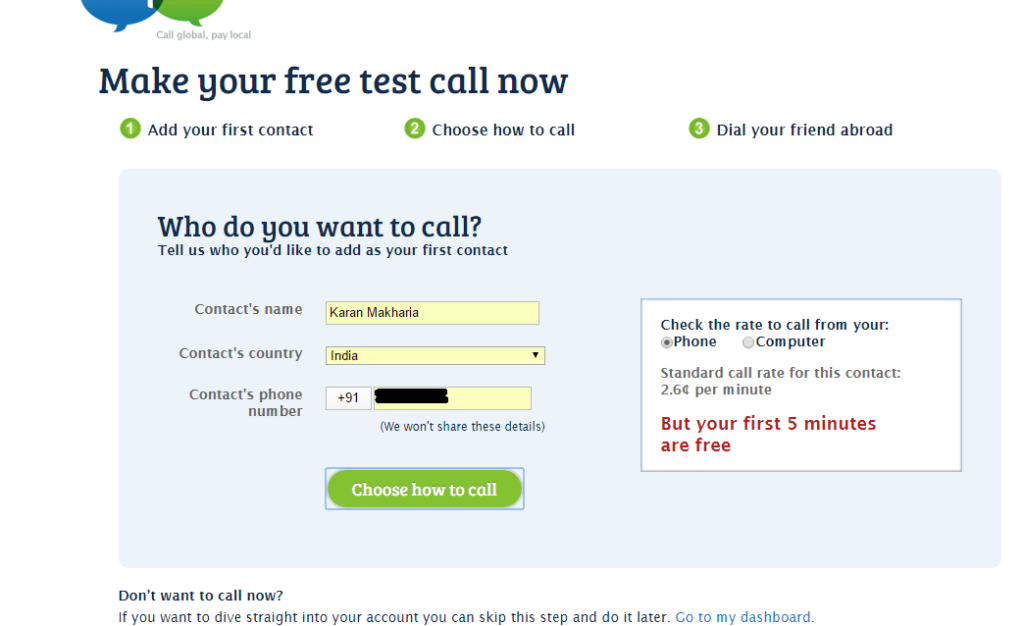 Visit their website and sign up for a new account. Once you complete the signup process, you will be told to download their windows client through which you make free calls. One free call will last for 50 seconds and I was able to make 2-3 free calls. I am not sure if they renew the free credits but you can earn more credits by referring this service to your friends. You have the option to change the caller ID to Hidden, random number, or your mobile number too.
This service offers 30 free minutes only once when you sign up. If you want more then you need to create another account with different credentials. Note Indian users cannot sign up on this website and I don't know the reason. But if you have a number from outside of India then you can surely go ahead and give this awesome service a try.
Android Apps to make Free Calls
This is one of the best apps that offers up to 42 minutes of free calling with 85 credits when you first sign up. You can earn more credits by completing the task mentioned like installing apps and games. There is no referral program to earn credits. If the other person has Nanu installed then you can enjoy unlimited VoIP calls and messages.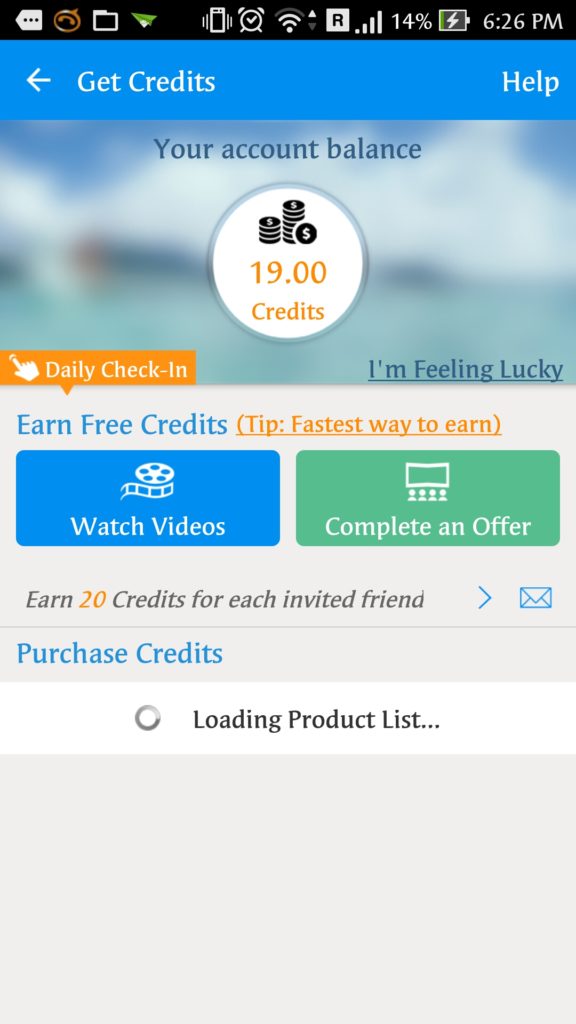 When you first sign up using this link for a new account you get 15 free credits. They have different call rates for different countries so the Free credits will be used accordingly. This is one of the most rewarding programs at it will offer you some daily free credits for checking in. Also, you can complete the offers or watch the ads to earn more credits. There is also a referral program where you can earn 20 credits for each friend you refer. You also get bonus credits if you purchase credits from the store.
Dingtone has a system exactly like TalkU and the reward program is also same. Just Sign Up using this link to get 20 extra credits in your account.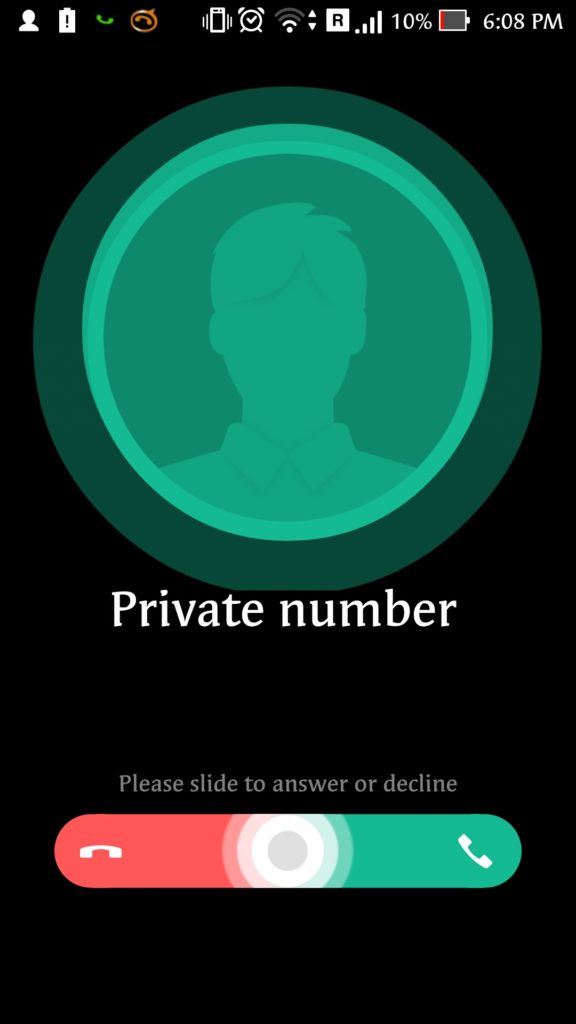 This app offers 0.10$ free when you sign up using the above link. The speciality of this app is that you can call using a private number so your number will not be displayed. Instead, the caller will see "Private Number" or "Number Withheld" on his caller ID when you place a call. This is so cool just like the James Bond movies. Along with that, you can earn more free credits by completing actions such as downloading other apps.
You get 5 minutes of free calling anywhere in the world. Note that there is a time validity on these credits, so you need to use it before the expiry date. You can go to settings and hide your number if you want to turn on the "James bond" mode. You don't have any option to increase the Free minutes so it's like a one-time offer.
So this how to make free calls anywhere in the world with hese websites and Android apps. You can search for more such websites and Apps in your respective stores and also share with us in the comment section below. If you face any difficulty or you have something to share with us all then do place it in the comment section below.