While Smart Home Speakers are still to mature as a fully grown product, they are creating a good buzz around themselves. In India, the market of smart home speakers features only two major players, Amazon and Google. While Amazon entered the Indian Market with its Amazon Echo much earlier, Google has recently unveiled its Google Home in India. So now Indian buyers do have options, but to choose one from these two isn't an easy task. Both of these have some amazing features while both miss out on some qualities also. So the question is, how should one go about buying a smart speaker? Well, to answer this question, we need to dig deep and find out the pros and cons of each of them.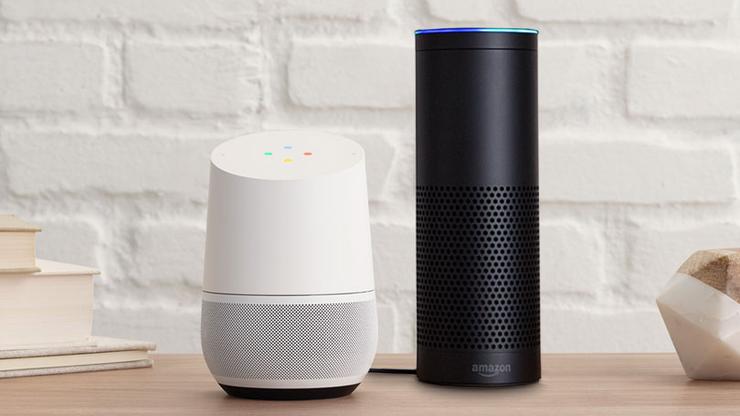 Price and Availability
Indian Market is one of the most price sensitive ones. So, the first thing that everyone would be looking to know is the price comparison. Well, on the price front, both Google, the late entrant, has played smartly and kept the price exactly the same as Amazon Echo. Both Google Home and Amazon Echo cost Rs 9,999. The other versions, Google Home Mini and Amazon Echo Dot also cost INR 4,499 each. However, Amazon has introduced some discounts on its products and one can avail various Amazon coupons as well.
Availability is also not an issue with both. While Google Home is easily available on Flipkart, Amazon Echo can be bought on Amazon.in. Both the companies have tied up with offline stores also and you can get these at Croma, Reliance Digital and other offline outlets.
Design
On the design front, Google Home feels much more pleasing to the eye as compared to Amazon Echo although it is also a good one. The top half of Google Home is covered with white plastic, which the bottom half is more round-ish and is covered with fabric. At first instance, it does look like air-freshener or fancy lamp and doesn't make you feel that it is a highly technical product.
On the other hand, Amazon Echo has a basic cylindrical shape, but it does give a swanky industrial look. Since the design is pretty basic and minimalistic, there isn't much to talk about. However, this nowhere means that Amazon Echo doesn't look good.
One more thing to notice is that Amazon Echo has mechanical buttons on the top, while Google Home touch-sensitive buttons. Also, Google Home comes with 4 colored LEDs on the top, which gives it some brownie points when it comes to design. But again, not all the people will love a single design. So both are good looking, but Google Home does a little better on design.
Features
We'll talk about Google Home first. Since, Android is the most popular OS in the country, using Google Assistant isn't a tough job to learn. Just say 'Hey Google' or 'Okay Google', and the speaker wakes up. You can set reminders, play music and do some basic searches on it. If you have Google Chrome cast installed in your house, you can sync both the devices and control chrome cast by voice command only.
Further, Google Home can read aloud the news for you, can even speak the recipes for you, and can also play podcasts. However, one big disappointment with Google Home is that cannot make calls. Despite Google already having the access to calls and contacts in your phone, not being able to make calls through Google Home is certainly dissatisfactory.
On the other hand, Amazon Echo has the assistant named Alexa. It wakes up by just saying 'Alexa', which feels more natural and comfortable to say. While Amazon Echo can also do routine tasks like playing music, setting alarms and reading news, but it cannot read aloud recipes or podcasts. However, it can definitely read e-books for you, which definitely compensates the deficit of podcasts. Also, Amazon Echo can make calls for you, which gives it a big plus over Google Home. Moreover, you can do shopping through Amazon Echo, and Track delivery status also, which is another amazing feature.
But more than all this, what gives Amazon Echo a big lead is 'Skills.' Amazon allows Alexa to be linked with third-party apps. So which Amazon Echo, you can book a cab on Ola, order food on Zomato and do a whole lot more of things, which Google Home isn't even close to doing.
Also, Amazon Echo has a feature named 'Routine', which does some customized tasks for you on saying a specific phrase. For example, whenever you say 'Good Morning Alexa', it can start reading the news for you, remind you all of the meetings for today and can even turn on the lights. You just need to customize it and you can do much more 'routine' tasks. So feature-wise, since Amazon is the early mover as it gets a clear advantage over Google Home.
Sound Quality
If you're looking for sound quality as you get in those JBL speakers, you're seriously expecting a lot. The music playback on both the speakers isn't the most impressive one and is more of a pastime rather than some serious entertainment.
However, when it comes to accent, Google has tried to give its assistant an Indian accent, but it fails miserably. The sound output of Google Assistant feels robotic and unnatural, which distorts the comfort. However, Alexa's accent is much more natural, and it actually feels like talking to someone when you're using it.
Both of the speakers do not have the support of any Indian language like Hindi, Tamil or Punjabi. However, both of these do recognize proper nouns like 'atta' and names of Indian singers and movies, which makes their usage very smooth.
Although, Google Home does better than Amazon Echo in sound output, it struggles to recognize the voice of user while playing music on high volume. One has to nearly shout to make Google Home recognize the voice, which becomes slightly irritating. Amazon Echo has 3.5 mm audio jack support, while Google Home misses out on this feature.
Privacy
Imagine a device from a multinational internet company is listening and saving everything that you say at your home, sounds a bit strange right? Well, if you are placing a smart speaker in your home, the privacy of your conversations is a big concern.
Amazon Echo records each and every conversation you do with Alexa. All the conversations are converted into an audio file, and stored in your Amazon account. Although this is to improve your future searches, but the fact that everything is getting recorded might feel uncomfortable to some. However, Amazon does give you the option to delete all these recordings also, but that will impact Echo's performance.
On the other hand, if you want to use Google Home, you'll have to turn on features like Web & App Activity, Device Information and Voice & Audio Activity, which is definitely going to cause uneasiness to a lot of people. Many people prefer to keep these settings off, and for Google Home, it is mandatory to turn these on. Further, turning on these setting for Google Home also turns them on for Chrome Browser and your phone too, which again a mess. Although, Google has maintained the trust from so many years about data privacy, but being aware of these facts related to privacy is a necessary thing.
Verdict
So here comes the final call, Amazon Echo or Google Home, which one you should go for? Well, both of them are amazing devices and offer great functionality, but in Indian Context, it seems like Amazon Echo is slightly ahead of Google Home. Amazon has been there in the market for a while and has introduced some worthy changes to make their device better. Many features like making calls, better privacy, and better accent, shopping and routine make it a much smarter device that Google Home, and that is why it wins the race.
However, it must not be forgotten that Google has just entered the market. It is pretty obvious that Google will introduce many improvements to make Google Home a device better than Amazon Echo. So at the moment, Amazon Echo seems like the clear winner. But 6 months down the line, the answer to this question can change.