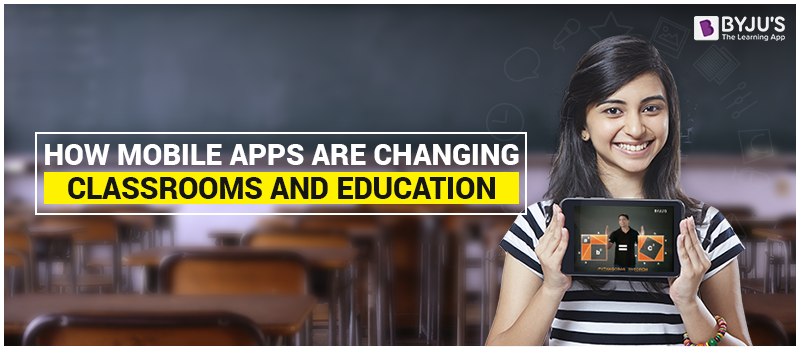 Mobile devices and apps as teaching tools are becoming more and more a common part of the educational experience in classrooms. There are infinite possibilities when it comes to using mobile apps in education. In these changing times, students are more driven towards using educational apps and mobile phones for their studies.
Within the classroom, using mobile applications can help students to a higher degree of efficiency and precisions. It also makes students learn in a fun way. The increased involvements of educational apps like NCERT apps, Mathematical apps, etc. and virtual learning is changing the classrooms and the learning process.
Well-developed mobile apps provide students with various learning platform and offer them with audio lessons, video lessons, examples, and demonstration to help students understand basic concepts and principles. With the help of educational apps, students can learn a lesson in their class and then at home, they can review the concepts in the mobile application and can practice problems with instant feedback. They can also engage themselves with various lessons with the help of educational games and participate in chats or forums, and read about higher education to start planning for their future.
Educational apps like Byju's- The Learning App provide analytics that can track students' progress and help them to improve their weak sections. The mobile app also allows parents and students receive up to date notifications and different exam details. The various benefits of educational apps are discussed below.
Range of options
With the wide acceptance of educational apps around the world, numerous varieties of options are opening for students in the digital sector. Students have the access to learn each and every subject from their mobile phones itself.
Learning without boundaries
Educational apps provide different courses that students can learn easily. With the help of these apps, students can do any course at any speed at any time.
Improved engagement in students
The mobile apps help students to learn from audio-visual lessons and 3D animations which create a long-lasting memory of the concept in the student's mind. Learning from video lessons help students retain the concepts better than textbooks. For example, a student will remember concepts like Newton's Law of Motion or Projectile Motion better if they learn it through video lectures and 3D animations.
Instant updates
These educational apps not only provide lessons but also provide all exam related details. Students can check the latest competitive exams and their dates with the help of these educational apps.
In this generation, it is the schools that recognize the potential in mobile application technology that will improve a student's curriculum. Let us know what do you think of learning things via the mobile apps.