Before this digital era of internet messaging apps, SMS was the most used method of text-based communication. I still remember using the Google SMS bot created by Google labs which allowed us to send a query in the form of messages, to get the information as a reply. So if anybody wanted to know the cricket score, they just texted 'cric score' to a certain mobile number mentioned by Google, and they got a reply message with all the matches and the current score. So this was I guess the first SMS bot that I ever used having automated replies. But many companies have implemented such automated bots within their organization. One such company named Gupshup has just launched a bot building platform which lets developer make their own bots with ease. We will see everything in detail on what this new era of chat bots is, and if it has the power to bring change in this digital age. Also we will check out the new Gupshup bot building platform to create our own bot.
What is Gupshup?
Gupshup used to be one of the products of Webaroo company which has been in the messaging business for a long time. Now Gupshup has re-emerged as a bot building platform which we will discuss below. The CEO and the Co-Founder of Gupshup is Mr. Beerud Sheth who also Founded the famous staffing platform Elance. Gupshup also created a smart messaging app called Teamchat currently being used by over 2,000 businesses, including companies like HDFC, ICICI, Biostadt, Meru Cabs, PNB Metife and others.
Addressing at the event, Mr. Beerud Sheth- Founder and CEO of Gupshup said, "Bots are the new apps. Bots will transform virtually every aspect of our lives, making it simpler and easier to engage with businesses and brands just by chatting with them. Every business and brand will have to develop a bot strategy quickly. Gupshup.io offers the most advanced tools globally for developers preparing to meet the explosive demand for messaging bots and services"
What are chat Bots or simply bots?
Now coming to the main question that what are bots? 'Bot' derived from the word robot which is an automated software meant to do the mundane or the repetitive task. For example booking a movie ticket is a task performed by everyone. As of now we normally use some app or website, but what if we shift to a bot rather chat bot to be precise. So you can consider bot as the software that will actually interact with you and complete the task for you i.e. booking movie tickets or something else. The idea will get clear as we proceed forward. One important point of deciding to move on to bots is the speed with which they can complete the task.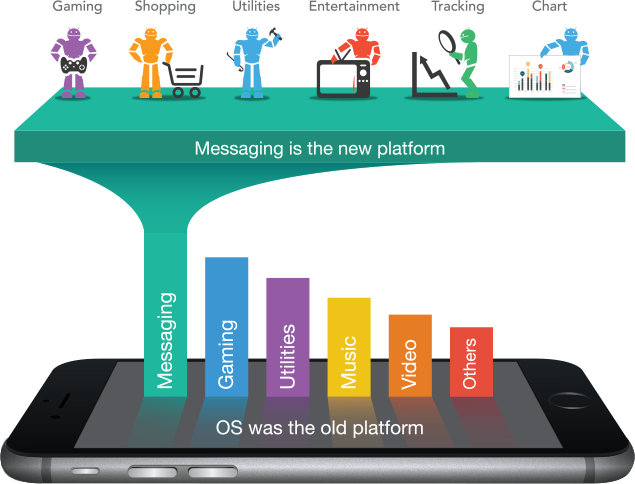 Gupshup bot building platform
We got what a chat bot is but the main issue is how to build these bots, so this is where Gupshup comes in. Gupshup has introduced some online tools to make the bot building process easy. We are saying that this will be a chat bot, so Gupshup also provides integration with some common messaging platform that we use like Facebook messenger, Twitter, Slack, Telegram, TeamChat, the traditional SMS and more coming soon like Skype, Hangouts, Line, Viber, Twilio & Kakao. Plus the bots will be hosted on the Gupshup servers so we don't have to worry about the maintenance. In all you can do 4 things with Gupshup viz. build, host, monitor, and connect.
Coming to the development part, Gupshup bot building platform comes with various SDKs and APIs to support your chat bots on different platforms. They have REST APIs for Omni-Channel messaging and in-app messaging. They also have some mobile SDKs for Android, IOS platform along with Web SDK for websites. Using these you can build apps and send messages across different messaging platforms. One of the most amazing thing is you have to build the bot only once and you deploy it on any platform. You can head on to their official website gupshup.io for more information.
Features
Below is the list of all the features of Gupshup bot building platform :
Omni-channel messaging APIs
SDKs for Android, IOS, and websites
Various supported messaging platforms
Build once and deploy multiple times
Hosting service
Monitor bots
Building your own bot!
Now let's put the new Gupshup bot building platform to a test and make our own bot to check if what they claim is true or not. We will go through some basic steps of bot building ending our session with deploying it on a messaging platform.
First visit the website Gupshup.io
Sign In to the website using your Github account as it is the only option available. If you don't have a Github account then you need to create one.
Next click on the option that says 'My Bots' and add one by clicking on the plus sign and giving it an appropriate name.
Now you will see a default code with some functions written in it. You can go to the guide section to checkout all the functions that are available and how to use them.
I will make a simple bot that replies to Hi, some question and lastly bye. Screenshot of my code are available below.
Lastly I will deploy the code on the platform which I prefer. To test our bot we can actually deploy it and then test it on twitter. You just need to follow @gupshupproxybot and then send a direct message "Proxy bot_name" where bot_name is your bot name(In my case it is technofall). It will reply with a message bot mapped successfully after which you can send the messages predefined in your bot.
Costing of this service will depend on the hosting and the functions used which are yet to be confirmed. We will let you know as soon as it is officially published.
Conclusion
According to me talking to a bot will be more interesting and time saving process to complete our task. The day is not far when there will be communication between two or more bots. The only criteria is that they should be able to present the data and handle the query just like any other human being. If that is achieved by our developers then I don't think there is any reason for not using bots. Task such as shopping, ordering food, banking, trading etc can be easily achieved by just chatting with bots. The only concern left is security, but as you can see most of the messaging apps have now shifted to end-to-end encryption so that solves the problem. One of the most famous messaging app i.e. Whatsapp is yet to release its API for development purpose without which one cannot create bots on that specific platform. So with time others are also going to open up for development. With this speed of fetching the data, companies will need to enhance their servers to handle a lot of traffic in the future. Imagine querying for flight tickets with so many bots and the traffic that it will generate. So this was basically all you need to know regarding the new bot revolution and the Gupshup bot building platform. They still have some things to improve which I hope to see soon. Let me know your views on this through the comment section below. I hope you liked the information that I shared with you, so now its your turn to help me by sharing this knowledge with others.