Few days ago I came across an advertisement of a website which was offering software reviews. I just checked the comment section of the advertisement where some people were talking about rewards. I saw that people had shared their experience of getting free rewards and it felt like a genuine thing. But again others were seen complaining that they never received the reward of Free Flipkart Gift card. So I decided to give a try – and it worked. So here is how to get Free Flipkart Gift card worth 500 INR.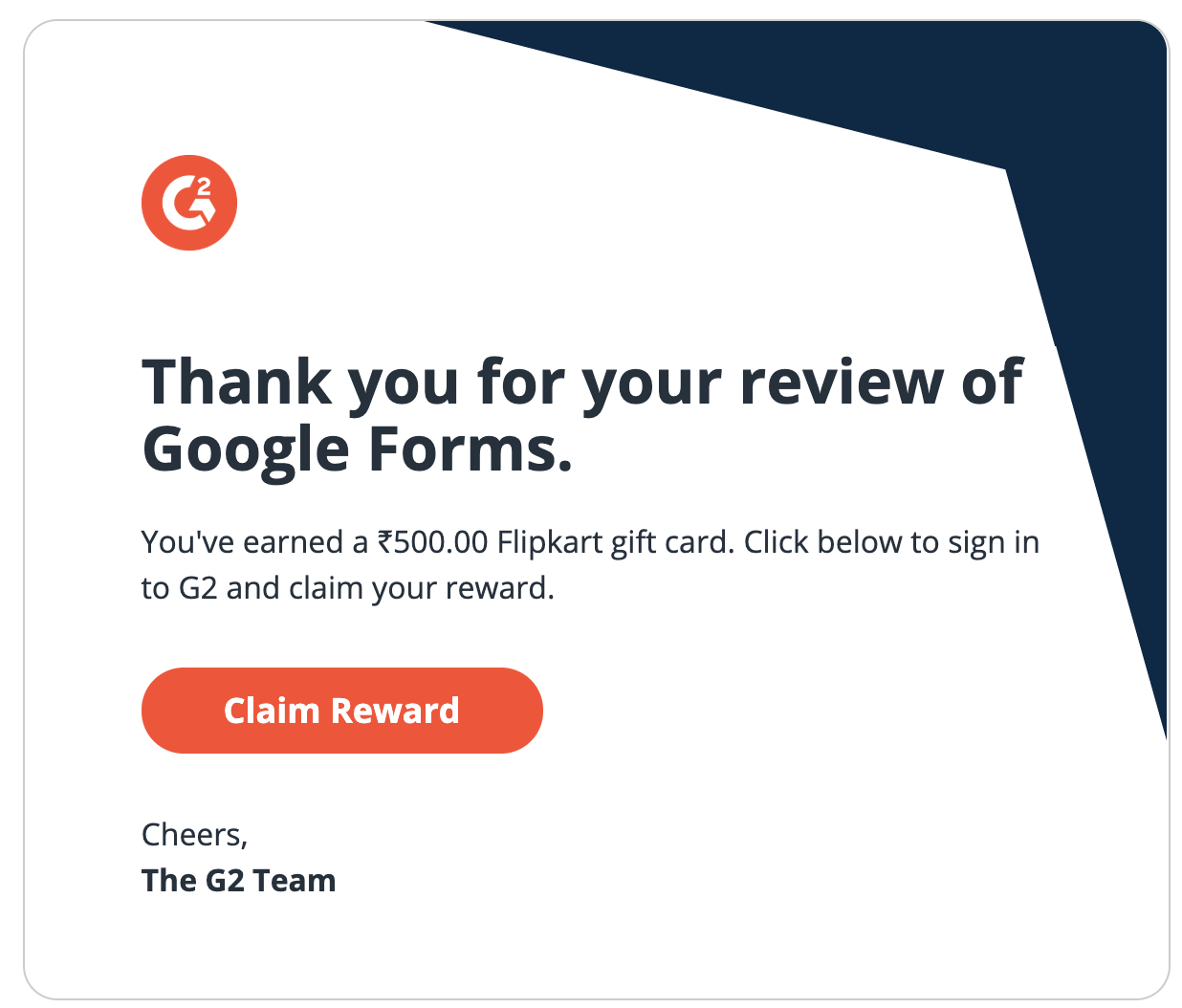 This is a method which was tried personally by myself – and after few days I received and claimed the reward. Please check all the steps carefully before proceeding. Also read if you can get more than one gift card at the end of the article.
How to get Free Flipkart Gift Card worth 500 INR – 100 % working trick:
Visit the website of G2
So the trick here is to write a genuine review in detail – every question should be answered properly.
Start by choosing the role and based on that you will see the software list. I chose information technology as my role.
Choose the software(Preferably a free/open-source software) which you are using at work/home. I selected the very basic Google Forms service which I have used quite a few times. For now just select one product, and write a detailed review.
Next you need to create an account on the website – Choose business email or LinkedIn or Google business which is the Gsuite email ID. I chose my work email address – you can choose linkedIn as everybody must be having an account there. You will need to verify using the OTP sent on email.
Once you are done creating the account – start answering each question in detail as per the minimum character limit mentioned.

Do remember that your review grade depends on the questions answered – so improve the grades!
Do submit a screenshot or the proof of you using the software. This gives them assurance that the review is a genuine one and not a fake one.
Once you have answered all the questions in detail with a good review grade – submit your review.
After your review is submitted – based on their guidelines the review will get approved or rejected. If its a genuine one then chances are they will approve it and after 2-3 days of approval you will get the reward. In total it took around 6-7 days for me to get the reward after submitting the review.
Keep checking your email inbox for an email from their outreach team with the 500 INR Flipkart Gift card.

Can you get more than 1 free Flipkart gift card?
In the past we have seen people get more that 1 free Flipkart gift card by submitting multiple reviews on the website. I think the limit is 3-5 gift cards – you can try and find out about it. I am going to personally try submitting another review on the website and will update you all. You can try with different linkedIn or business emails to multiply your rewards.
So this is how you get free Flipkart Gift card worth 500 INR. I really hope that this works for you all. In case it does or if you have any doubts please mention them in the comment section below. Do share this article with your friends and family.