Quadio is a company that specializes in making hearing aid solutions which used to be hardware only till now. The hardware would cost the person who is actually using it, and there is a high chance they cannot afford it most of the times. So Quadio actually decided to use the existing hardware of our phones and build their own app. So they launched the Quadio Q+ hearing aid app for Android and iOS in India, the two major stores in the smartphone world. Quadio Q+ app doesn't require any hardware other than your existing smartphone and the earphones.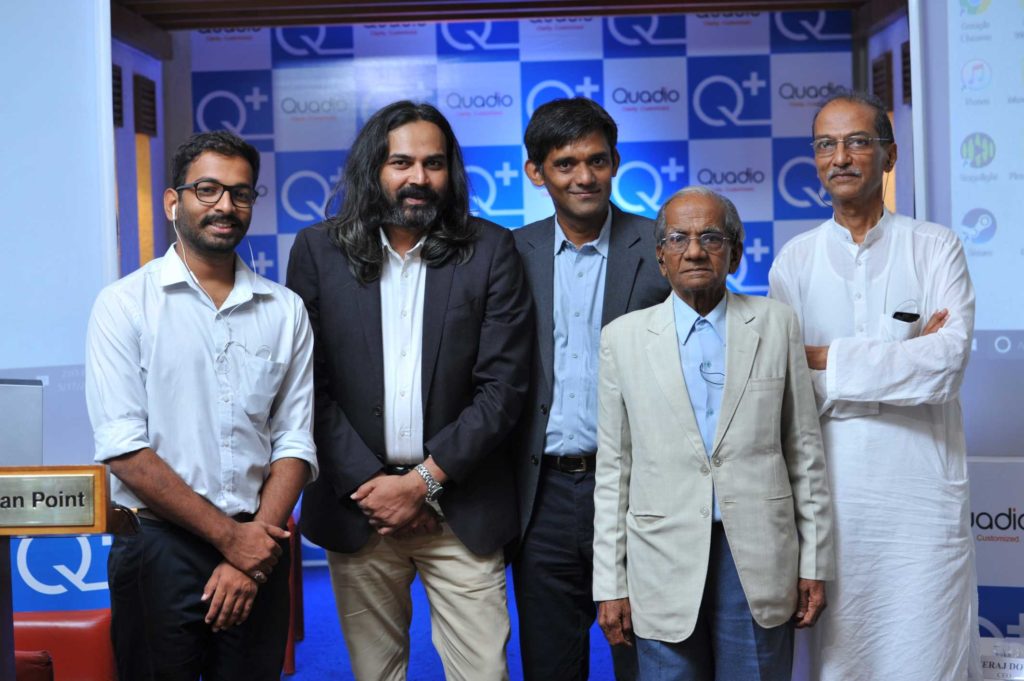 Something about Quadio
Quadio was founded by two IIT graduates – Mr. Paresh Patel from IIT Kanpur and Mr. Anurag Sharma, a silver medallist from IIT. Mr.Paresh Patel himself has hearing problems which actually inspired him to start with this company. We also got to meet Mr. Neeraj Dotel, CEO of Quadio who is really excited about the new app and how this concept has the power to change the world. This is what they all have to say about the new App and the hearing problems.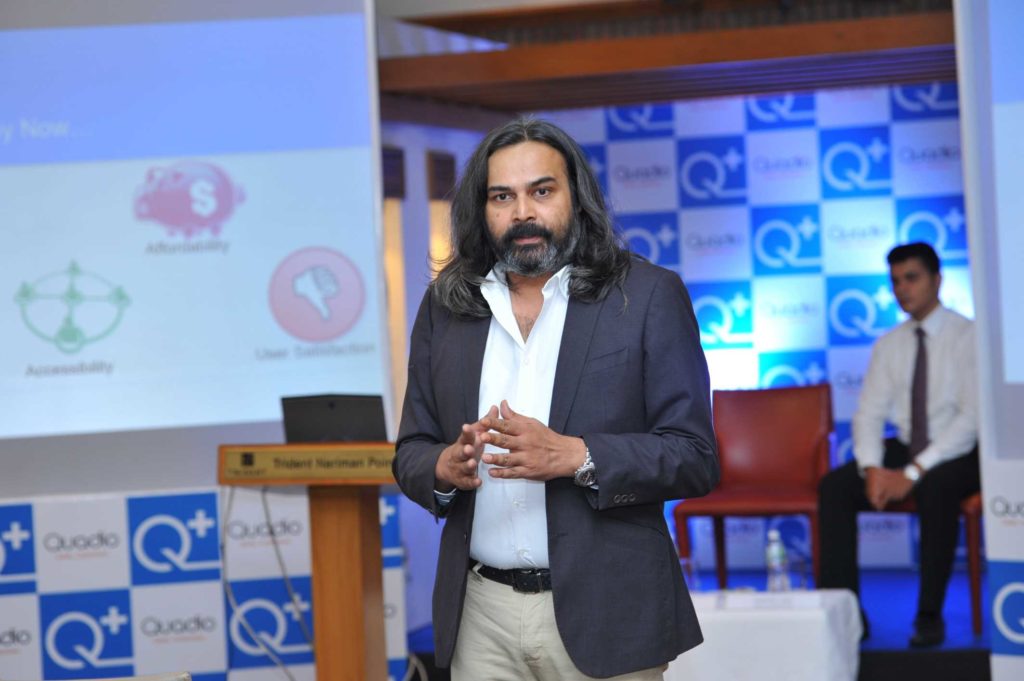 Sharing his excitement at the app launch, Neeraj Dotel, CEO, Quadio Devices Pvt Ltdsaid, "Hearing loss is the second largest disability in the country that affects more than 120 million lives with majority sufferers over the age of 60. There are less than 2000 practicing audiologists in India and therefore most people have never actually received treatment until their hearing has degraded severely with age. The Q+ app is a stellar example of the innovative capabilities of Quadio where our customers don't have to shell out big bucks for hearing care and anyone with a smartphone can now have access to high-quality hearing mechanism."
Anurag Sharma, Co-Founder and CTO Quadio Devices Pvt Ltd, said:"It gives me extreme pleasure to introduce Q+, a hearing solution app that delivers a complete hearing experience. When we started Quadio in 2009, the objective was to come up with a hearing solution that empowered people to hear what they wanted, how they wanted and wherever they wanted. The flexibility of controls offered by a smartphone app is much more than that offered by conventional hearing aids and, along with the affordability of smartphones, the reach of app store, and the inbuilt test, this gets us closer to achieving our objective. I appreciate the hard work put in by our team in creating a wonderful amalgam of technology, intuitive design and stellar performance into a package that is Q+."
One of India's finest ENT specialists, Padma Shri awardee Dr. Milind Kirtane, consultant ENT surgeon at Hinduja Hospital said,"I would say it would be ideal that universal new-born hearing screening be made compulsory or obligatory, because early detection and therefore early intervention, can really make a significant difference in the life of a person affected with hearing loss."
Well, now all that said time to test the app and check out for ourselves if it works as promised or not.
Quadio Q+ hearing aid app for Android and iOS review
The App is now launched on the Android Playstore and iOS App store for almost all devices. You can download using the below links.
Disclaimer:This is not a proper replacement for your hearing aid hardware device. Consult your doctor if you face serious issues in hearing. Use this app only on a trial basis for now at your own risk.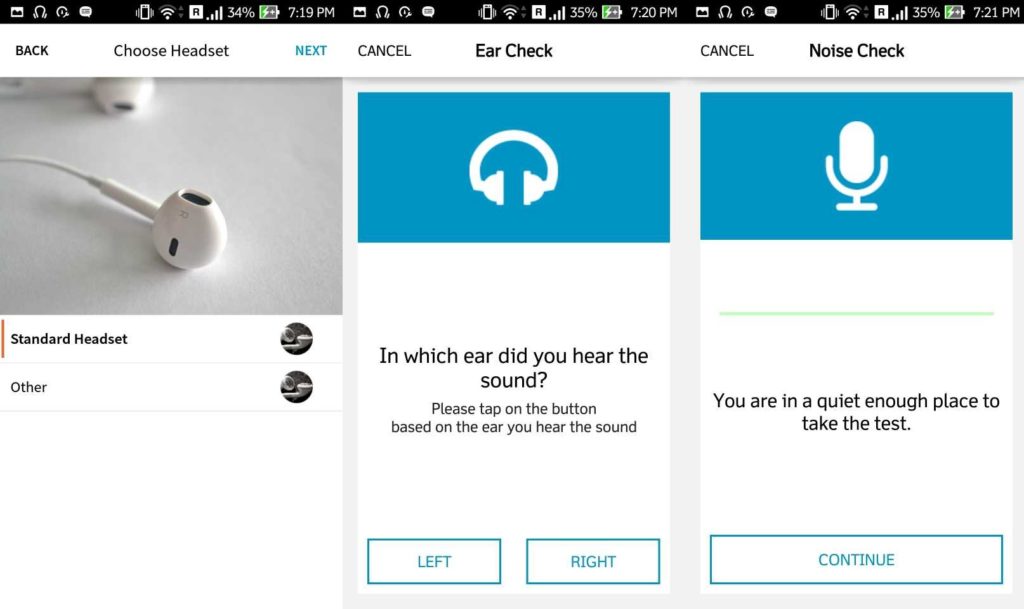 After like successfully installing the app, you are supposed to connect the earphones and select the type standard or other. If the earphones came with your smartphone it will be standard if not then you can choose other. iPhone users with their default earphones are good to go as they are already calibrated by the company. I really think that quality of earphones would matter in this case, so try to use the best ones you have. Though when asked, the company is not really planning to launch a standard earphone that is already calibrated with their software/App. Next, the app will conduct a sound check to see if you are wearing the right bud in your right ear. After all that is done time to take a test.
Hearing Test
Now this is a test that needs to be taken by everyone and not necessarily only hearing patients. First thing you need is a very quiet room with no background noise to take this test. I would recommend you can turn off your fan for a little while till the test is completed. The steps of taking the test are very easy. The app will play sound first in your left ear and then right ear. Whenever you hear a sound, press the button that says 'press when you hear a tone'. It is very simple and would take like less than 5 minutes to complete the test.
After the test you are presented with results which is like a graph called as audiogram. You also get a hearing rating out of 5. In the graph you can see the readings of left and right both ears for different audio levels. If you are like facing hearing issues and have visited any audiologist then you probably might have your audiogram which you can manually upload it to the app too. Based on these readings the App modifies the amplification.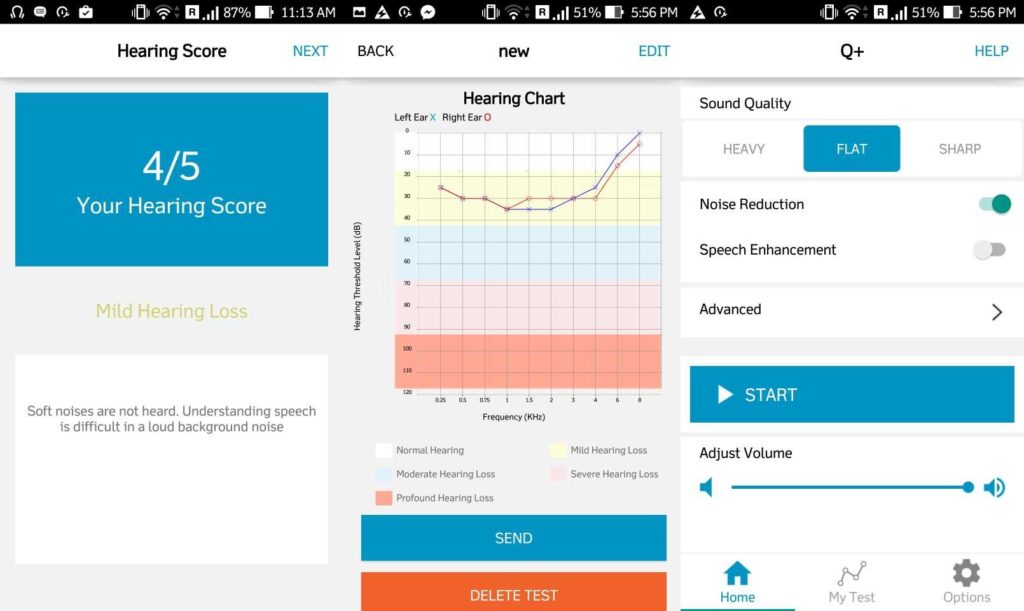 On the main home screen, first option says to choose sound quality from 3 options that are Heavy, Flat and Sharp. Choose whatever suits you the best. Next is noise reduction to decrease the background noise. Give it like 2-5 seconds to calculate the background noise and see the magic. Turn on speech enhancement according to your need because that will surely bring up some  background noise back again. In the advanced menu, you can adjust sharpness, distant sounds, loud sounds, and own voice levels. It is pretty cool to tweak it to your customized settings. Be careful while adjusting these levels or else you will not get the optimum sound quality. Next, you have the option to start the app or stop it. Lastly, you can adjust the volume that suits your ear and according to the background. If you are in a place with loud background sound then you should probably decrease the volume or else you will end up hurting your ears.
You can take these tests on a regular interval to check your performance and improvements. The App runs in the background with a very less power consumption as the screen is turned off mostly. Plus the App doesn't require any Internet connection to run which is again a plus point. I really wished if they could take the feedback and important hearing data from app to make changes in their app. Also, there would be a risk of breaching privacy if the app needed internet. For now, you can test the app and do let me know how it works for you.
Pricing
The App is currently available for Free and soon the Paid version will be launched at a onetime fee of Rs.500. This is one attractive price that everyone can afford to pay. There will always be a Freemium version to try with less features.
Verdict
I think with Quadio Q+ hearing aid app for Android and iOS requiring no external hardware is a great idea. If everyone starts utilizing the existing power of smartphones to make development in different fields, then it would be easier for the consumer to adapt. Surely the App does need a lot of work and I wouldn't say that it is perfect but definitely worth a try. I haven't tested the app with a person who is facing hearing issues, so you try it out and share the experience in the comments section below.
Screenshots