Bangalore, December 5, 2015: Delhi Public School – R.K. Puram, Delhi represented by Sagnik Anupam and Kabir Goel, emerged national winners of the 12th Texas Instruments Science & Technology Quiz 2015 held in Bangalore today. The winning team overcame tough competition from six other finalists who made it to the nationals after winning the regional rounds held in Kolkata, Delhi, Mumbai, Chennai, Bangalore, Hyderabad & Lucknow over the last month. The winning duo took the coveted trophy presented to them by Santhosh Kumar, President and Managing Director, Texas Instruments India, back to their school and also received attractive prizes including Lenovo Yoga laptops.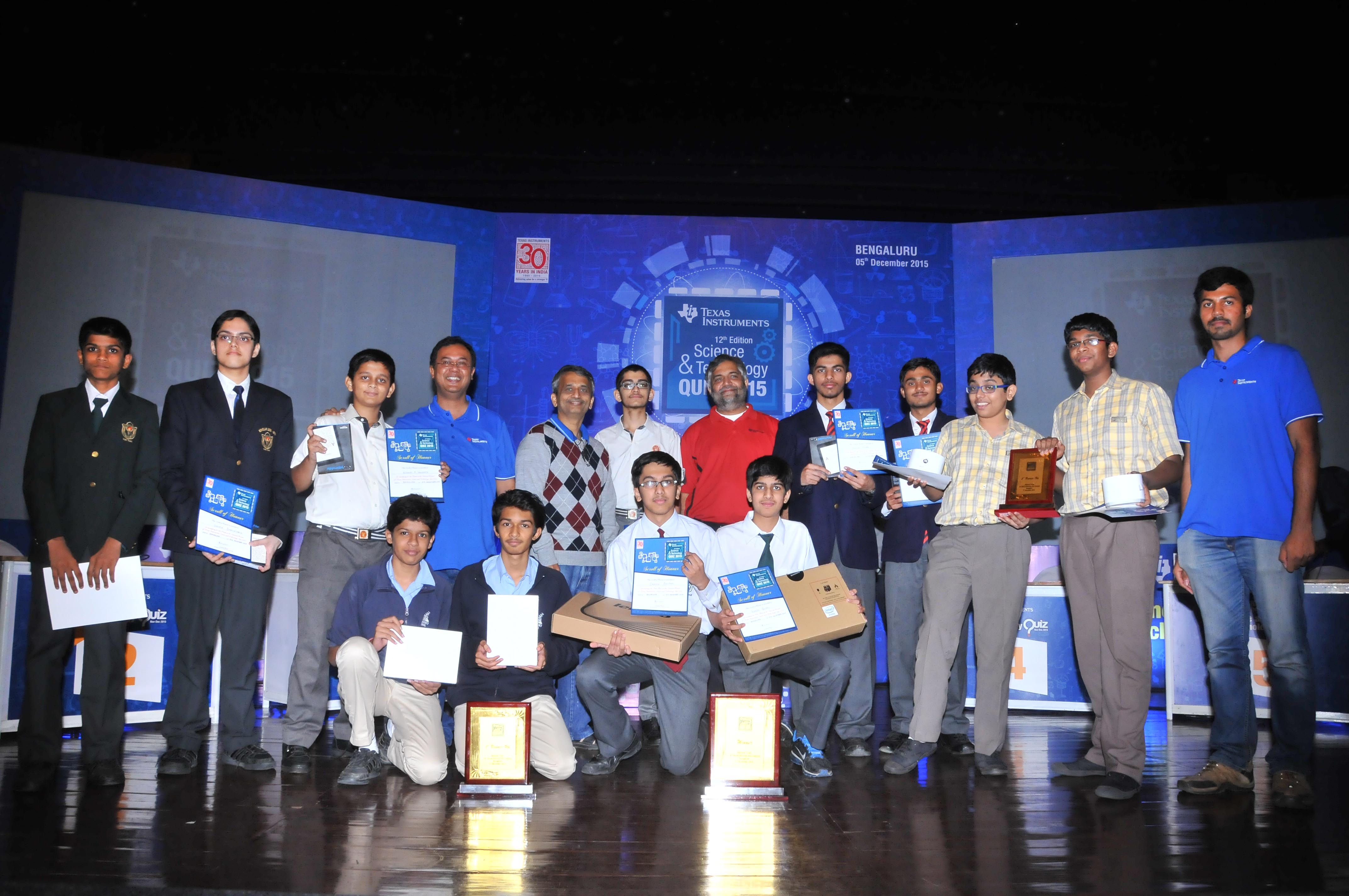 Presidency School (Bangalore South) and Padma Seshadri Bala Bhavan (PSBB), Nungambakkam (Chennai), finished second and thirdrespectively in the national finals. Earlier during the day, Abhinav Hampiholi and Gauresh Jain, Presidency School (Bangalore South),won the Bangalore regional quiz held during the first half of the day, making it to the final round. The event drew an avid response from students in Bangalore and other regions, who massed the venue and passionately cheered all participants and finalists.
"TI believes a platform like The TI Science and Technology Quiz will go a long way in fostering future innovators who will help shape the world with technology. With this quiz, we hope to accelerate interest in science and technology among students through a multi-disciplinary approach to learning that would help them apply their knowledge." said Santhosh Kumar, President and Managing Director, Texas Instruments India.
Known earlier as the 'Jack Kilby Quiz', the TI Science & Technology quiz is an annual national event for high school students of class 8, 9 and 10 and has been providing a platform for bright young students to test their skills of inquiry and scientific thinking. The quiz witnesses about 100 teams each city from around 25 schools across various regions in the country every year, aiming to motivate students and help them take up innovation and science as a way of life. This quiz marks TI's commitment towards fostering a spirit of enquiry and innovation amongst school children, who in future would go on to become technology pioneers. The interactive format of this quiz helps plant the right questions and scientific concepts in the minds of children in order to trigger imagination amongst them with STEM and its power, to help make this a better world.
Rejoicing this year's win, the students of Delhi Public School – R.K. Puram, Delhi,  Sagnik Anupam and Kabir Goel said that they were emphatic over their win and equally thrilled to take this acclaimed title and trophy back home.
Celebrating its thirty years in India in 2015, TI has constantly thrived on its core values- Integrity, Innovation, and Commitment. The TI Science & Technology Quiz, started in 2003 in Bangalore and now in its 12th edition, aims to carry forward the rich tradition of innovation that has been a signet of the company. This quiz aims at providing a platform to bright and young students and enable them develop an innovative mindset by exploring Science, Technology, Engineering and Mathematics (STEM) as a course of life.