AMD vs Intel fight is back on with AMD launching the new series of processors that gives high performance without radiating much heat. The new Ryzen series processors have a really great performance at a much cheaper price. So today we will be telling you about the best AMD Gaming editing PC build under Rs. 50000 for Q1 2019. This build is best if your budget is under Rs.50000 and since we are going all AMD you will get great performance in your budget. The prices may vary a bit depending on the dealer at your location. This build is best for both gaming and people who want to do hardcore editings like videos and stuff.
Our strategy would be to invest more in the core like processor, graphics and less in other things. We will start with the processor as it is one of the core things in a build.

Best AMD Gaming Editing PC build under Rs. 50000
AMD Ryzen 5 2400G processor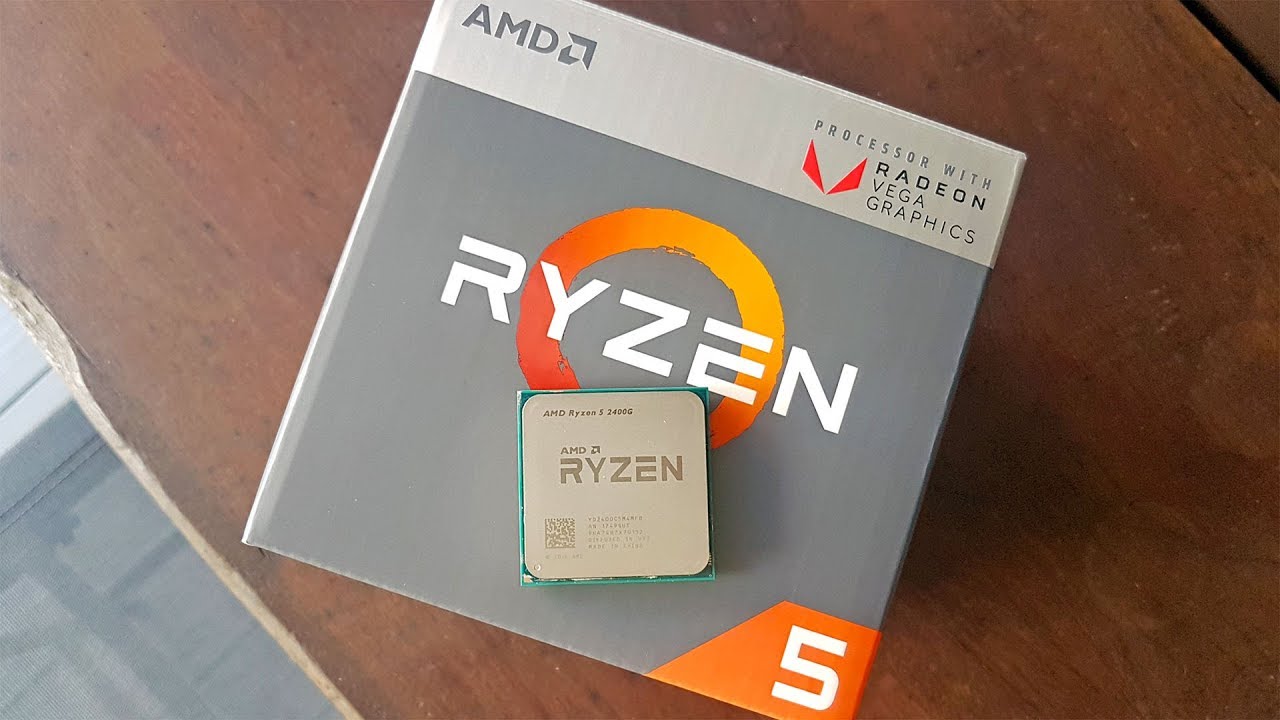 AMD Ryzen 5 2400G is an APU which means it has both CPU and GPU inside. First talking about the CPU aspect, AMD Ryzen 5 has a base clock speed of 3.6 GHz which can give a max boost of 3.9 GHz. Being AMD, it is unlocked and ready for overclocking out of the box. The base clock speed is much higher if you compare it with Intel i5 processors. It has 4 cores and 8 threads. These 4 cores can easily satisfy all the gaming needs. Due to the higher number of threads, its multi-core performance beats Intel's equivalent processors which makes it a great processor for editing too. These extra threads will assist gamers who want to stream online. The max temperature goes up to 95 Deg Celcius and its TDP is 65W. Talking about the integrated graphics, it has one of the best ones which is the Radeon RX Vega 11 having 11 cores running at 1250 MHz. RX Vega 11 can run some games without having the need to purchases dedicated graphics which again takes it one notch higher than Intel processors. If you want you can go with Ryzen 5 2600 having 6 cores and 12 threads for a bit of higher price. Please note that you won't require any liquid cooling with the Ryzen processors though if you want then you can always fit one.
Prime abgb AMD Ryzen 5 2400G: Rs. 12350 (Mumbai)
ASUS EX-A320M Gaming motherboard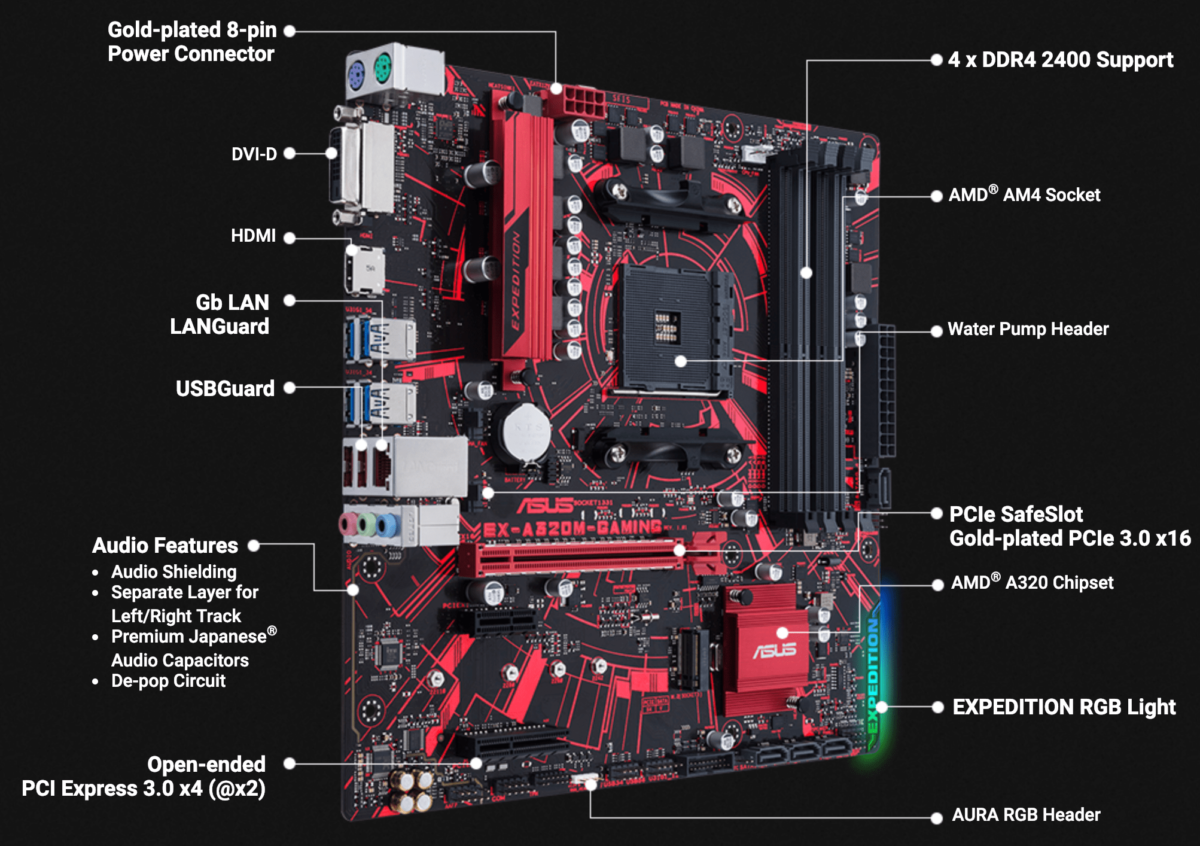 ASUS gaming motherboards are pretty famous among gamers for high durability and good features. It has all the features what a budget gaming PC would need. It supports the AMD AM4 socket with DDR4 support. What I like about it is the anti-moisture coating and various protection measures for USB & other components. All the ports and slots are mentioned in the image below. The motherboard also has a dedicated Water pump header in case you are thinking to have a water cooled machine.
Prime abgb ASUS EX A320M : Rs. 5083
Sapphire pulse AMD Radeon RX580 8GB DDR5 graphic card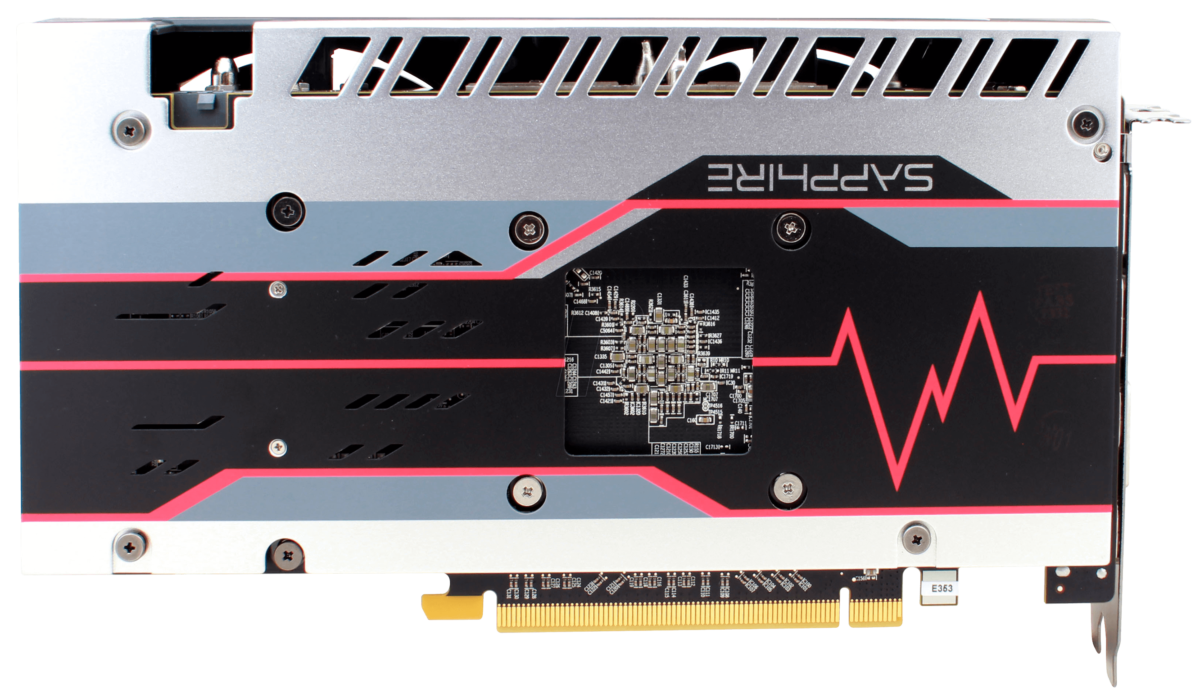 As we going all AMD today, this is one of the best deal you will get in terms of AMD graphics. The AMD Radeon RX580 is an amazing graphics card for the budget gaming editing build. The base frequency is 1257 MHz and it boosts up to 1340 MHz. In terms of ports, it has DVI-D, 2 x HDMI, 2 display ports. It can go head-on with NVIDIA GTX 1060 and close to 1070 in terms of performance. The power consumption of AMD RX580 is more, but the pricing is less if compared to NVIDIA graphics. Overall RX580 can work at decent FPS with medium settings even for high graphics demanding games. Here are the gaming benchmarks with FPS and other figures for RX 580 graphics card.
Prime abgb Sapphire pulse AMD Radeon Rx580 8GB DDR5 : Rs. 19,999
Antec NX100 Mid Tower Cabinet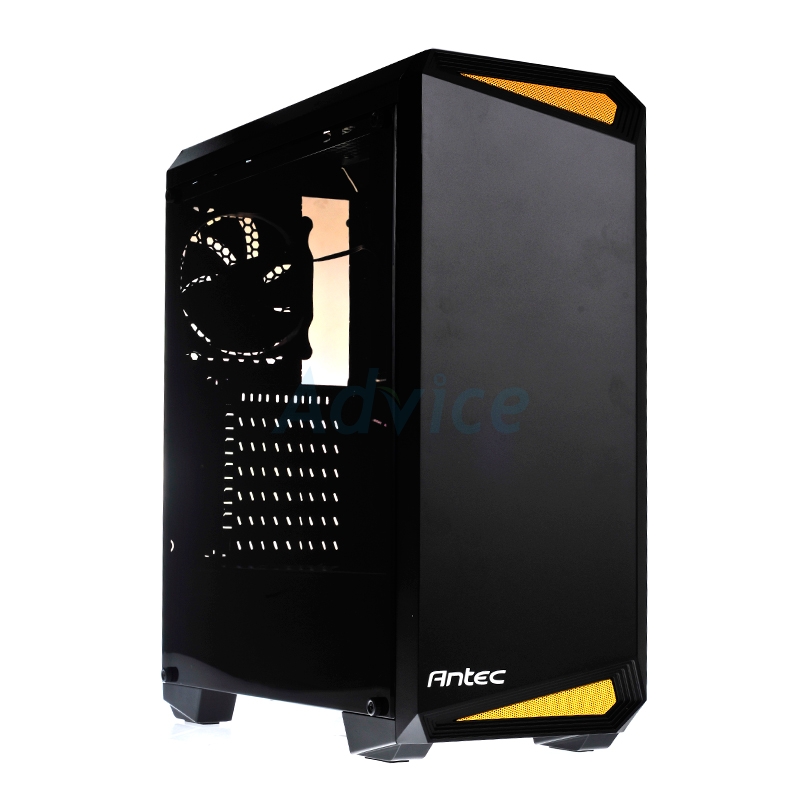 We will save some bucks and skip the fancy cabinets. ANTEC NX100 Mid tower is still a decent cabinet with transparent side panel. It weighs around 10 kg and has dimensions of 430 mm x 190 mm x 462 mm. On the front it has 1 USB 3.0, 2 USB 2.0, power, reset, & audio/mic access. It supports ATX, Micro-ATX, & Mini-ATX motherboards. Overall it will do the job of holding our rig together.
Prime abgb ANTEC NX100 Mid Tower Cabinet : Rs.2416
Amazon ANTEC NX100 mid tower cabinet
Corsair VS550 550W power supply
Corsair is famous for manufacturing good power supply for the rigs. Corsair VS550 is a 550W power supply that weighs 3 kg and has 5 years warranty. Warranty is something to look for in the case of the power supply.
Prime abgb Corsair VS550 power supply
WD 1 TB HDD and ADATA 8GB DDR4 RAM
Not being much fancy here, we have 1 TB Western Digital internal HDD for storage. If you want to go SSD then you can always have a 128GB for the operating system. The storage factory highly depends on your needs, though the HDD would suffice in a budget gaming build, but for added speed SSD is the way to go by spending some extra. As for the RAM, we chose the basic ADATA 8GB DDR4 RAM. Again for the RAM, you can have two sticks of 8GB each in dual channel configuration for faster access. To stick to the budget we suggested only 1 8GB RAM which is enough for gaming, but you can always upgrade depending on your usage.
Prime abgb ADATA XPG GAMMIX D10 DDR4 2400 8GB RAM : Rs. 4350
So this was the best AMD Gaming Editing PC build under Rs. 50000 for 2019 start with some amazing performance. It can run almost all the modern games at medium settings with good frame rates. Also the due to better multi-core performance its good for hardcode editing too. So you don't need to shell out much to experience good gaming with AMD configuration. It would have been difficult to achieve the same performance at the same price point with Intel taking charge. Though AMD has its own cons like high power consumption, though it wins the race by keeping the price low. So break the myth and go AMD if you want to do gaming on a budget. Do let us know if you liked our build and are going for it through the comments section below. You can always suggest us some alternatives and we will include them in our future builds.