Apple Macbook Pro is one of the best when we talk about compact powerful laptops. But there has been a lot of other brands like ASUS who are in the same ultrabook style laptop segment. We got our hands on one of the recent ASUS UX434 Zenbook 4 laptop. It is slim, aesthetically beautiful in terms of design, and is powerful too as per the specifications. Let us find out if it can give a tough competition to the best brands out there through ASUS UX434 Zenbook 4 full review. I used this laptop for 10 days and here is my opinion on different parameters of this ultrabook.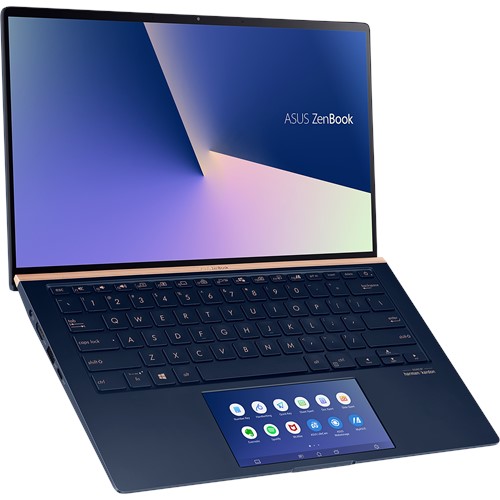 ASUS UX434 Zenbook 4 full review:
Design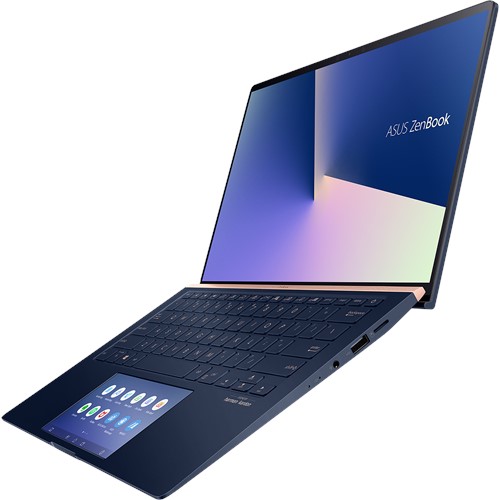 When you first unbox the laptop, you will see a very premium finish laptop with some good design. ASUS UX434 has spun metal finish concentrated ring design on the lid. The royal blue color with some rose gold trim panel gives the whole laptop some rich feel. The laptop is made compact due to the decrease of bezels on the screen. The ultrabook weighs at around 1.26 Kg which is pretty light weight to carry around. It comes with a sleeve to protect it from dust and scratches. The laptop has a ErgoLift hinge which lifts the laptop slightly up when you open up the lid. This creates some space from the bottom of the laptop to your table. This helps you to properly position your hands while typing with that slight lift, it feels great. Also because of that lift, the cooling is done efficiently as there is enough space for air to pass along with good exposure to speaker sound. Good design is really something which ASUS kept in mind while making this ultrabook. As for the ports, on the left you have DC input power jack, HDMI port, USB 3.0, along with USB-C 3.0. On the right hand side are the micro SD card reader slot, USB 2.0, Audio jack & some LED lights for charging/battery indication. The speaker grills are at the bottom of the laptop. Overall, design is one of the strong points of ASUS UX434 Zenbook 4.
Display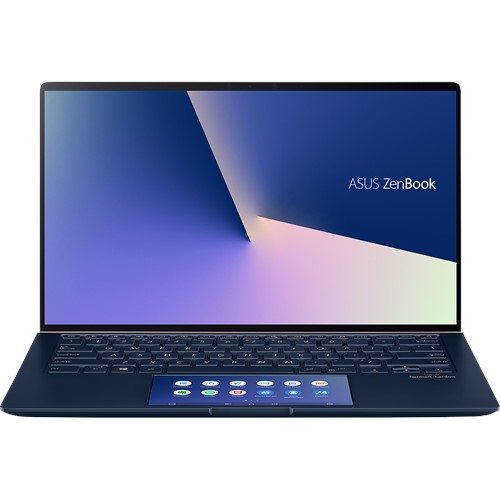 One of the very first things that comes to mind while looking at ASUS UX434 is the bezel. They are so thin from all the sides that it is hard to believe that you are looking at a 14 inch screen. We literally had to verify it with a measuring tape. The display is FHD NanoEdge one and has some really great color reproduction. You will enjoy watching videos, movies, surfing the internet and working with this kind of nanoEdge display. It seems like you are just looking at the display as a whole almost without any significant bezels and the screen to body ratio is stunning 92%. The viewing angles are good too on this laptop. One special thing that lies above the screen display is the 3D IR webcam tech which recognizes face in a much more accurate way. It even didn't recognize me with my specs off once I registered my face with the specs on. It is quite accurate in a dark room too and always better than always entering the pin/password. Never thought I would enjoy face unlock so much on a laptop. There is also a variant with touch available on display for ease of use.
Performance
The laptop comes in two variants of processor i5-8265U and i7-8565U. The one which I received was the i7 one. Same goes with RAM variants as it is available with 8GB or 16GB memory. I got it with 16GB RAM one which worked excellently with multitasking. As for the storage the size might vary but it comes with SSD only, so the read/write speeds are really great. As for the graphics it comes with Intel 620 integrated one and NVIDIA GeForce MX250 dedicated one. These were some specifications on paper. Overall performance wise I tried running it with a HDMI monitor attached in extended mode. ASUS UX434 might be compact in size, but the performance it gave while working on it for 10 days was pretty awesome. With so many task running alongside the whole bunch of chrome tabs multiple instances, everything worked so smoothly. I don't remember the Zenbook 14 getting laggy or dropping frames even for one second. This is something which a powerful user like me faces in other competitor laptops but Zenbook 14 didn't disappoint in terms of the overall performance. Tried playing some games too, they all ran well but the bottom gets a bit warm so you need to keep it on a flat surface. Pretty normal stuff for an ultrabook, but overall I really enjoyed using the Zenbook 14 in terms of hardcore performance.
Sound and connectivity
The speaker grills are at the bottom so make sure you don't cover them up while keeping on bed or pillow. The sound output from the laptop was really loud and clear with the ASUS SonicMaster technology. As for the connectivity options, Wifi and bluetooth are available. Wifi worked at pretty decent speed and so did the bluetooth 5.0 with wireless mouse and bluetooth speaker as tested. Other connectivity options in terms of ports are the USB 3.0, USB 2.0, USB-C 3.0, HDMI, audio jack, micro SD reader, and HDMI port. It covers everything except the RJ45 lan port which comes as a extender to USB-C port via adapter. So ASUS has kept almost all the options of connectivity available with the Zenbook 14.
Keyboard and Touchpad/ScreenPad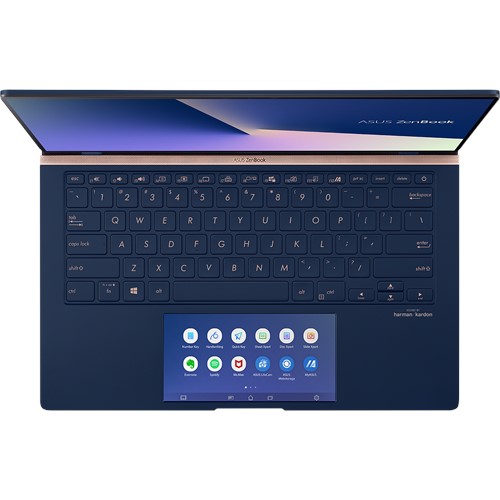 Normally we don't talk a lot about laptop's keyboard or or trackpad but this time its something special. Want to specifically mention that whatever key specs you might see on paper, the typing experience here is just great. The keys here have 1.4mm travel distance with LED backlit which makes it easier to see in the dark. Also this gives any laptop a premium look.
As for the touchpad, its not just a normal one. It has a touchscreen built into it which enables you to do something else while not disturbing the main screen. The UI is similar to what a smartphone has with some quick feature apps like number key, handwriting via touch drawing etc. You can put any screen from the main screen to the Screenpad 2.0 and use it there. There are gestures built to easily lock/unlock the screenpad and switch to normal trackpad for the mainscreen. Its quite easy and interactive to use the laptop with Screenpad. Suddenly gives you a second screen to interact and work with. I tried opening the windows explorer on the Screenpad and it worked quite well with touch precision. More and more apps are getting optimized to work with this 5.65 inch Screenpad 2.0.
Battery:
Zenbook 14 has a 50Wh Li-Po battery that can easily last for around 8-12 hrs depending on your usage. On an average for me it lasted for 8-10hrs which was quite sufficient for my work without plugging in the charger. Also I just closed the lid and put it to sleep while I was carrying the notebook around.
Price and availability:
As of now I could find the i5 variant on Flipkart for around 94000 INR. The price might differ depending on if the online platforms have a sale going on.
Verdict:
Overall I think Zenbook UX434 excels in all the features and is a very good ultrabook to go for if you are someone looking for a compact, premium yet powerful ultrabook. The build quality, display, performance, battery and sound are all good on this laptop. Let me know if you have any doubts and want to know more about Zenbook 4 through the comment section below.