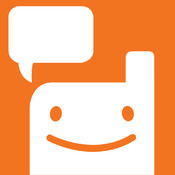 Fed up of typing messages in your phone? Got irritated with the small, congested keys on your phone? From now onward, no need to. Now you can just turn your phone into walkie talkie, and send voice messages to your friends and family.
You can listen voice of your closed ones, and it is similar to calling someone. You Just need a Android phone or iPHONE and a Internet Connection of course.
How to turn your phone into Walkie talkie??
Just download a app named Voxer.
It is available Free of cost on
Play Store(Android)
App store(iDevices) 

After downloading, install and make a account on Voxer with your gmail account. I would recommend that you Sign In using Facebook, as it will help you in directly inviting and synchronizing friends from facebook.
Now just select a friend or a group, press and hold the "Hold and Talk" button, speak up and release the button. Its similar to a walkie talkie with a unlimited range. However your message is saved, and you can listen to it whenever you want.

Also here you can type message if you want or send pictures like you do in other apps.
Voxer keeps track of your location, so you can also share location with family and friends.
Its a useful app for those who don't like typing messages. It is a great way to say Hello, goodbye or whatever you want. Just turn your phone into a walkie talkie and start VOXING!!!!
Although it has drawback that people who don't have iPhone or Android phones will not be able to use this app. Hope the developers are trying hard to bring this app on other phones like Nokia,blackberry etc.
My experience with this app was good. SHARE your experience with us in the COMMENT section below…
Also JOIN US on