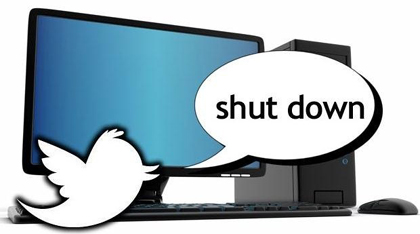 Do you download a lot of things from internet?? After completion of download, does your Pc/laptop remains ON for hours?? Is guarding your pc/laptop till the completion of download or any work boring?? So here's the solution. Even if you are not at your home, you can still shutdown pc form mobile using twitter. This will not only help in the case of download, but also in some time consuming tasks like copying or something else. This amazing method will help you shutdown pc from mobile using twitter, no matter where you are.
How to shutdown pc from mobile using twitter?
First you need a Twitter account and also a Gmail account. If you don't have one, create it.

Now you will need a software named TweetMyPc.
Download it from here
Now after downloading it simply install the tool.
Now run the software form desktop or start menu or in right side of taskbar. It will look some what like in the image below.

Click on Sign in with twitter, and then it will open a page of twitter. In that, sign in with your credentials and you will get a confirmation code that you will need to enter in the tool. This will complete authorization process.
Now next is email settings. In this enter your gmail details.
Now just without changing anything click on SAVE AND HIDE.
Now the program is ready. Now you can just leave your pc/laptop on with the download or any other ongoing work.
To turn off the pc using mobile, just open twitter in mobile and just tweet SHUTDOWN.
After tweeting your pc will shutdown with a warning to close all app within 1 min. After 1 min the apps in pc will be forced to shutdown.
There are also many other commands available similar to shutdown. You can find HERE.
Also if you have any doubt regarding installation click here.
So A tweet will shutdown pc, no matter where you are. It is a unique way to shutdown pc. Imagine when you do it infront of your friend, he will be just shocked. Still got any questions, then do post them in the comment section below. I would be happy to help you.
Also join US on