Email is a widely used method of communication in various sectors and is also accepted as a proof too. But the one thing that is missing from email is we never know if the other person has checked our email or not. Think about it if email also started giving read receipts like Whatsapp. As soon as we send an email, we are always curious to know why the other person is not replying or has he/she even checked our email. Finally killing this curiosity today I will tell you how to know when someone reads your email or rather get notified when someone opens your email. Before that I would like to tell you one thing that most of you people must be knowing, you always get a failure notice if your email doesn't reach the recipient because of wrong or discontinued email id (Happy realization!).
How to Know when someone reads your email?
There are quite a few websites and apps that provide such service out of which we will discuss 4 of them.
Sidekick by Hubspot
Streak for Gmail
ReadNotify
GetNotify
Note: Using some of these services might be the result of your emails landing up in junk/spam folders. So do check the services thoroughly and then use it on a regular basis.
Also the location and other details might differ as email service providers have started to mask the details.
1. Sidekick
This is basically a tool which will track emails specifically sent from Gmail or Outlook(Desktop Client). There is a chrome extension available if you are using it through chrome browser that works only for Gmail. If you are using any other email service provider then I suggest you to use Outlook desktop client. Sidekick works with Outlook through a setup installer. Let us see how to integrate Sidekick and get started with tracking.
1.1 Sidekick with Chrome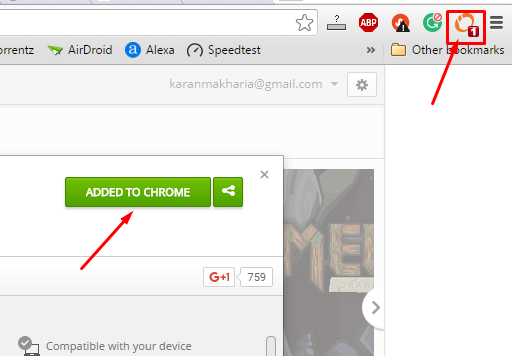 There is a chrome extension of Sidekick which you can add by visiting this link. After adding, you need to sign up for a new account. For a free account, you get 200 notifications free every month, you can go for a premium package if you need more. Next, open Gmail and give required permissions to Sidekick. Once done, now you are good to go. Press compose email and check out the send button which is now changed to orange color with a clock icon beside it. You also have a checkbox with Sidekick icon which tells Sidekick whether or not to track the following email. If you check that option, you will get notified when someone opens your email. You can also schedule an email to be sent later, which works great. Just don't forget to select a proper time zone.
1.2 Sidekick with Outlook(Desktop client)
You need to download a small windows installer and run it to integrate Sidekick with outlook. Download from this LINK. After downloading run it, and then restart Outlook client. Now you can see the Sidekick options to track emails from the Outlook client too.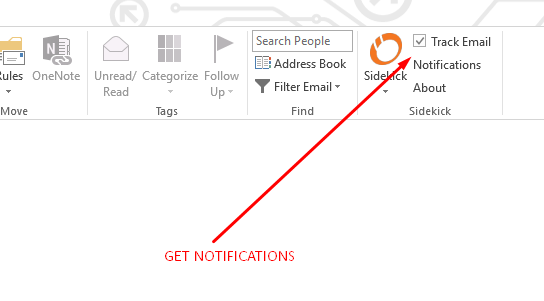 2. Streak for Gmail
It is similar to the aforementioned tool but only works for two browsers that are Chrome and Safari.  Go to this link and add the extension. After adding the extension restart the browser. Next, you will again see the tracking icon depicted by an eye and the clock alongside the send button which is blue in color. You can schedule and track your emails using streak for Gmail. Here instead of getting notifications, you can directly view your sent email option to check the details of the recipient like from where and when did he/she accessed the email. This only works for Gmail so you may want to choose from other alternatives if you are not a Gmail user. Streak for Gmail also gives other options like moving emails to different boxes that are basically folders. You can explore other options too and share with us through the comment section below.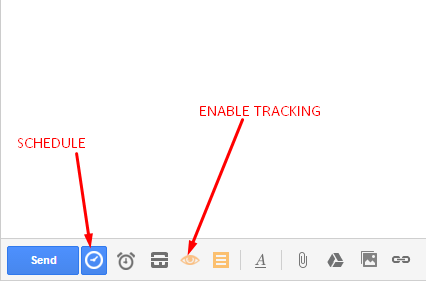 3. GetNotify
Moving on to universal email trackers which will work with every email service provider. Here you don't need to download any setup or extension. Just visit the website GetNotify and sign up for a free account. Now while composing email just do a small modification. Instead of writing the recipient email as example@mail.com add up the extension .getnotify.com which will make the new email as example@mail.com.getnotify.com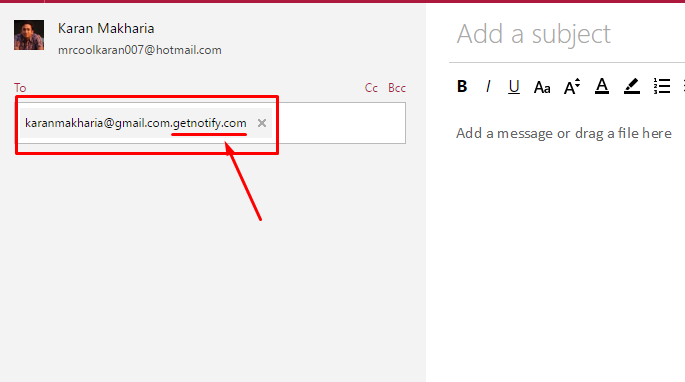 You get 5 email credits every day if you are using the Free account. That means you can send 5 tracked emails for free daily. To increase your quota you can donate to this service. You will be notified by email whenever someone opens your email. You can manage the tracking from the GetNotify account panel too.
Note: The extension ".getnotify.com" will not be visible to the recipient and he/she can never know if the email is being tracked. The attachment size gets reduced to 2MB if you are using this service. Also to avoid your emails going to Junk/Spam folders follow the guidelines mentioned at the end of their FAQ section.
4. ReadNotify
This is almost the exact same service as GetNotify. You have to add the extension ".readnotify,com" while sending an email to track it. You only get 25 credits which get expired after a certain period of time. Again you need to donate to increase the quota. These services work with every email service provider and also with mobile clients.
Google has a default read receipt feature that works only with Google Apps for Work, Education, and Government customers. Now the one drawback is recipient needs to approve the sending of read receipt which destroys the main motive of tracking without knowing. For more info visit this LINK.
So this how to know when someone reads your email, you just get notified by either of the services mentioned above. Do let me know if you use any other service which is more benefitial than the tools mentioned above. If you find the information useful, do share it with your friends.