ASUS TUF FX504 full review
ASUS is one of the leading companies when it comes to gaming machines. They have some of the best hardware packed inside them. Though the price might be higher if you compare it with an assembled gaming PC, but they provide the same thing in a portable laptop. One such device ASUS TUF gaming series FX504 laptop was reviewed by us. We played various games, did some work, and even carried it to work. This is an ASUS TUF FX504 full review after using it for 2 weeks.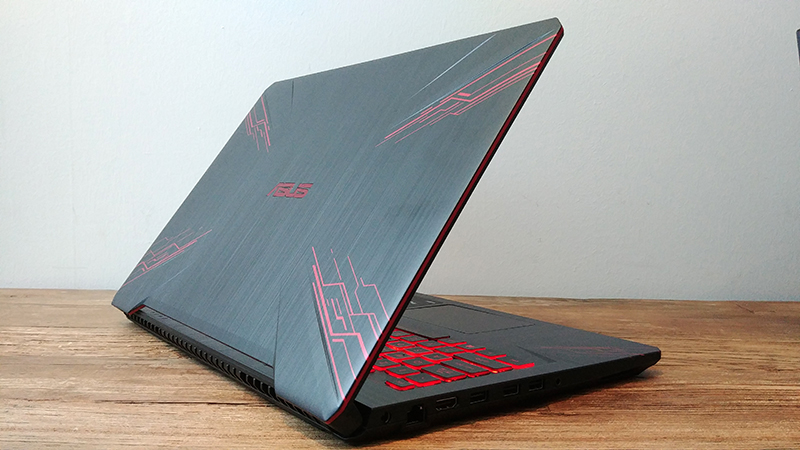 ASUS TUF FX504 full review:
Design – 9.5/10
As the series name suggest TUF, it really has a good build. The laptop casing is built from plastic with some grey grid design. On the lid, it has some protruding corners that converge at the center ASUS logo. The laptop overall has a matte finish with some cleanly cut grills. Surprising a gaming laptop weighs the same as a normal laptop that's 2.3 kg. So you can carry this with you and make the gaming portable. ASUS TUF FX504 comes with a red led backlit keyboard. Clearly, red is the way to go for gamers! What I like is, ASUS has though much about the keyboard and the ports while making the laptop. All the ports like USB 2.0, 2 USB 3.1, HDMI, audio jack, RJ45, and power jack are placed on the left. When you first see it, you will feel odd seeing this type of port placement. But it does makes sense to avoid all the wire clutters on the right side which is the play area for the mouse. Talking about the keyboard, the keys are well spaced and arranged like a desktop keyboard. I have enjoyed typing on the keyboard of FX504 with sheer satisfaction. What amazes me is the key actuation point which is kept at midway, so one doesn't need to always press the key to the bottom while typing. Also for those who want to enjoy the key travel, you still can press it till the bottom overstroke point. This generally happens while you are too much engrossed while playing games and end up killing your enemies by showing force on the keys. The spacebar has greater width on the left side to perfectly accommodate the thumb in WASD gaming mode. There is a dedicated numpad which is used for work and sometimes while gaming. Also the trackpad has the Windows 10 precision drivers for gestures to work properly and it does the job well. I love it when the gaming companies make the products by keeping every small gaming detail in mind.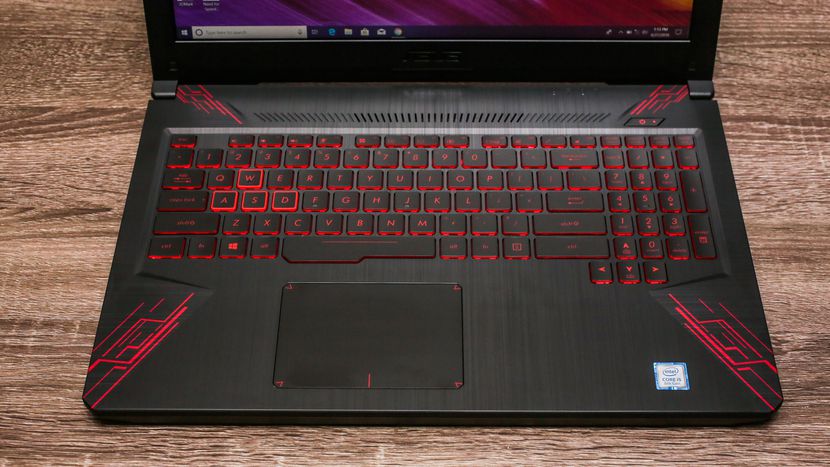 Display – 9/10
ASUS FX504 comes with the LED backlit full HD 120 Hz display that means it is capable of displaying 120 frames per second. Normal displays have a 60 Hz refresh rate. Now while playing movies it might not make much difference, but for a gamer higher FPS means much better and smooth gameplay. Games can have a higher refresh rate then normal videos. So only if your FPS goes above 60, you would be able to enjoy this advance display. It also has anti-glare feature which avoids external light and provides a crystal clear view. The viewing angles on this laptop are good, thought the vertical viewing could have been improved. In low brightness you will have to adjust the display if you are playing a game that has lot of dark scenes. It has a 130% sRGB color gamut which gives better contrast to the display. You can also switch between normal, vivid, and eye care mode for the display.
Performance – 8.5/10
ASUS TUF FX504 has two variants one with i7-8750H and other with i5-8300H. The one which I received had an i7-8750H hexa core CPU with Intel HM370 Express Chipset. It has 8GB of DDR4 2666MHz RAM which can be expanded using extra SO-DIMM socket upt to 32GB. As for storage, the laptop has a 1TB 5400 RPM FireCuda SSHD which is a bit different from HDD. It has a flash memory which stores frequently accessed files without accessing the HDD resulting in better performance, less power consumption, and quieter hardware. SSHD is a very good alternative to the traditional HDD. Also the ASUS TUF FX504 packs 128 GB of SSD, so the operating system works in the best way it can. The boot time is very less on this gaming laptop. Overall the performance is good on the ASUS TUF FX504. We will talk about the cooling separately. Here are some of the results from the bench marking software.
Coming to the graphics, ASUS TUF FX504 comes with three variants
4GB GDDR5 NVIDIA GeForce GTX 1050, 4GB GTX 1050TI, or 6GB GDDR3 GTX 1060. The one that I got was the 4GB GTX 1050TI. It worked quite well and I was able to play games like Crysis 3, call of duty world war II, NFS Payback etc. The gameplay was smooth and the smart placement of fan did manage to keep the keyboard cool. Overall the 1050TI packed in a laptop did perform well for the figures.
Cooling – 8/10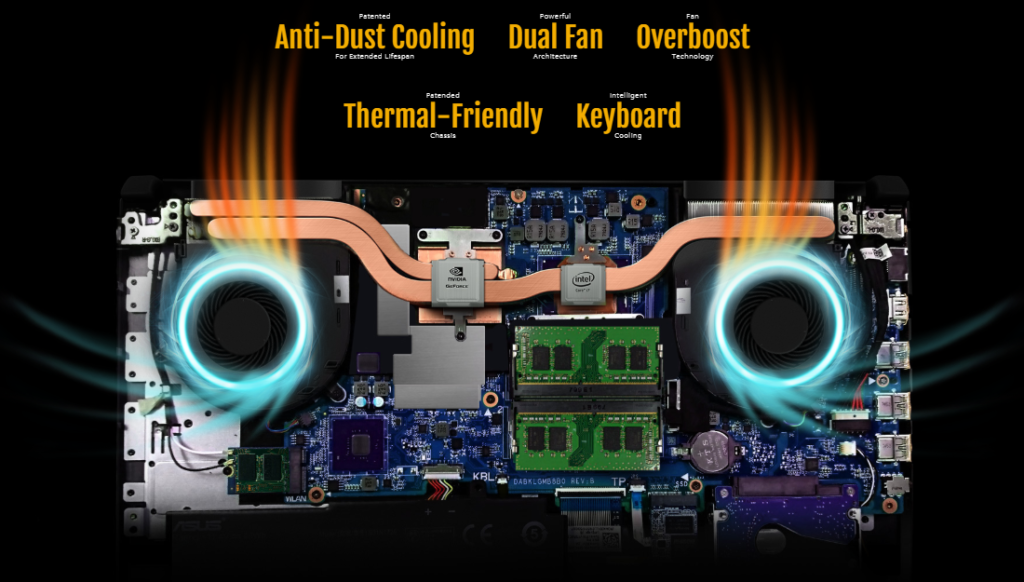 ASUS has this patented Anti-Dust cooling(ADC) system which prevents dust particles to get accumulated in the vents. This keeps the cooling efficient and increases the lifespan of the system. Here you have a manual control over the fan to keep it silent, balanced or just switch it to overboost mode while gaming. It has two fans one situated directly below the WASD keys to keep the system cool while gaming. With intense graphics game and overboost mode, the fan makes 50-55 dB of noise which is quite audible. The temperature can go high even with the cooling system when the graphics is put to test under a lot of stress. It might be as there are only two copper pipes out of which one is common for CPU and the GPU. Overall in most of the scenarios the cooling system on this laptop does help in keeping the gameplay smooth.
Sound and Connectivity – 9/10
ASUS TUF FX504 has two speakers very well placed on the left and right edge of the laptop. As the speaker placement is on the sides, they are not obstructed by the surface below or your hands. It has the DTS Headphone:X tech that supports 7.1 surround sound experience. I would say, that the audio through speaker on this laptop is surely amazing. I had to turn down the volume while shooting some guns as it was feeling quite realistic with all that rounds firing.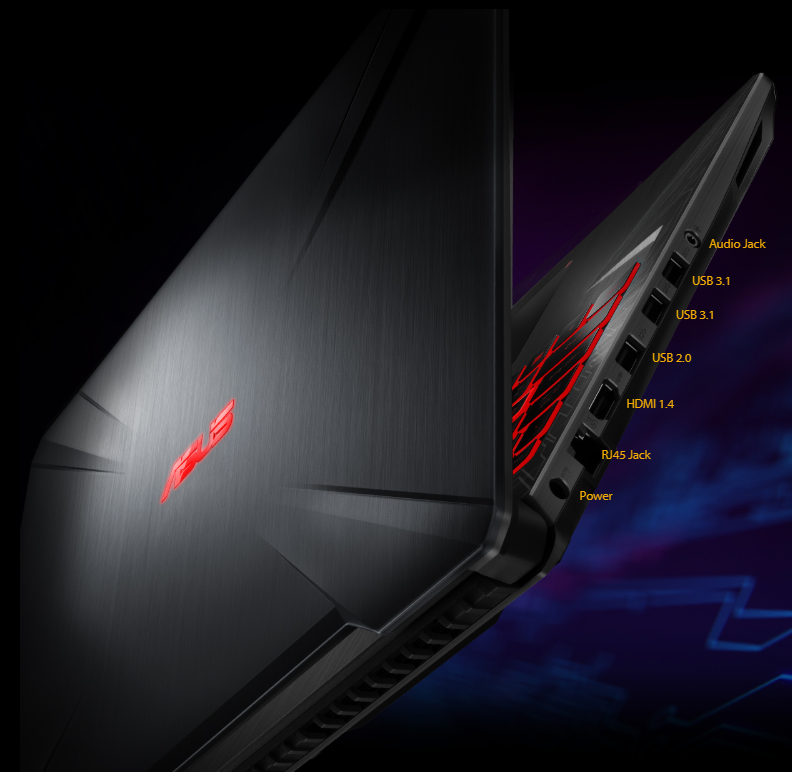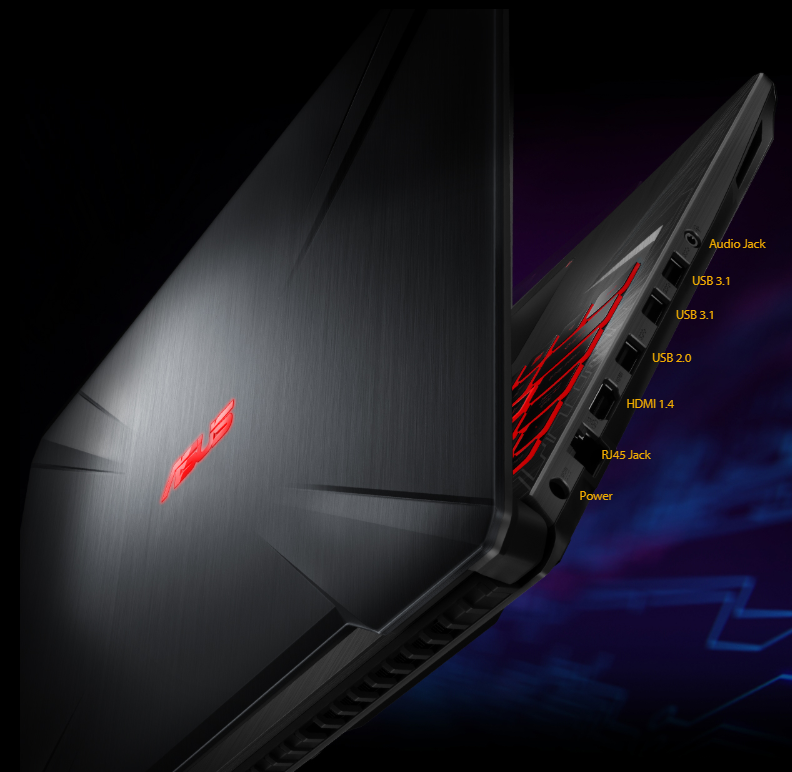 As mentioned before, the ports on this laptop are kept only on the left hand side to keep the play area for mouse clutter free. It has 1 USB 2.0, 2 USB 3.0, 1 HDMI, 1 audio-microphone combined jack, 1 RJ45 port, and lastly the power jack. Using these ports the laptop can cater the gaming needs. As for the connectivity ASUS FX504 has 802.11AC WAVE 2 which is about 12 times faster than the conventional 802.11 b/g/n.
Battery – 8.5/10
The battery of ASUS FX504 can last for approx 4-5 hrs while normal work/movie or 2-2.5 hrs for gaming. It has a 3 cell 48 Wh battery with a charger giving output of 19V 6.3A.
Pricing
ASUS FX504 is available on Amazon, Flipkart i5 GTX 1050, i5 GTX 1050 Ti, and i7 GTX 1050 Ti. The price for them starts at around 60,000 INR and goes up to 78,000 INR for the highest variant.
Verdict
At this price, ASUS FX504 has some balanced feature and if one wishes to buy a gaming laptop can go for this model. The build is tough, performance is good until you don't mind the fan sound, highly portable, display is good for gaming, impressive keyboard with some great sound. Do let me know your views about ASUS TUF FX504 gaming laptop and if you have any doubts, do mention them in the comment section below.