Buying products online have proved to be a boon as well as a curse. You can see the details of every product that is launched in the market which was not possible through the offline stores. But too many products will have too much information which will create confusion of choosing the right product. On top of that, we have to compare prices to select the product that fits in our budget. So today I will show you how to compare prices online with PriceRaja App which is available on different app stores.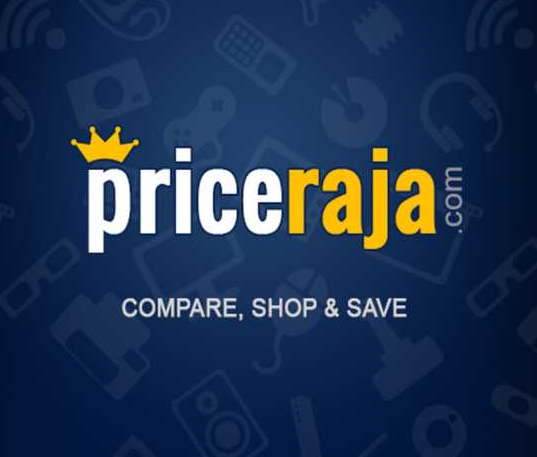 Compare Prices online with PriceRaja App
PriceRaja, as the name suggests is a price comparison website which also supports sorting according to the different features of a product. They have now introduced an Android app along with a chrome extension. I will do a full review of the Android app to see how convenient it is to compare prices online with PriceRaja App.
PriceRaja Android App Full Review
First, you need to download the PriceRaja android app from the aforementioned link. When you first launch the app, it has a very clean layout though they have many things to show. The first thing to observe is the different categories of products available.
Categories
It has various categories like Deals & Coupons, Mobiles, Tablets, Laptops, Cameras, Television, Fashion, Home & Kitchen, Home Decor, books along with some tech accessories too. So depending on the product you are purchasing, just choose the proper category.
Next, you need to choose filters which is one of the best features of this app. Initially, I used to use the filters present on Flipkart and Amazon while choosing a product. But they also had some limitations which were overcome by the PriceRaja app.
Filters
There are various filters available in the app that will help you to shortlist some of the best products in a particular category. Like if we choose 'Mobile and accessories' as our category. We will then have the option to apply filters like Price, brand, series, RAM, Screen, Camera, Operating System, Processor, battery, and storage. That covers almost all the features of a phone by which you can do the sorting. Applying multiple filters will narrow down your search even more, which in turn will make the decision making much easier and accurate. The sorting process is applied very fast and you get the results quickly. If you have a brand preference then it would make your life a whole lot easier. While if you are not much associated with technology still you can manage to choose some of the best products using these filters. After shortlisting some of them you can actually go through the details of each product one by one.
Reviews
Applying filters is mostly like playing with numbers and only the numbers can never tell you which is the best product to choose. Next comes the user reviews which are kind of confusing in some cases, but can also help you a lot to get an idea about the product. These reviews will tell you the hands-on performance of the product when it comes to the user's hand. You have reviews from different websites and platforms all at one place which is again one of the best features.
Specs
As we are in the mobile section, we have got an option to check out the detailed specification of the product. These are again numbers but yeah will tell you almost every single detail about the product. Specs are arranged in a proper tabular form with an analysis report that is generated by comparing that product with others.
This slideshow requires JavaScript.
Alternatives
If you want to check the alternative competitors of your product, you directly have an option to do so. While checking the mobile phone segment I found this alternative feature work quite accurately. Plus you can compare it together side by side too. They have quite a lot of features you have to explore all by yourself to get a hang of it.
Photos
The next option here is of photos of product shot from a different angle. This is again something which is lacking in many e-commerce websites & you can just see 1 or 2 photos of the product you are going to buy which is a disappointing.
Price History
This is an innovative feature where it shows a bar graph with price change along the time since it was launched up till now. You can also set an alert to be received in case the price drops again, how cool is that.
Comparison
After viewing the specs you can add the product to comparison list and move on to the next product. At last, you will get a list of shortlisted products which you can compare based on price or specifications. This is like the deciding stage where you will choose the best product for you out of all. While buying you have the option to see the price at which the product is sold on different e-commerce websites. You can choose to go with the least price with just some touch/clicks. And if you still don't have the time to go through all this long procedure, then you can straight away head to Deals & Coupons section to get the best deals available in the market. This section has some categories like Fashion, Travel, Food, Movies, Recharge, & sort by store too. So you can get deals and coupons in all these different categories
Verdict
Using such kinds of an app for comparing prices and specs makes it much easier to choose product out of the different range available. One drawback that I found is still there are some products which are not listed on this app. So if PriceRaja patches this up then it's a great app to use. This was one of the easiest methods to compare prices online with PriceRaja app. At just fingertips anybody with little or no knowledge can also make the right choice when it comes to online shopping.